So much for that thought from the last game. I said we needed to run the table to finish at .500. Forget it. Best we can do now is 80-82 if we run the table; again rather unlikely to happen. Rangers lost.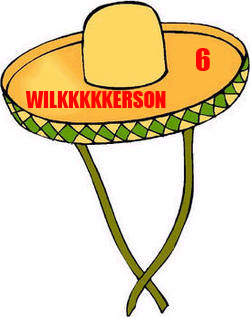 In what was probably his final start of the season, and if Evan Grant has anything to do about it, his final game as a Ranger completely, Vicente Pidente appealed his suspension, and having only thrown to (or at) two batters the other day, was "fresh" enough to make this start. (An explanation for my usage of Pidente is here. So out he goes. Five innings, 97 pitches, three hits, three earned runs, but five freakin walks. So yeah, he deserved the loss. You know, assuming this is his last start of the year, it means it cost us $1.5 Million for each of the six wins Pidente got in 2007. Course on the other hand, that's the same number as Roger Clemens has this year, and he's making several truckloads of dough. :)
Andreas Galarraga (whoops, Armando – anyone else have that flashback every time Armando pitches) was the only other pitcher the Rangers used. He went three innings. Four hits, one run, 2 walks, 2 k. Not bad. I'm sure he'll be in the mix for the pen in the spring, although I think it's probably going to end up in AAA.
Offensively, we had seven hits in all. None by Mike Young who still needs ten for 200. David Murphy, who is more and more looking like a real option for a front line starter in '08 led with two hits; a double and a single. Marlon Byrd had a double, and all the rest were scattered amongst other players. Cat had a home run, but that was the only RBI of the night. The box score seems to show a rather flat team. In fact… Our old buddy Brad Wilkkkkkkkkerson has earned the golden sombrero for this game by striking out four times! Thanks for making me bust out Photoshop to edit the sombrero image for you buddy. ;)
Now I didn't watch the game, I was at my bowling league night. The game was on, but is almost impossible to pay attention to, so I didn't see any of Pidente's outing. I did see the remark by Adam over at Lone Star Ball this afternoon that said this:
Was listening to the game tonight on the radio.
Vicente Padilla walked Garrett Jones (a rookie hitting well below .200) after starting out 2-0 with a couple of what Eric Nadel referred to as "blooper balls."
Nadel wondered, after the walk, why Padilla would throw two of those in a row, at the start of the count, to someone like Jones.
Victor Rojas said, "Because Padilla is the biggest mental midget in the major leagues. He just doesn't get it." Rojas, a couple of batters later, said it was "pathetic" having to watch Padilla, and that if he were Ron Washington, he'd pull him and tell him to start serving his suspension if he didn't want to be out there.
I've never heard a home team's announcer be so harsh about one of the team's own players.
I wish I had heard that. It's the kind of honesty we haven't heard since Tom Grieve was busted saying rude things about Hideki Irabu a couple of years ago when he thought his mike was closed, and it was not. It's really REALLY nice to see that kind of honesty from a broadcaster. In reading around today, I see a few remarks from fans that seem to think it means that Victor is going to be fired over it. If Victor is fired over that, I'll seriously protest, that's the kind of thing we should be ENCOURAGING from our broadcasters, not shirking away from. The story went that Vince Cotroneo was let go before Vic because Vince didn't want to be a "team cheerleader". In emails I've had with Victor, I've gotten the opinion that Victor doesn't like being a cheerleader either, and one would think they would have asked that coming in. I really hope nothing happens to Victor over this. It shouldn't. It better not.