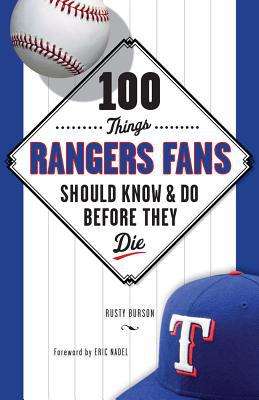 I was sent a few copies of the book "100 Things Rangers Fans Should Know & Do Before they Die", and was asked to review them.  Unfortunately, they sat on my desk, and got buried under some piles of miscellaneous crap, and I forgot about them.  Well, today I'm rectifying that, as I wanted to write a quick review of the book.   This book is not so much a fictional (or even non-fictional) narrative.  It's a collection of Rangers "moments" from all parts of the franchise's history.
At first, that might not seem like a fun "book", but it's quite a blast to read down the list.  Obviously, the more recent events will be fresh in fans' minds, but as you delve into the book, you'll find many items in the lists that make you go either "Oh yeah!" or "I remember that!".   This book is a tour guide down the history that is the Texas Rangers franchise.  It's also a book that you can savor for awhile, you don't need to blow through all 100 at once, or even in 2-3 settings.  You can read one, digest it, and then get a totally different flavor when you come back for the next bite.
There's quite a diverse list of items in the book.  Here's a few of the subjects the book talks about:
Salute Tom Vandergriff Whenever Possible
Sit Down A-Rod, closing Game 6 of the 2010 ALCS
Johnny Oates: No player will wear number 26 again
The 1974 season: First Signs of a Pulse
George W. Bush: Leading the Rangers, Texas, & the USA
The first Rangers All Star: Toby Harrah
The Bobby Valentine Years
The 2004 Fighting Showalters
Eddie Chiles: A Mad & Memorable Majority Owner
The Claw & Antler Craze of 2010
The '94 Rangers finish first, 10 games under .500
The Chan Ho Park debacle
That's just a sample, as you can see, there's items from every era of Texas Rangers baseball.  There's many more, the 10 cent beer night event, Jose Canseco pitching and a ball bonking off his head for a home run, several broadcasters, and subscribing to Jamey Newberg's newsletter.  The book definitely runs the gamut of Rangers history.
By default, some of the early ones touch on the Senators years, but there's no direct Senators entry.  That's OK, though – I'd say the overwhelming majority of Rangers fans can't name anyone who was a Senators only player anyway.
There's a few other entries besides the "official" 100 in the title of the book.  There's a few side notes, smaller entries that aren't numbered that are scattered through the book too, so there's more than just one hundred.
I really enjoyed wading through this blast down memory lane with the Texas Rangers.  I didn't see a Rangers game until 1993, and wasn't really a fan until 1995, so a lot of the earlier memories are things I'm always looking for someone's personal recollections of, as I didn't live through them.  This book touches on several of those, and I really enjoyed it for that.  It's not like a chronological listing of Rangers "events", this is more personable than that.  That's a flavor I really enjoyed.
I suggest buying a copy of the book if you're a Rangers fan – I enjoyed the read.  You can do this by clicking on the cover art above.
Finally, I'm giving away two copies of the book through the generosity of the publisher.  The first two Rangers fans responding to this review and email me will win.  Just one condition.  You have to be in the USA.  I'm not going to ship outside of the USA.  UPDATE: THESE HAVE ALL BEEN CLAIMED.
Here is the formal press release about the book: