Well, I wasn't in much of a mood to watch baseball for two reasons:
That "I want to stop" post I made on Saturday
Football was on.
Still, I tuned in to the beginning of the game as I was flipping channels. The Rangers didn't do much in the top of the first inning, but they did in the bottom. Or at least Padilla did. Yeah, we won, but this was probably the moment most people will remember.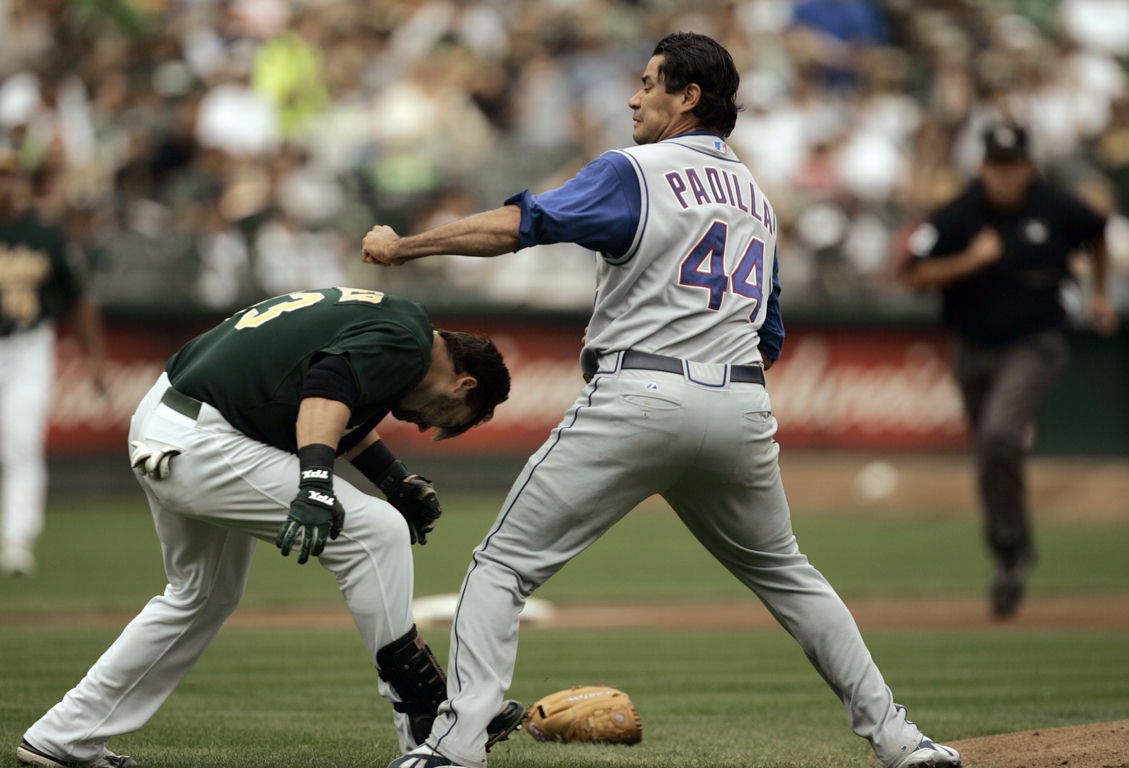 It's of course not as famous as this fight picture…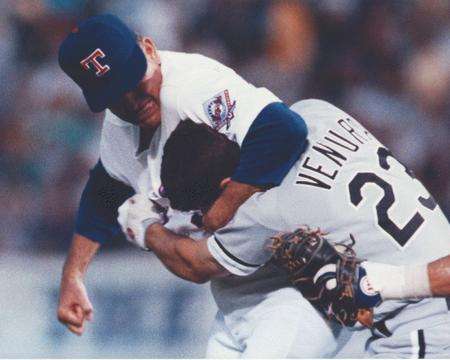 Or even a good a fight as this one from last year…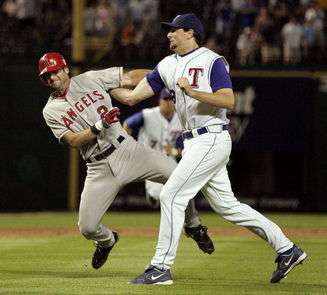 But for some reason, fights on a baseball field always fire up the crowd. Most people seem to think "headhunters" or guys who have a reptuation for throwing at people are a bad thing. I disagree. I like that. These fans who were against this were obviously never fans of old school baseball. Back in the day, most people pitched that way. And the hitters either just took it or fought. There was no whining about rules, and this and that. It was part of the game. A part that's been lost. You think Roger Clemens doesn't do this? Of course he does. I like this. It's not like Chan Ho Park, who hit people by accident. This is message baseball, something that we need more of.
As for the game itself, it was a big back and forth game. I did see the six run top of the second, which was cool to watch. I did not see the five run bottom of the third, which would have not been cool to watch, had I seen it. We traded singles in the fourth and fifth, and we went into the top of the 8th down one run.
Michael Young took care of that with a grand slam in the top of the eighth. I didn't see that, either. Shame, but I was on football then. He came close to a cycle as well, missing the hardest one; the triple.
As is the case with a game that had 20 combined runs and 21 combined hits, there wasn't much in the way of great pitching – the box score confirms that.