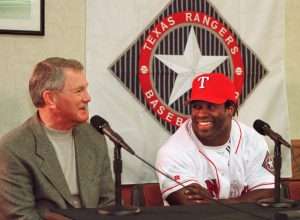 ARLINGTON, Texas –The Texas Rangers acquired the best tailback in baseball, Heisman Trophy winner Ricky Williams (shown to the left from the Dec 18th Press Conference announcing him as a Ranger).
Texas purchased Williams' contract from the Expos on Tuesday, a day after Montreal took him from the Philadelphia Phillies with the fourth pick of the major-league draft for players left off 40-man rosters.
Rangers owner Tom Hicks, a University of Texas regent, would love to see the Longhorns star playing in his organization, even though it's likely Williams' future is in football.
"I still want to play baseball, but I'll have to wait and see what happens," Williams said Monday in New York. "But I'm a football player first. Bo Jackson was definitely a much better baseball player than I am, but I'd still like to give it a shot."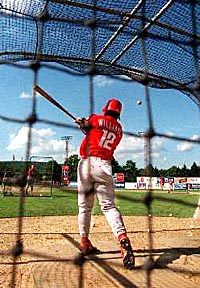 Texas paid Montreal about $100,000, allowing the cash-strapped Expos to more than make up for the $50,000 draft price. Williams, an outfielder, must be on Texas' 25-man opening day roster or be offered back to Philadelphia for $25,000.
The Phillies picked Williams in the eighth round of the 1995 amateur draft and paid for his tuition at Texas. Technically, he was a walk-on in football.
In four minor-league seasons, Williams hit .211 with four home runs and 40 RBI in 170 games.
Williams, a cousin of Cecil Fielder, hit .283 with six stolen bases in 53 at-bats for Class-A Batavia of the New York-Penn League last season before leaving the team to begin preparing for his senior year at Texas.
His football numbers are more impressive. He set NCAA Division I-A records for rushing yards (6,279), scoring (452 points), touchdowns (75) and all-purpose yards (7,206).
He ran for 2,124 yards and 27 touchdowns this season, leading the Longhorns to the Cotton Bowl. He won the Heisman Trophy on Saturday.
To make room for Williams on the 40-man roster, the Rangers designated infielder Scott Sheldon for assignment.
NOTE: There is an additional story about the signing here.