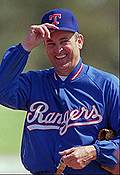 NEW YORK — Nolan Ryan, George Brett and Robin Yount were voted into the Hall of Fame Tuesday, the biggest class of first-time candidates since Babe Ruth and four others were chosen in the original election of 1936.
Ryan, the greatest power pitcher ever with a record 5,714 strikeouts and seven no-hitters, was named on 98.79 percent of the ballots — one vote short of beating former teammate Tom Seaver's 98.84 in 1992 for the highest total in history.
"It's certainly an honor that I was thought of on that level," Ryan said. "Tom was obviously one of the best pitchers I ever saw throw the baseball."
Brett, 13th on the career hits list with 3,154, made it with 98.19 percent, the fourth-highest total. Yount, with 3,142 hits and two AL MVP awards, was elected with 77.46 percent.
"I was flabbergasted. It just knocked me on the floor," Brett said of his vote total. "Obviously, I was very, very pleased. But in all honesty, I was just as pleased for Robin."
"Of all the guys I played against," he said on a conference call, his voice cracking, "probably Robin is the guy I enjoyed playing against the most."
To gain election, players had to be placed on 75 percent of the ballots cast by 10-year members of the Baseball Writers' Association of America. There were a record 497 ballots cast — Ryan was named on a record 491, Brett 488 and Yount 385.
"I'm not one that ever takes this kind of stuff too seriously, but my stomach's kind of been in knots for three or four days, so maybe somebody's telling me this is pretty good stuff," Yount said.
Carlton Fisk, another first-time candidate, fell 43 votes shy of the required 373 with 66.40 percent. Tony Perez missed in his eighth try with 302 (60.76 percent).
Ruth, Ty Cobb, Walter Johnson, Honus Wagner and Christy Mathewson were taken in the first election ever. Since then, never more than two first-timers had been taken, the last time in 1990 when Jim Palmer and Joe Morgan made it.
In all, 29 rookie candidates have been taken since that first election. Mike Schmidt had been the last to do it in 1995.
Joe DiMaggio, Roy Campanella and Harmon Killebrew were among the players who did not get elected on the first try.
The last time the BBWAA voted in three players overall was 1991 — Rod Carew, Ferguson Jenkins and Gaylord Perry.
Induction ceremonies at Cooperstown are scheduled for July 25. The Hall of Fame exhibition will be the next day, and it seems fitting that Ryan's Texas Rangers will take on Brett's Kansas City Royals.
The Hall's membership of 240 probably will increase again on March 2 when the Veterans Committee votes in Tampa, Fla. Former manager Dick Williams, Bill Mazeroski, Orlando Cepeda and Dom DiMaggio figure to draw support.
Ryan held or shared 53 major league records when he retired in 1993 after a 27-year career.
Ryan went 324-292 for the New York Mets, California, Houston and Texas, tying him with Don Sutton for 12th in victories. He said his Hall plaque would likely depict him in a Rangers hat.
Though he never won a Cy Young Award, and despite his .526 winning percentage ranking the lowest among all 300-game winners, Ryan's sheer domination landed him a place in the Hall.
Brett was a 13-time All-Star. The third baseman hit .305 in a 21-year career spent entirely with the Royals.
Yount played his whole 20-year career with Milwaukee and won MVP awards at shortstop and center field. He was a three-time All-Star and batted .285.
Not since that 1936 election has a player with 3,000 hits failed to be elected in his first year of eligibility.
Fisk (376 HRs) holds baseball's record for most home runs by a catcher. In 24 seasons, his most memorable homer was the one that won Game 6 of the 1975 World Series at Fenway Park.
Perez, who got 68 percent last year, had 1,652 RBIs, most among eligible players not already in the Hall.
Dale Murphy, another first-timer, received 96 votes. The seven-time All-Star hit 398 home runs and won five straight Gold Gloves in center field.
Other players falling short included Gary Carter (168 votes), Steve Garvey (150), Jim Rice (146), Bruce Sutter (121) and Jim Kaat (100).
Mickey Lolich, 217-191 and MVP of the 1968 World Series, and Minnie Minoso, a .298 career hitter, missed in their 15th and final time on the ballot. Minoso got 73 votes and Lolich got 26.
Pete Rose, still off on the Hall ballot because of his ban from baseball, got 16 write-in votes.