by Mike Shropshire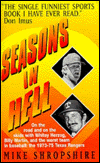 Summary: Assigned to cover the Texas Rangers for the Fort Worth Star-Telegram in early 1973, gonzo sportswriter Mike Shropshire looked forward to the perks and padded expense account that went along with the job. He never dreamed he'd have to earn every penny–following arguably the worst team in baseball history. Full of wild games and wilder nights, and the exploits of some of the most extreme characters ever to play the game, this book is Shropshire's irreverent, behind-the-scenes look at the hell a truly pitiful team can raise between games and innings.
Joe's Remarks: I wasn't quite sure what to think of this one either.  I bought it because of the tagline on the front about it being funny.  I admit to not knowing a whole lot about the very early years of the Rangers (I didn't move here until 1992, and didn't really follow 'em until 1995), and the thought about reading a book all about them didn't thrill me.
However, I quickly found out that this was a hysterically funny book.  Mike Shrophsire has a very funny wit, and isn't afraid to let it fly when talking about the Rangers of this era.  His recollection of events is awesome, and makes for very funny reading.  If you're a fan of the Rangers, or even if you're not, GET THIS!  It's a very great read, although I don't recommend it for very small kids, as there's more than just one or two cuss words in there.  Still, for adults, it's well worth it.
As of Mar 2000, it appears to be out of print (unfortunately) – but the link I provide by clicking on the cover will allow you to order it.  If you can find it on a bookstore shelf, get it now while you still can.
Update Feb 2012: The book is still out of print, but you can buy used copies.  I strongly urge you to.  It's a warts and all, and rather funny look back at the earliest seasons of Texas Rangers baseball here in the Metroplex.