by Eric Nadel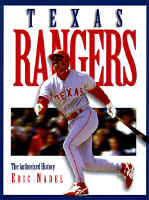 Synopsis: With 300 photos, many in color, a host of interviews, and pertinent statistical matter, this resistible keepsake for any Rangers fan brings readers all the glory of the 1996 season and covers all the drama and color of the 24 seasons that preceded it.
Joe's Remarks: I loved this book.  My wife gave it to me as a a present in 1997, and it was wonderful!  I can't recommend this book enough.
I've only been a Texas Rangers fan since 1994, and my wife gave me this book as a present in 1997. I knew the Texas Rangers existed before I came to live in the Dallas/Ft. Worth Texas area, but I never thought much of them. I didn't realize the characters and history of the team. If you're a casual Rangers fan, or a die hard Rangers fan, then you should have this book. It's filled with all kinds of informational pieces about the team's history, going back to the early 70's when they were the Washington Senators. Focuses heavily on the 1996 season in which they finally made it to the playoffs after about 25 years.
As the Texas Rangers now move into the Alex Rodriguez era, the book probably could stand an update, as a lot has happened since the book was published during the 1997 season, but it's a great read if you're into team history.
Feb 2012 Remark:  I wrote this back in 1997 not too long after my then one year wife gave me this.  The book now in Feb 2012 is out of print, and expensive.  Eric has told me a few times the only thing that would make him do a sequel is if the Rangers got the World Series.   I reminded him of that after the 2010 season, and he said that he doesn't have the time now, he'd probably farm it out to someone when they win.