by The Sporting News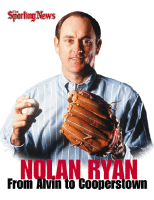 Summary: Nolan Ryan: From Alvin to Cooperstown is a collection of articles and rare photographs from the archives of The Sporting News. With Ryan's 1999 induction into the National Baseball Hall of Fame, this book is the first to capture his entire career in pictures with the New York Mets ('66-'70), California Angels ('71-'79), Houston Astros ('80-'88), and Texas Rangers ('89-'93). Baseball's all-time strikeout leader and the author of seven no-hitters, Nolan Ryan is in many ways the most remarkable pitcher to ever play the game.
Joe's Remarks: I got a kick out of this book.  Has a ton of pictures of Nolan through his career, and covers virtually every aspect of his career.  I was fortunate enough to see him pitch one time in Texas (his final Texas appearance), as I hadn't moved here till December of 1992.  If you're a fan of Nolan Ryan, then you should probably pick this up.  It's not the heaviest read ever put together, but it's a nice tribute to Nolan's career.
Feb 2012 Remark: I don't remember reading this book, to be honest.  Wrote this back in the late 90's when my site posts were MUCH smaller.  I certainly don't own this book anymore, that's for sure.  :)