This was a really bizarre game. But I can say this. It was one of the most stressful games I've watched in awhile.
CJ Wilson was dancing with trouble the whole time he was out there, but didn't really break. He made it into the sixth throwing 108 pitches. But he allowed four hits, and five walks. Granted, two of the walks were intentional to Pujols, but still. You always felt he was on the verge of giving up 5 runs, but he never did. Gave up two, although one was unearned. Alexi Ogando wasn't a whole lot better. He only pitched one inning, but allowed two hits and three walks, but no runs. Go figure that one. :) He too was teetering like Ceej was, but nothing happened run wise.
All told, the Rangers gave up nine walks, although four of them were intentional. Three to Pujols, and one to Berkman.
The errors. There were two official errors, and a few other plays that probably should have been, but weren't according to the official rules.
Given all the walks, the errors and fielding issues, we should have lost this game, but we didn't. The Cardinals left 12 men on base, including the bases loaded at least twice that I remember. Rather surprised at that, to be honest. The Cardinals scored their runs early on in the second. Neither was a huge deal. One was a single to left, and the other was an infield groundout. Murphy's bobble on the first hit allowed the second to score (eventually), and it was unearned because of that. But that was it for their scoring. Given how many guys were on base, it's a surprise.
I've felt that Mitch Moreland has developed the Chris Davis problem, which is he swings much too "big", and is stupidly susceptible to a slider down and in. Swings through it all the time. Kind of like the reverse of Juan Gonzalez's old slider problem. Anyway, the Rangers got back into the game quickly in the bottom of the third when Moreland connected with a ball, and hit it halfway up the upper home run porch. Was a no doubter of a home run. One amusing thing, which is a Tom Grieve reference of sorts.. Immediately before Moreland went yard, Tim McCarver said "he hasn't shown it in the post season yet but Moreland has some pop". Does that count as the call? :)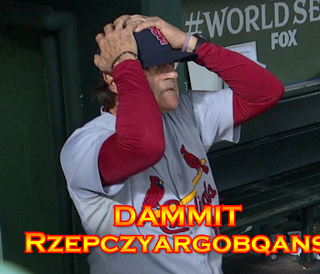 The game stayed that way until the sixth when Albert Pujols connected on a ball and jacked it over the left field fence to tie the game. Given how little we were doing up to that point, it was a big booster to my feelings at the time. This game was seriously stressful, and the home runs seemed like a bigger deal than a solo shot to tie a game at 2-2 would normally be.
While I seem to be blowing off innings here, I have to point out again that this game was enormously intense. So much so that once I ran out of buffer time on the TiVo, I would pause the game for a few minutes, then watch a few minutes of the latest episode of "Two Broke Girls" from CBS. Then I'd go back to the game. I did this because I was mostly skipping the stuff inbetween the pitches. I didn't want to wait for all the posturing, the mound conferences, the delays between pitches. I did watch every pitch of the game, but the stuff inbetween I didn't want to watch due to the fact that the game was so intense.
Anyway, we get to the 8th, and then the real fun begins. It started off well, with Michael Young doubling, but then Beltre struck out. Still felt good about the inning. Then Tony LaRussa, aka "Super Genius" (see Wile E. Coyote) walks Nelson Cruz intentionally, and changes the pitcher to Mark Rzepczynski. Oddly enough Wash doesn't counter that move with the RH Gentry, but sticks with Murphy. It works out, as Murphy hits a slow ball back to Rzepdzlqwrvgski and it bounces away. While we'll never know what would have happen, his deflection let everyone be safe and loaded the bases. Super Genius had the reaction I captured in the picture here to the play. The next batter was Mike "MVP" Napoli. And you can guess what happened.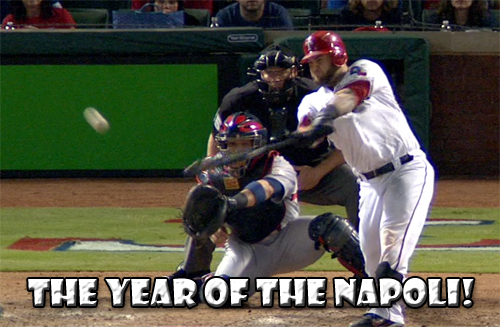 He doubled to the right center corner scoring Young & Cruz. Murphy goes to third and THEN is pinch run for by Gentry. While that was the end of the scoring, the rest of the inning log is worth looking at. Mitch "Davis" Moreland strikes out, and then the real amusing stuff starts. Super Genius brings in Lance Lynn, and has Lynn intentionally walk Ian Kinsler. While the TV guys were talking about that move, out comes Super Genius again and replaces Lynn with Jason Motte. What the heck? Bring in a guy to intentionally walk someone, then take him out? What was that? Well, Motte strikes out Elvis to end the inning, but that was definitely a "What the heck is he doing" moment.
Speaking of odd things in the 8th.. I was texting with a friend of mine who lives out in Arlington during the game. Here's a small exchange between us about the game. It's a screen dump from my iPad, we were chatting on the new iOS 5 iMessage feature. I had been talking about how stressful the game was, and my friend Jeff,… well, read it. :)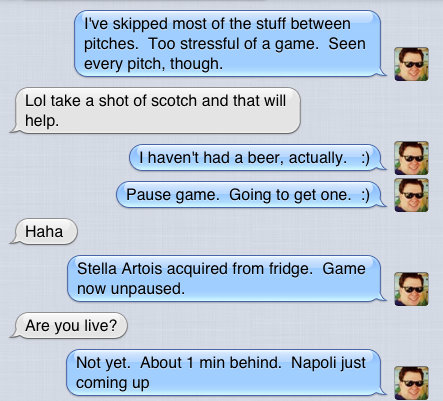 So I attributed the 8th inning to the fact that I went and got a beer. I ended up catching up to live TV just before Napoli's hit, which is probably good, because someone might have texted me and spoiled it (I had a few others texting me at the same time).
We get to the ninth and Neftali Feliz comes in for the save. Doing his best to call up the ghost of John Wetteland, Feliz hits his first batter, Allen Craig. Then comes a move that Super Genius blamed on miscommunication – like the miscommunication with the dugout phones. You almost thought Super Genius was going to say something like "Well, it would have worked if the phones were working, and people would have gotten my signals". In a move that hasn't happened the ENTIRE 2011 season (spring, regular, post), Albert Pujols struck out, and then Craig was caught stealing at second. That was the first time all year Albert has done that. So I say again, "Thanks Albert!".
Even the final out of the game was an adventure. Lance Berkman struck out, but Napoli dropped the ball, and it caromed off his foot, and rolled towards the Rangers dugout. He ran it down, much further than I've ever seen a catcher go after a dropped third strike, and underhanded it to Napoli for the final out of the game.
As weird as this game was, Super Genius blamed the bullpen phone for the mixup with the relievers in the 8th inning. He claimed that he asked for a guy to get up, and someone else was up. He even called twice, and the bullpen coach said he didn't hear the same name that Super Genius asked for. The names in question didn't even remotely sound anything like each other, so the whole exchange sounds fishy. You can read more about it here and here.
When the game was finally over, I posted this to Twitter. Was short and sweet.
Exhale #Rangers
It was intense, and I don't think anyone wanted to go to St. Louis down 3-2. Instead, we're UP 3-2. We're only one win away from winning the World Series. The only thing more surreal than that will be the post saying we won (assuming we do). But being on the edge is both nervous and exciting.
The Rangers won a game it had absolutely no right winning. How did they survive to pull this one out? Only the baseball gods know the answer to that one. The Rangers were charged with only two errors, but made five major defensive miscues. They issued four intentional walks (only the third time in World Series history that's happened). They walked nine batters altogether (only the 16th time a team has walked nine-plus in a World Series, and only the fourth team to win). They hit a batter and tossed a wild pitch. They threw 181 pitches in nine innings.
That bit above was taken from an ESPN story on the game. My response to it is this…. The bottom line is a W. That's *ALL* that matters in the playoffs and especially the World Series. Not HOW you got the W.
Oh, and for the record, I enjoyed Derek Holland's impressions in the game. I know some were saying it was inappropriate. I know Jamey Newberg didn't like it, and the guys I listened to on XM Radio in the morning didn't like it, but I did. Made me laugh. For me, I saw it as lighthearted. If anything, it was an extension of Ron Washington's attitude about having fun and not being too serious.
P.S. It also never occurred to me until last night that our closer's surname translates to "Happy". Don't know why I didn't pick up on that before.