A big back and forth kind of game.   The lead was either tied or changed hands six times by my count.  Had a ton of frustration late, usually the level of frustration I get when we go to extra innings and don't get the job done – because it usually means we lose late.  But this one ended up with a very fun ending.  Before that..
It was by far the longest game of the season, both in innings (13), and in time (4:38).  The game started at 2PM, and my wife works till 5 on Saturdays, so I wasn't going to get a clean listen as I was watching the kids – which was OK.  Started at 2, listened for awhile, and had to stop when I took care of the kids more intently in the middle.  Then I passed out for about half an hour on the sofa (bad daddy), and ended up taking my son outside to play in the back yard.  Put the game on via the MLB At Bat app on my iPhone (not like the old days when I'd take a real radio out there).  Game was still going when my wife got home from work.  We even got into dinner, and it was still going.  :)
It got started with a couple of runs early by the Rangers after a leadoff double by Kinsler.  Then it got "small".  Fielder's choice, ground out RBI, passed ball, sac fly.  That combination scored us our two runs.  Not loud, and not ostentatious, but it was two runs.  Always will like going up first.    Not much happened until the top of the fifth when the Jays tied it up on a two run home run by Colby Rasmus.  The Jays added two more in the top of the sixth when they scored via the combination of a double, a single, and another single.  Jays up 4-2.
The Rangers answered back with some power in the bottom of the sixth (winning someone some cash on the TV side).  After a couple of quick ground outs, Nelson Cruz homered to left center.  Then Yorvit Torrealba followed up with his second of the year.  And finally Mitch Moreland went back to back to back, putting the Rangers back on top 5-4.  The next batter was Ian Kinsler, and Henderson Alvarez got ejected by the home plate umpire when he threw a ball way in.  This was after three straight home runs.  Even I looked at that replay and didn't think he needed to be ejected.  Most of the time when a pitcher is ejected, they throw their arms up and go "What?  Why?" (or some such verbiage).  This time it was deserved.  I don't believe rules allow for an umpire to reverse an ejection call, but if it was possible, they should have.  Didn't think he deserved that.  Plus I wanted a chance for more home runs!
The Jays tied it back up quickly in the top of the seventh on a single by JC Arencibia, scoring Bautista.  That tied the game, and ended the scoring in the regulation set of innings.  And set up a bunch of fingernail biting and "Oh DAMMIT" kind of reactions after the ends of the 9th, 10th, & 11th innings.   Here's why:
Bottom of the 9th: Ian Kinsler is hit by a pitch.  Elvis is out on a good sac bunt.  Josh Hamilton gets intentionally walked, and then Beltre flies out to left, and the runners advance to second and third on a throwing error.  OK, two outs, but only 90 feet away.  Michael Young grounds out to short.  OH DAMMIT #1.
Bottom of the 10th: This time the inning starts with Craig Gentry being hit by a pitch.  Nelson Cruz whiffs, but Gentry steals second.  Torrealba flies out, but Gentry goes to 3rd.  On comes Darren Oliver, and he gets Napoli out swinging.  OH DAMMIT #2!
Bottom of the 11th: Ian gets on to lead off the inning again, this time of his own doing via a single.  Elvis sac bunts the runner over to second again.  Hey, wild pitch by Darren Oliver – so we have a runner at third with just one out.  Then a 3 unassisted (Cooper), and a 5-3 groundout (Lawrie to Cooper) produces OH DAMMIT #3!
Bottom of the 12th: Michael Young gets it started this time by singling – the fourth straight inning we led off with a runner.  This one was less dramatic – Gentry popped out, Cruz flew out, then Torrealba walked.  Finally Napoli few out to right.  While not as frustrating as the others, still, we had a runner in scoring position, leading to OH DAMMIT #4!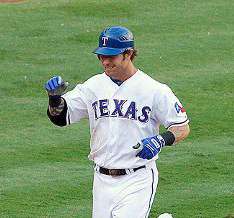 Then we finally get to the 13th inning, and we're eating dinner at this point.  :)   The Jays push across two runs mostly on a passed ball by Torrealba and a fielding error by Cruz in right.   While not officially an OH DAMMIT, I was pretty disheartened.  I stuck around, as I'd been here the whole game.  Wasn't expecting much in the bottom of the 13th.  Things went our way pretty quickly.  Ian Kinsler led off with a walk.  Elvis Andrus doubled to left, scoring Ian, who ran all the way around.  That brought up Josh Hamilton.   On the fifth pitch of the game, a 1-2 count, Josh jacked a two run walk off home run onto Greene's Hill, giving the Rangers the 8-7 win!   it was quite exciting – if you were there, seriously moreso, I'd wager.
It was our first walkoff of the year – and it gave Josh Hamilton more home runs (20) than walks (19).
Lest I overlook it, props to the Rangers bullpen for keeping the Jays off the board during all the "Oh Dammit" latter parts of the game.   Well, not Robbie Ross, but the two runs he allowed were unearned.  Still, the pen did a great job after the Jays were done scoring.  This would be Mike Adams, Joe Nathan, Koji Uehara, Robbie Ross, & Yoshi Tateyama.
It was a great win, and a great comeback.   Walkoff wins are always fun.  Gotta love the jumping around at home plate.