The amusing thing about this game is that I almost didn't go.   The weather reports said all day that it was going to be raining for awhile, into the night and into the next day.  It didn't look promising, but people out by the team I was watching on twitter were all about the game going on.  So around 4:15 or so I decided to just pick up and go.  I was out at 4:30, and it's good that I left that early, because almost immediately there was wall to wall traffic.  Normally I don't pick up that kind of traffic until I get down near downtown and the mixmaster (or at least the Fair Park area), but this started way back in Mesquite, and it was wall to wall traffic going pretty much out to the main Post Office.  I didn't get out of my truck and start walking to the ballpark until 5:54 – one of the longest drives to the park I've ever had.  When I was walking in, it was quite sunny, so I was pretty confident the game would come off.  Turns out it was a good thing I went, because I saw a really fun game.  
Got to my seat, and broke out the old school paper scorebook.  I score on my iPad now, but with rain in the area, I didn't want to bring that.  So the game got started, and CJ Wilson was booed twice at the start.  One when he was warming up, and Chuck Morgan was announcing the lineups.  The other was in the bottom of the first when the Angels' battery was announced.  The first one CJ was laughing at the booing.  The flip side of that is that Yu Darvish was getting a ton of "Yuuuuuuuuuuu" whenever he did much of anything.  Wasn't quite the love-fest that his first game was, but people were definitely into it.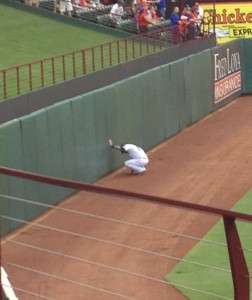 One interesting thing about the beginning of the game.  Mike Napoli crouched down below the center field wall and was drawing something in the dirt with his hand. It was obviously too far away to see, but I wonder if anyone else knows what he was doing – is that a ritual?  Or maybe perhaps he was just writing CJ Wilson's cel phone number in the dirt.  :)
Darvish had an easy first inning.  It wasn't 1-2-3, but it went by pretty quickly.  After the top of the first, Chuck Morgan made an announcement about "threatening weather" in the area, and that people in the upper deck should go to the lower seating bowl to take shelter.  That's the kind of announcement you get when there's a tornado or something really bad in the area.  Uh-oh.    I've been to several games with rain delays, and while I detest them, I've seen it happen.  The sky wasn't so bad until after Chuck made that announcement, and you could see a wall of black coming in over the stadium.  It wasn't quite to the level of a big ship from ID4 would have been like, but it did look extremely ominous.
To that, CJ Wilson came out to pitch and struck out Ian Kinsler, so you thought right away "game on".  Well, it wasn't.  At least not for CJ.   Elvis Andrus got an infield single, and then stole second.  Josh Hamilton was safe on a ground ball to Howie Kendrick, which appeared to freeze Kendrick, as he didn't throw to either third or first.   Adrian Beltre put the Rangers up 1-0 on a single, and Kendrick muffed it again – this time actually throwing the ball away for an error.  Michael Young walked.
And then the rains came.  It rained HARD.  It started about 7:35PM, and the game didn't resume until right at 9:30.  Was a long delay.  Rain delays aren't quite like delays of old.   If you were at a game by yourself 10 years ago in a rain delay, it was pretty darned boring.  Not now – not with everything on cel phones.  I spent most of the rain delay following the Rangers beat writers and whatnot on Twitter.  Some very amusing tweets during the rain delay.  Here's a few of them.
Evan Grant: There goes the head shake from Wilson in the dugout. Umpires, defense, forces of nature, all seem to be conspiring against him.
Anthony Andro: The dark cloud hanging over Rangers Ballpark right now is not C.J. Wilson.
Evan Grant: Nothing rattles Wilson more than "cheap" hits. Rangers have 2 INF singles in first.
Victor Rojas: Waiting for a pizza to be delivered. RT@jarhead301 What do reporters/broadcasters do during a rain delay? More prep?  (Four minutes after that, the pizza arrived).
Evan Grant: Good news: Lexus Lots now have space to accommodate your canoes and pontoon boats. Nothing over 20 feet, please.
Evan Grant: Don't bring down my opinon of Olivia. RT @Ranger_MegaFans: Do you think CJ is already at hotel eating sushi, watching Olivia Wilde movies?
I myself walked over to another section to visit a friend of mine who was there.  The concourses were a seething mass of humanity, but I made it over, and finally acquired a fridge magnet from the opening day giveaway.   Most kind of my friend to let me have one.  I now have all the fridge magnets from 1997-2012, although the last two I didn't get on my own.
Walked back to my seat, and sat there for the resumption of the game after a quick phone call home to say good night to my daughter.   That was the end of the big rain.  It did rain a little after that, but not enough to stop the game.    CJ Wilson did not return after the rain delay.   Neither did Yorvit Torrealba.  When Pujols was up in the first, his bat splintered at the plate, and fouled out to Young.  However, the part of the bat that Pujols was holding smacked Torrealba in the head, and he went down.  That happened before the rain delay.   He finished the half inning, but did not return after the delay.  Was out with a "head contusion".  Heard later on that the Rangers pulled a AAA catcher out of the game as a precaution – I wonder if our first roster move of the year happens tomorrow.
Anyway, first pitch back from the rain delay, Nelson Cruz whacked a single to left, scoring Josh & Adrian.  Mike Napoli reached on a fielder's choice that got nobody out.   Moreland grounded into an RBI force out, and the Craig Gentry tripled down the left field line, scoring Cruz & Moreland, bringing out output in the first inning to six runs.  Kinsler grounded out to finish the inning.  He made two of the three outs in the first, separated by about two hours!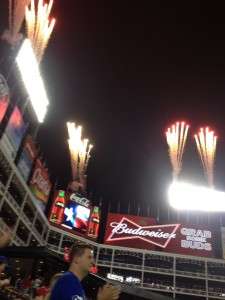 One thing about the Gentry triple.  Vernon Wells dove for it and missed.   Wells looked really bad out there in left.  Misplayed several things, bad dives..  I mean, he looked bad.  Heck on a fly ball to center to end the fifth, the center fielder tossed the ball to Wells as they were running in at the end of the inning, and Wells missed that one, too!   The fans in the area were on him a lot.
A surprise – a big one was that Yu Darvish came back out after the rain delay.  For a delay of almost two hours, it's pretty much expected that the starter is done.  Not now, he came back out, and was pretty good, too.   Word came down that he kept warm during the delay by throwing every 15 minutes or so.  No idea how much, but it probably wasn't side session work, probably was live action type pitching.  It's a gutsy performance, and it was't just a token appearance to say he came back out.  He pitched a total of 5.1 innings, and got the win.  The kind of move that builds character with the fans, IMO.  Unlike CJ Wilson who was probably back at his hotel eating sushi watching on TV.
The bottom of the second and the bottom of the fourth brought some more fun to the park in the form of two more Josh Hamilton home runs!   The first one was one of those rainmakers that seemed to take forever to get out.   It was not a no doubter at all, I kept expecting  Torii Hunter to leap up and get it, but he didn't.   The one in the fourth Hunter didn't even try – it was a no doubter – not a titanic blast, but you had no thoughts it wasn't going out.  Two more home runs for Josh.  That gave him 17, and I saw a post online at that at the time of that home run, Josh had 17.  The entire Angels starting lineup had 19 – combined.  Wow.
In the bottom of the fifth, I thought the Rangers were going to blow it wide open, as they had loaded the bases, and Beltre hit a ball right near where I was sitting – came about 5 feet or so short of being a grand slam.  Which would have sent the crowd over the edge – it was already a pretty pumped up attitude, but a grand slam, which would have put us up 13-2 didn't happen.  In fact, after that moment, the Rangers had just one more run.  It came in the form of a solo home run by Mitch Moreland – one that dinged off the front facing of the upper home run porch.   Moreland was in the game to replace Torrealba.   Napoli started at first, and he moved behind the plate when Yorvit came out, and Mitch took over at first.
The Angels final run was too a solo home run.  This one a solo shot by Torii Hunter onto Greene's Hill.  That one fan who has run out onto Greene's Hill and caught several home runs this year on the fly got this one too, but IMMEDIATELY chucked the ball back onto the field – and it was a good heave, too.   I'm not a fan of throwing the ball back – I think you should keep it, but the immediacy of his return throw and the power of it made this enjoyable.  Heck, I think he had it back on the ground about the time Hunter was rounding second base. :)   Anthony Andro had a pretty hilarious tweet about that.  Check it out:
The kid catches home run balls better than the Angels catch fly balls.
The Rangers bullpen got the job done – they kept the Angels off the board.   Mark Lowe took over for Darvish when he came out.  Lowe went 1.2 innings, allowing just one hit.  Koji Uehara pitched the 8th, allowed a hit and a walk, but put up a zero.  Robbie Ross also allowed a hit and a walk, but got the only double play of the game, a 5-4-3 shot to end the game.
A few other bits from the game:
Albert Pujols was a non issue in the game.  He went 0-4, striking out twice.  The other two outs were both foul outs to Michael Young at third.
Josh Hamilton got an ovation when he came out after the second home run.  Then Chuck Morgan played a video montage of his 4HR game the other day, and it became a huge standing ovation.  That was a cool moment.
Nelson Cruz was trying to steal a base.  WHY?!?  Cost us a run, as Mike Napoli tripled right after that.
Funny line I heard by a fan tonight.  I was sitting in Section 4 row 4.  A guy in Row 1 had bought that obscenely large $26 hot dog.  He was standing there adjusting to sit down, and someone behind me yelled, "Hey, move that hot dog out of the way – I can't see!".   Made several of us laugh.
It's Turn Back the Clock Weekend at the ballpark.  Several bits were "turned back".  The big scoreboard in right had graphics similar to the old Arlington Stadium style of graphics.  There was also the old "Texas" scoreboard clock there, albeit much smaller.
The Angels were referred to as the "California Angels" this game.
The dot race was what I presume was what the dot race looked like back in the 80's in Arlington Stadium – picture below.
Towards the end of the game, the fans were chanting, "We want CJ!" – it was pretty funny.  And pretty loud, too.
Two doubles, two triples, three home runs.  Some nice power going on tonight.
Craig Gentry can RUN!
Ian Kinsler had a ball thrown behind him again.  Shades of John Lackey, eh?  That must have been why the home plate umpire issued a warning after that.
Fans got into it.  I saw fans wearing player jerseys for Kevin Elster & Ben Broussard tonight!  Couple of oddballs to see there.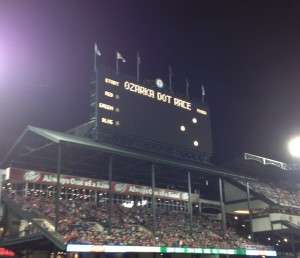 The game ended after midnight.  I didn't get home to Garland until just after 1AM, and I'm typing this at 3:01AM.  I think I should get some sleep, but it was such a fun game, I wanted to get it down before I hit the sack.   Just as I pulled into the garage, I heard on the radio that CJ Wilson will be starting on Saturday as well.  Which is interesting as that game is at noon – just nine hours from my typing this sentence.  Boy, if he comes out and stinks it up tomorrow too – wow, will we be in his head.
Thanks a ton to my friend Jeremy for hooking me up with tickets, and the fridge magnet.  Nice meeting you during the rain delay!