I was at this game, it was the first of the season for me.  I'll be honest, I went because Yu Darvish was pitching.  I was sitting in Section 208 out over the left field wall, so I couldn't get a good closeup view of what Darvish was throwing – but I WAS there.  That was the point.  I'm figuring somewhere down the line, Darvish will end up being a stud, and I wanted to say I was there for his first game.  And not be lying about it, unlike the half a million people who will say they were there and weren't.   I got there early, as I was set to retake my photos for my seat selector feature here on my site.   That took me from just when gates opened at 5PM until about 6:40PM when I finally finished.   During that time, I got a handle on what Darvish mania was like.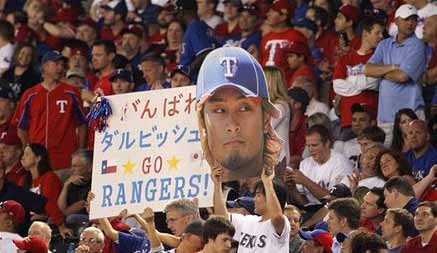 My path in taking all the pictures of Rangers ballpark took me in about five complete circles of the stadium, including many ups and downs in the seating bowl, going down the ramps, escalators.  During all that walking, I saw a lot of Japanese media and fans.  I mean A LOT.  It was hard to take some of the pictures without some Japanese fan getting in the way.  Not that it's bad, it's all good.  Adds to the flavor, but it made it hard to get clear lines of sight on several pictures I was taking.  :)   It all started before I even got in the park.  There was a Japanese camera crew set up across the street from the third base entrance.  I wasn't sure what they were doing, because when I passed them, they were just setting up.  Probably interviewing fans coming and going, I would guess.   While I waited for the gates to open, I saw NUMEROUS Japanese fans, all holding signs of some sort for Yu Darvish.   I saw several families as well, mom, pop, and kids all with Darvish "stuff".  I saw some Japanese fans interviewed on TV saying that Darvish over here would be like Michael Jordan or Tiger Woods in their prime going to Japan to play, and if I was living there at the time.  It's huge, apparently.  I get that, given the hoopla surrounding it, I guess I don't totally "get it" to the extent that Japanese fans would.  Still, there was a lot of enthusiasm, tons of signs, and not all of them by Japanese fans, either.  Once I started making the rounds, I spotted several additional cameramen who appeared to be Japanese that weren't part of the standard camera layout for a home Rangers game (that I can recall, anyway).  There was an unbelievable amount of Japanese flags around.  Most of them small, but some of them large signs.  The atmosphere was positively electric.  Outside of the playoff and World Series games, it's definitely something I haven't seen at the ballpark since the early days of Chan Ho Park.
Say what you will about Chan Ho Park, but before he started stinking up the joint, he brought in the Korean crowd – bigtime.  I loved that atmosphere before Park started being awful, because the Koreans would pack the place.  With their drums and whatnot, they'd all hoot and holler when Park would throw a single pitch.  It was intoxicating.   As I understand Japanese culture (someone correct me if I'm wrong), they're not as much into the hooting and hollering and whatnot, but there definitely was an elevated level of fun at the ballpark last night.  Heck, even "Fake Yu Darvish" was out and about.   When Darvish was in the outfield stretching, he was getting applauded.   They didn't seem to bother him too much when he actually went into the bullpen to warm up…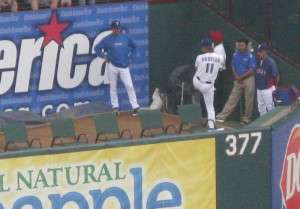 But once he walked out of the bullpen and back to the dugout, almost a standing ovation!  Good LORD – you'd think Elvis had come back.  Presley, not Andrus.   When the team took the field, a larger amount of applause then usual.  When Chuck Morgan announced the team battery – massive applause when he said Darvish's name.   The first pitch he threw?  Tons of applause there, and those who weren't applauding were busy having just taken a picture of said first pitch.   When he actually threw his first strike?  Oh man – eruption!   It was like nothing I've experienced in my years of going to games.  The first game with Arod as a Ranger was a bit nuts.  The last game with Pudge Rodriguez when he left the first time was nuts.  Palmeiro's 500th home run was intense.  While it's before my time, Nolan's 7th No Hitter and 5000th strikeout were probably up there.  Chan Ho Park's first outing was a big deal, too (remember the time, don't dump on this thought because it's Park).   But this Yu Darvish outing was like nothing I've ever experienced before.   It's too bad the actual game didn't live up to all of that.
Chone Figgins was the first guy up in the 1st inning.  Ball – Ball – Ball – Ball.  Four pitch walk to start.  OK, nerves.  I get that.   Dustin Ackley followed, and started with a ball.  Darvish's sixth pitch was a strike, and got much applause.  In fact, Ackley ended up striking out after a seven pitch at bat – an even higher level of noise.    After that, there were three straight singles, a visit from Mike Maddux, a wild patch, a couple of walks, another single..  You get the idea.  By the time the carnage was over, the Mariners had scored four times, Chone Figgins batted twice, and Yu Darvish had thrown 42 pitches.  It was a really awful start.  There was no way to sugar coat it.  It SUCKED.   I say most everyone expected some sort of nerves, but I don't think anyone expected THIS.
It didn't get a whole lot better in the bottom of the first in terms of smooth pitching.  The Mariners ran Hector Noesi out there, and he immediately walked the first two batters.  The Rangers ended up getting two back in the bottom of the first, which helped the overall mood.  I have to say coming out of the top of the first, I was already mentally preparing the "Well, that was bad, but we expected a rough outing, he'll get over the nerves, etc..".  While I didn't ask anyone, I bet you a lot of fans thought the game was lost after the top of the first.  I know I wasn't feeling good about it.  But the two runs back in the bottom of the first helped.  Right now I forget the exact count, but Noesi threw over 30 pitches himself, which was a combined 75 between the two starting pitchers, and a first inning that lasted about 45 minutes.   What a fiasco!
The Mariners got a fifth run in the top of the second on a pair of doubles, but that was it for their scoring.  Yu Darvish was much better in inning two, throwing I believe 14 pitches.  Two of the guys were out on the first pitch.  Still, they scored another run, and at the time I was sliding backwards in my overall feeling about the outcome.
Nelson Cruz changed that feeling an awful lot when we got to the bottom of the third.  After a couple of singles by Josh Hamilton & Adrian Beltre, Michael Young reached on a fielder's choice.  Live from where I was sitting, it was hard to tell, but listening to the radio replay going home, they said that the home plate umpire blew the call, and the out the Rangers made at home with Hamilton sliding in should have been a safe call.  It was't, they were called out.   No matter, Nelson Cruz came up, and on the second pitch of the at bat, he had a three run jimmy-jack to left field (not too far below where I was sitting) to tie the game at 5-5.
This seemingly energized Darvish, as when he came out for the fourth inning, he got Ichiro on a groundout, Justin Smoak on a fly out, and Kyle Seager on a second flyout.  Total pitches in the inning: eleven.   Sad that it was just about 1/4 of the total pitches thrown in inning one.  Speaking of that, Yu Darvish threw 42 pitches the first inning.  From innings 2-6, he threw 68.  That's not bad at all for 4+ innings of work.  Now we're thinking that Darvish would easily come out for the fifth to be in line for the win.  He did, and had another 1-2-3 inning, this time on 13 pitches.  I believe at this point, he was at 97 or 98.  Not an outrageous number, but pretty high for just five innings.  All the fans around me concurred that he was done now that he was in line for the win (more on that in a minute), and he was at 100 in what was a very rough outing.
But no, he came back out for the sixth.   He got the first two batters fairly quickly.  Then walked Dustin Ackley.  After a mound conference, he stayed in, and almost got Ichiro Suzuki, but he singled, and Darvish was pulled in favor of Alexi Ogando, who struck out the last batter of the inning.  When Darvish came out of the game, he got a wild standing ovation.   It was intense.  I did wonder if the place would clear out after Darvish was out, and I saw a small exodus, but the place mostly stayed full.
The bottom of the fourth saw some more longballs.  Napoli walked, and then was followed by Mitch Moreland's first home run of the season, a two run shot to the fair side of the right field foul pole.  A couple batters later, Josh Hamilton jacked a solo shot right over the center field fence to put us up 8-5 at the time.   That reminds me – earlier in the game, Hamilton had a towering fly ball to right field, which looked like it could have been a home run – it went just to the right of the foul pole out in the right field corner.  Josh ended up striking out, so it was a missed opportunity for a two home run night.
While I didn't think the game was ours and done at that point, it was a good feeling, given how awful the game started.
Ogando pitched another inning, as did Mike Adams & Scott Feldman.   Feldman wasn't originally going to come into the game, Joe Nathan was warming up out there, I believe.  But he sat down once the Rangers hit the bottom of the eighth.   Seattle reliever George Sherrill walked Mike Napoli again (amongst chants of NAPOLI!), allowed a single to Mitch Moreland.  Then Ian Kinsler, fresh off an annanounced contract extension put the game out of reach with another three run home run (our second of the night).  We went up 11-5 at that point, and I think everyone pretty much figured the game was over.   Feldman came in, pitched the final inning – mostly to get work, I imagine.
We also saw an Alberto Gonzalez appearance, so I think at this point, the entire 25 man roster has played on the field somewhere.  I'm pretty sure Feldman was the last guy.
So we did well to get the win despite Yu Darvish's pitching line of:  5.2 IP, 8H, 5ER, 4BB, 5K, 1WP, 1HBP, 110P.  Oh and he walked in a run, too.  Napoli didn't help with a passed ball, too.
But we got the win, and it put us into first place in the division.  In first week oddities, both the Mariners & the Mets were in first place in their divisions – which seemed quite odd, even given the few number of games played.  :)
Trust in Jesus!
Oh, and finally, but most certainly not last.   Don't forget.  Trust in Jesus.  It's Josh Hamilton's new walkup song.  And a great thing to keep in mind always.
One final thing.  Look at this picture.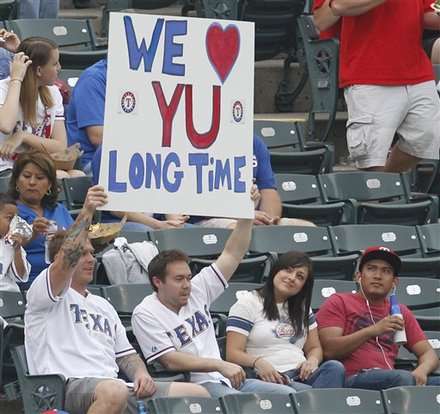 Is it just me, or does that seem mildly offensive?   The two fans sitting next to these guys with the sign don't look too pleased.  Especially not the guy.  Am I being too sensitive to this?
P.S.  After the game, it was announced that the Rangers & Ian Kinsler had agreed to a long term extension through 2017.  More on that later once the official press conference happens.