In spring training, Yu Darvish had some mediocre outings, and got better as March rolled along.  When he came out to start the season, he was positively atrocious to start the game, and within his first outing, he improved as the game went along.   That was just a smaller version of his season overall.   He's gotten better with each outing since the first, and was absolutely stellar last night.  The amazing thing is that he's 3-0 now.  Given how awful he was in the first game, and how much he treaded water in the others, you'd think he'd be 0-2, or 1-1 at best.  Not 3-0.  But he's 3-0.  We'll take that.  What I'll really take is the way he pitched last night.
This will mostly be a short update, because there wasn't a ton of offense, and I'd be going "Man, Darvish was awesome".  But he was.   His overall line was 8.1 innings pitched.  He allowed 7 hits and two walks, punching out 10 Yankees.  Oddly enough the Yankees, a team very famous for working pitchers and upping the count, weren't able to do that in this game.  Darvish made it into the 9th inning with a pitch count of 119 – a very economical count given the inning he was pitching in.  While I couldn't see the game, I did listen to a lot of it on the radio, and it sounded like he had it working.  Movement all over the place, control was great, had the Yankees looking like fools a lot – something that's ALWAYS good.
This was definitely what we paid for when we sent a truckload of money to Darvish's house, and a separate truck of money to the Nippon Ham Fighters.   No doubt.  While I think there will come a time where he stops getting better – because the only room left would be no hitters and perfect games (bring 'em on!), I do like he's improving, and this was definitely an outing to watch.  Shame I couldn't.  Oh well.
Another interesting pitching remark was that Darvish left in the ninth inning after getting Teixeira on a flyout, and allowing a single to Nick Swisher.   Joe Nathan came in, and did something he's never done in his few hundred saves in the past.  Got a save on a single pitch.  He immediately induced a double play to Raul Ibanez, which ended the game.  Nathan got his fifth save, and Darvish his third win.   The best part about the win is that it was a shutout against the Yankees.  Gotta bloody love THAT.
Speaking of double plays, the Yankees best chance came in the third inning when the Yankees loaded the bases (Chavez, Martin, Jeter).  Curtis Granderson was called out on strikes there, and then our buddy, The Chiller came up, and grounded into a 5-3 double play.  Again.  GOTTA BLOODY LOVE THAT!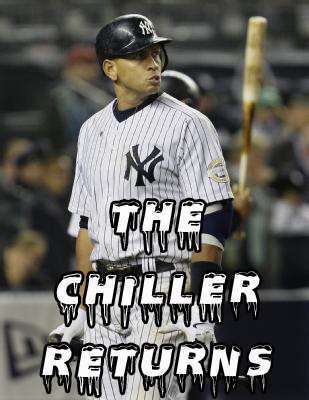 Our offense was pretty small itself.  The Rangers only managed five hits total.  They were:
Home Run by Kinsler in the 1st
Single by David Murphy in the 2nd
Single by Josh Hamilton in the 3rd, driving in Elvis who had walked
Single by Nelson Cruz in the 4th
Single by Mike Napoli in the 7th
That was it.  Our offense was done in the third, but we didn't need it, given the way Yu Darvish pitched.   The only thing that would have made this more sweet is if it was in the playoffs.  Granted, that happened already.  That reminds me.  It's not about this game, but this is a good a time as any to bring back this shot from the 2010 ALCS Game 6.  :)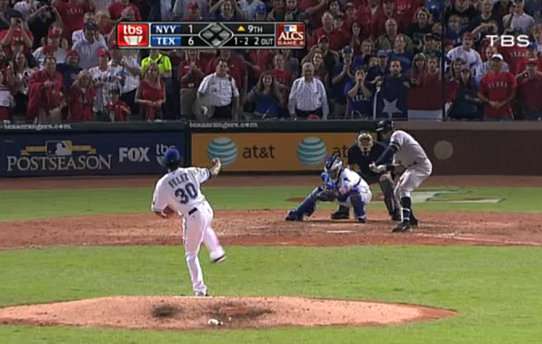 When is Yu Darvish's next start?  Can't wait for that!