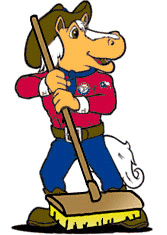 The Rangers pulled off something they've never done before.   Sweep a series against the Twins in Target Field.  We'd been pretty bad up there until this 2012 season.  They did it coming from behind as well.  Coming from behind with power.
The game started off with Neftali Feliz on the hill for the Rangers, and Liam Hendriks (who?) for the Twins.   Feliz was "ok", going five innings, allowing three earned runs on five hits and two walks.  Not great of course, but not horrendous.  Left with 93 pitches after five, so that part wasn't good.  Given he walked just two, that many pitches means a lack of control, but "effectively wild".
Hendriks did much better, allowing just one run and NO walks over his six innings of work.  Allowed seven hits, but they thew out Adrian Beltre at home, and had a double play which helped out in that regard.
Still, the Rangers ended up with the win…
Josh Hamilton continues to rake early on this season, as his batting average is .390 after this game.  He went 2-4 with a couple of RBI's.  Michael Young his still hot, going 3-4, finishing with an average of .366.   Michael Young had two doubles.  Elvis Andrus chipped in with his speed for a triple.   Mike Napoli busted out of his early season slump to find some power, as he hit a pretty big home run, a solo shot in the fifth.   That gave us the first lead of the game, 1-0.
The Twins put up their runs in the 5th & 6th, going up 3-1 at that point.   Josh Hamilton capped off the scoring with a home run for the second day in a row, a two run shit that both tied the game, and gave us the lead, so it was the "play of the game".  Was a monster home run – two days in a row with those is good.
Speaking of two days in a row, Joe Nathan was out there again.  This time on his second day in a row, he pitched a perfect inning.  No runs, no hits.  Struck out one.  Looked good.
Also speaking of two days in a row, Robbie Ross got a win.  This time, his second career win.
Mike Adams also continues to look good, now with an ERA of 1.29.
We head into Boston for a short series there with a record of 8-2.  Only the Dodgers are better now at 9-1.   Had Nathan not blown those two saves…  10-0 anyone?  :)