I've seen a lot of people ask "why isn't the Rangers game on", or "Why am I postponed" when it says it's on Fox Sports Southwest.
The answer is you're not looking at the schedule right!
Less sarcastically, there's a difference between Fox Sports Southwest and Fox Sports Southest PLUS.  Basically, PLUS is a spare channel that things get shown on when there's too many things to show at once.  Like for example a regular season Rangers game and a playoff Stars game.   The playoff Stars game will take precedence, and the Rangers game will get bumped to the Plus channel.
UPDATED August 2020
Here's an updated image the Rangers posted for the 2020 season: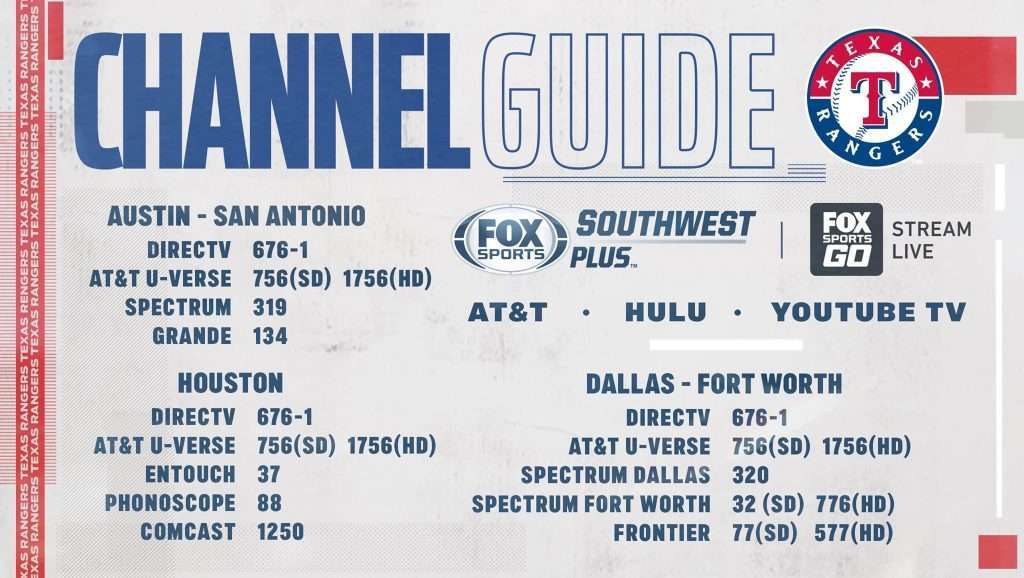 UPDATED March 2018
Here's some info I've gleaned from around the web on how to see Fox Sports Southwest PLUS on various carriers.  Mostly D/FW, but some others..
Television:
Time Warner/Spectrum – Channel 320 (SD ONLY)
Charter (Fort Worth & Park Cities) – Channels 300/32 (SD), 776/35 (HD)
Charter (Rockwall) – Channels 38 (SD), 860 (HD)
Charter (Denton) – Channel 314 (SD)
DirecTV – Channel 676-1 (SD & HD)
Dish – Channels 440 (SD), 9575 (HD) Dish no longer carries FSSW.
U-verse – Channels 756 (SD), 1756 (HD)
FiOS/Frontier – Channels 77 (SD), 577 (HD)
Streaming Services:
SlingTV – Only on 'Sling Blue' package, as "Fox Sports Southwest Alternate 1"  Sling no longer carries FSSW.
Youtube TV – Is there as "Fox Sports Southwest Plus"
Fubu TV – Is there as "Fox Sports Southwest Plus"
Hulu Live TV – Is there as "Fox Sports Southwest Plus"
You can also use credentials from most of these providers to log in via the Fox Sports Go mobile app.
Apparently, Time Warner Cable does NOT carry an HD feed of FSSW+.  That's pretty insane in this day and age.  I also think that Charter in Denton also only has an SD video feed.  If someone finds out otherwise on these two channels, please let me know.
If you know it's on another carrier that I don't have listed, please email me about it.