FOR IMMEDIATE RELEASE:
TEXAS RANGERS RELEASE NEW LOGO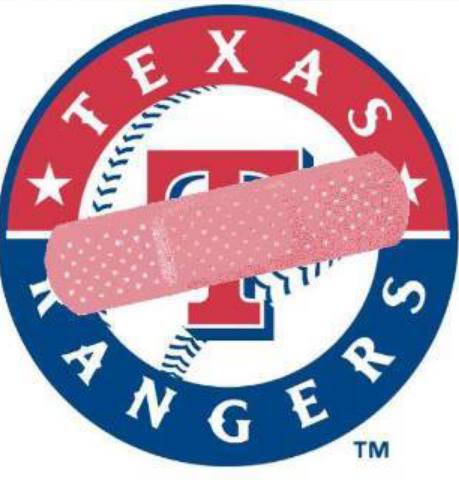 Arlington, Texas – July 29, 2014 – In order to properly reflect the current status of the Texas Rangers, the club has today released a new logo. This logo, while very similar to the most recent logo, does contain one new section.
This is a bandage over top of the Texas Rangers logo, which will be sponsored by Band-Aid™ brand adhesives. Rob Matwick, Executive Vice President, Business Operations says, "The money brought in by this new sponsorship will help improve the already extensive medical facilities already deployed (by necessity) by the Texas Rangers".
Matwick continues, "The Band-Aid brand is one of the most respected brands in American business history, and for the Texas Rangers to align themselves with a much respected business icon can be nothing but beneficial to the long term stability of the Texas Rangers."
New caps, jerseys, and other merchandise bearing the new logo are available immediately at the Texas Rangers Team Shops at Globe Life Park in Arlington.
About Rangers Baseball LLC: The Texas Rangers are a professional US baseball team and are owned by Rangers Baseball LLC, a consortium of various owners, headed by Ray C. Davis & Bob R. Simpson. The team is part of the Western Division within the American League of Major League Baseball. The team plays its home games in Globe Life Park in Arlington.
About Band-Aid Brand Adhesive Bandages: BAND-AID® Brand Adhesive Bandages, leading iconic brand of Johnson & Johnson Consumer Companies Inc., have long been a staple in a family's first-aid kit as a source of healing, comfort and protection, and as the brand has expanded over the years, so too has the technology and innovation behind it. BAND-AID® Brand has moved from offering strictly bandages to becoming a brand that offers a wide variety of products to meet the diverse needs of today's active families and their lifestyles. For more information visit www.band-aid.com and "like" BAND-AID® Brand on Facebook at www.facebook.com/bandaid.
Contact:
Rangers Captain
thehorse@texasrangers.com
1000 Ballpark Way Ste 400
Arlington, TX 76011
Ph: +1-817-273-5222
###