Well, that's something I never thought I'd write.  As long time followers of my site know, I'm mostly silent in the offseason.  I'll comment here and there on things that happen in the baseball world, and this was a big "thing".    The Rangers all time leader in a truckload of categories was traded away today.  Michael Young is now a Philadelphia Phillie.  Now, y'all know I'm also a Phillies fan, having grown up there, so I won't miss him completely.   If I were a Cowboys fan, I imagine this would feel a lot like Emmitt Smith in a Arizona Cardinals Uniform again.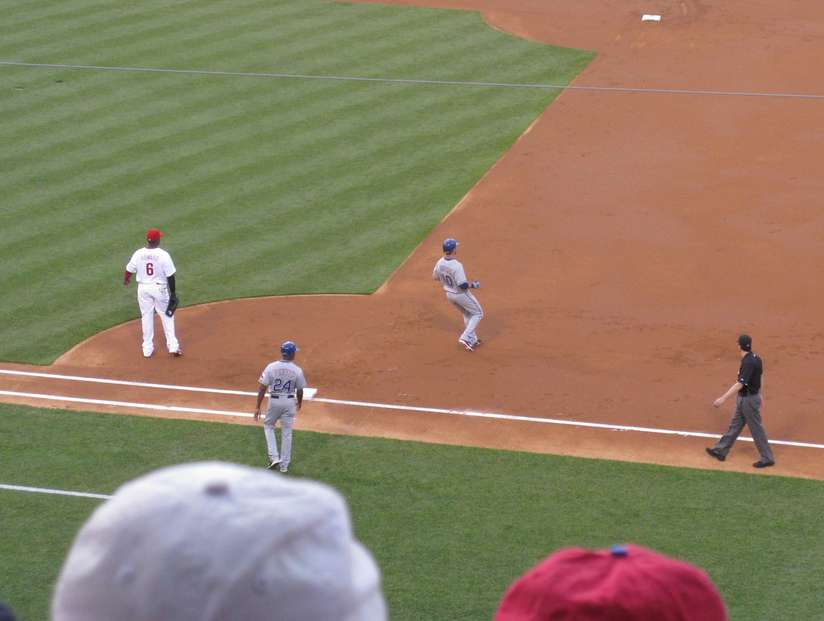 In a way you kind of saw this coming.  First Michael Young was moved from second to short for Alfonso Soriano.  Then he was moved from short to third for Elvis Andrus.  Then he was moved from third to DH/Supersub for Adrian Beltre.  His now being moved off the team is something that shouldn't terribly shock anyone who follows the Rangers closely.   It's not as cold as that.   Despite all the emotion behind it, it makes sense from a baseball standpoint.   He's on the last year of what most would regard as a well overpaid contract.  When he was first given the big contract, a lot of noise was made that it was because Tom Hicks wanted to make him the "face of the franchise", especially after the departure of Arod, and also partially to "pay him" for several years of team favorable contracts.  So some of the money wasn't just on merit, it was on marketing and name.
Still, now that we get to the back end of the contract, it's pretty easy to say it's not worth the $16m a year he was getting.  Not close.  He's getting older, his range is down, which is why when he did play the field, it was mostly first base.  His offense was down in 2012 – a lot.  Not obscenely awful, but still, I don't think even the most ardent Young fan could disagree with the assertion that 2012 is his worst season in years.
Going into the last year of a contract, you have a few options.  Trade him or keep him.  If you keep him, what do you do with him?  The logjam in the infield is huge, and finding playing time for a guy who some would feel compelled to give him based on the contract is bad for other guys who need the time as well.   Also, if you keep him, what happens after 2013?  He'll be a free agent, and given the uh, tempestuous relationship between Young and Jon Daniels, you can't imagine he'd get a new contract.  Or at least one that Young wouldn't find insulting.  Let's assume he stayed – what contract offer would you expect the Rangers to give him for 2014?  I'll vote for none, but if they gave him a token one, he'd probably refuse it.    As much as my baseball heart wanted to see him stay, my baseball brain said it was time to move on.
Heck, my kids wear Young 10 shirts.  Actually, they wore the SAME shirt.  My daughter got it when she was like 2, and when she outgrew it, my son wore the same shirt.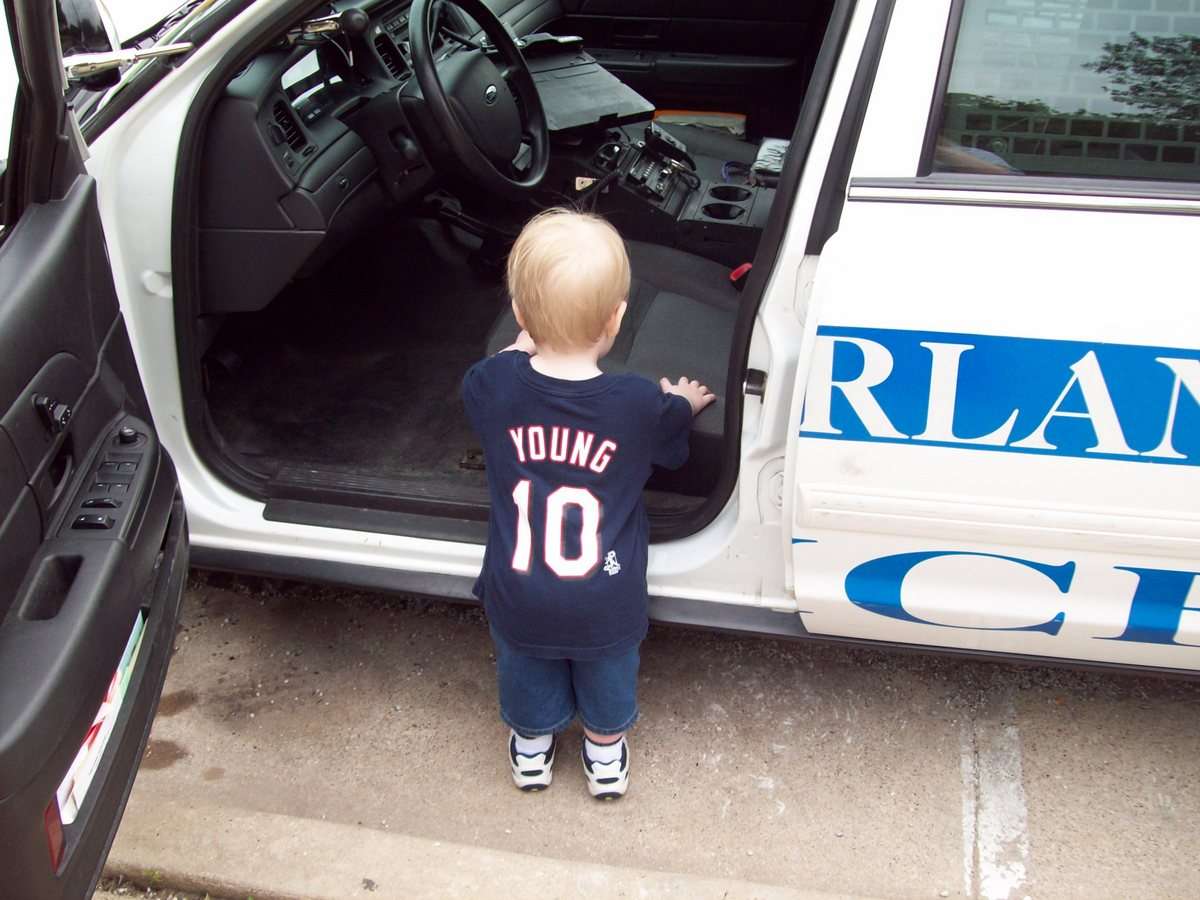 Michael Young was a favorite of our family.  But I've lived through this before.  What do you do with the older, career player who is obviously not in the prime of his playing life anymore?  I grew up in Philly, and watched this happen before with a few players when I was a kid.   I told my daughter about it tonight, and said he plays for another team now.  I told her who it was, and she said "I'll still wear his shirt anyway".  So that was nice to hear.
Anyway, from a baseball side…  It will save the Rangers some money this year.  Not a ton, mind you, since we're sending a ton to Philly in the trade.   I've heard a few reports tonight say we're sending 8 million.  I've heard other say 10.  Not sure, but we will get some salary relief.   It was expected we'd use the money to throw towards Josh Hamilton or Zack Greinke.  Greinke tonight is reported to be going to the Dodgers, so will that savings all go to Hamilton?  Dunno, but this move was for me less about clearing salary space than it was clearing a spot on the field for younger players.    Michael will get to play third base in Philly full time, something he had no hope of here, unless Beltre went down for the year or something.  It will make for more flexibility in the lineup here.  From a baseball standpoint, I like the move.  From a fan standpoint, I don't.   Oh, speaking of money, the Rangers had to give young an addtl $1.2M to approve the trade.  Word is that's about what he'll get hit for in taxes going to Pennsylvania, as they have a state sales tax.  We don't, as you well know.
My brother and step brother were talking to me a lot about this in the last 24 hours.   The guy we're getting from AA (Lisalverto Bonilla) is an OK pitcher, but he's AA.  That won't help us now.  The other guy we're getting though might.  Josh Lindblom has been in the majors with the Phillies the last couple of years, and is a decent middle of the pen guy.  We're not talking the highest rated player here, but then again, they all can't be "the best guy".   His numbers are decent, and he throws fast – kind of reminds me a little (just a little) of Alexi Ogando, but not as successful yet.   He played 2011 & part of 2012 with the Dodgers, coming to Philly in the Shane Victorino trade.   Now he's in Texas.  In 2012, he had 74 appearances with 71IP.  ERA of 3.55, and my brother said he's an upper mid 90's guy.   So he'll be a decent piece, if not the brightest name.  I can live with that.
Lindblom also seems to be a nice guy.   If you look at this story, you'll get a good idea of what kind of man he's like.   He also had a few nice things to say on Twitter after the trade went down.  First his excitement at being a Ranger, and then a classy post thanking Philadelphia for his time there.   He looks like he'll be a nice guy to have in 2013.
So, Michael Young is no longer a Texas Ranger.  It's an odd feeling, and it'll seem even wierder when we go to camp without him, and see the first footage of him in a Phillies uniform. As I write this on Saturday night, the press conferences haven't happened – nor has the trade been "officially" announced yet, probably due to contract language.  But when it does, it will seem weird seeing Young up there in Philly at their podium for these things in a Phillies hat.  That's probably when it will seem the weirdest now, because at this time of year, it's all transaction notes on the ledger.  Not actual games being played.   You don't "see" it as much this time of year.
How will MY do in Philly?  Well, having grown up there, I say this about Philly fans.  Their reptutation is not always deserved.  Sometimes yes, but not always.  Mostly Philly fans care about winning, and you not slacking.  If you don't win, they'll get on you.  God help you if you slack while not winning.   Michael Young has never been a slacker, so he'll be OK there.  How well he does with his bat will probably dictate how well he's perceived there, as I don't feel the Phillies will be that much better in 2013 then they were in 2012.   Overall, I think he'll be accepted well, and as I said to my aforementioned brothers up north, "He'll also have a huge chip on his shoulder, so he'll probably try that much harder".  How much that extra effort translates into on the field results?  Hard to tell during the season of Advent.  He doesn't play for another 4 months.  :)
I'll miss him.  Thanks to Michael Young for all he's done for this club.  He held it together through some crappy teams in the 2000's.  We wouldn't be where we are without his work, so this fan wants to say thanks for your time here.   Hope you do great in Philly, so long as it doesn't involve beating the Rangers in the World Series.
Here's a few stories about all of this: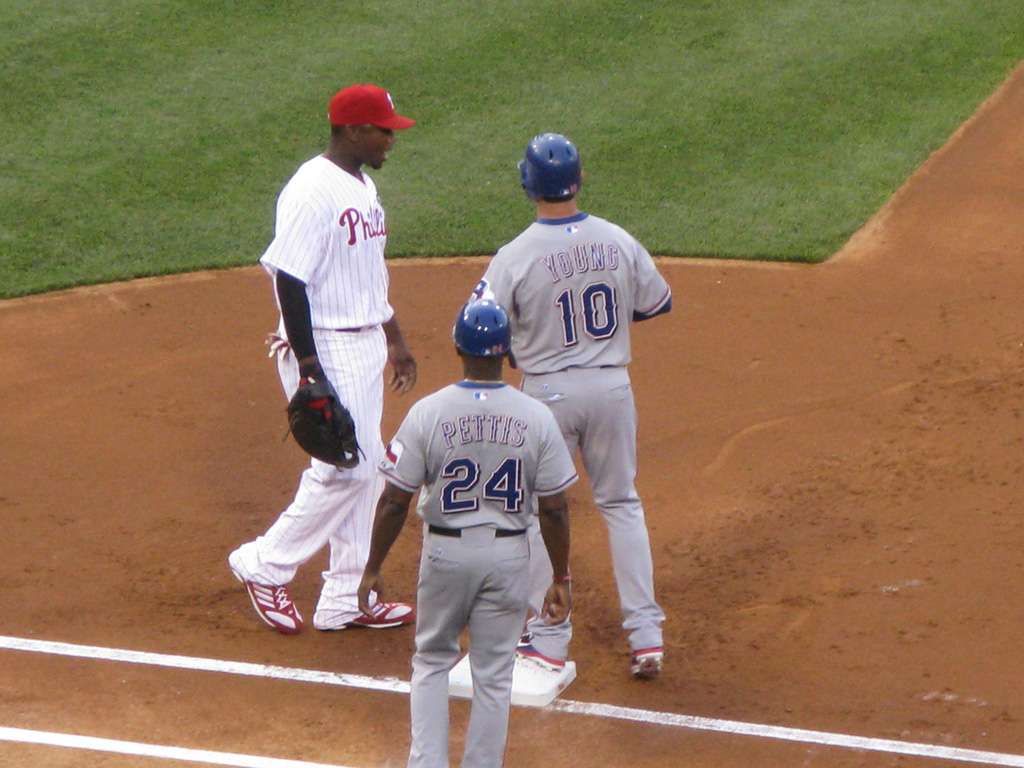 Oh, Michael's last act in town while still a Texas Ranger player was his signing autographs at the new Perot Museum of Science.  I did confess it seemed odd to see him there on TV, knowing he was probably gone in less than 48 hours.  :)