This game was a good back and forth game for quite awhile.   The lead changed or tied four times through the first 7 innings.  Those kinds of games are good for fans.  The pitchers probably don't like them, because it means that nobody can hold a lead.  But I'm not a player.  I watch the games, so I like these back and forth games.   However, it certainly didn't end up that way.
First off, I got a kick out of Roy Oswalt pouting.  Caught this picture online, and it made me chuckle.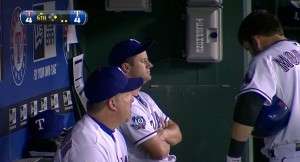 The Twins got out early when Joe Mauer, as the third batter of the game doubled in Ben Revere, who had singled.    The Rangers just took the lead back quickly with a Josh Hamilton double in the bottom of the first, scoring both Kinsler & Andrus.    Twins tied it back up again in the third when Ben Revere scored again on a fielder's choice, which might have led to the Oswalt pout.    The Rangers took it back again in the bottom of the fifth when Josh Hamilton sac flied in a run, and then Adrian Beltre had a solo home run to put the Rangers up two.   It didn't last long at all, as the Twins scored two in the top of the sixth to tie it back up again.
That was it for the back and forth, because the Rangers unloaded on the Twins bullpen in the bottom of the 8th, putting up a 6 spot.   There was no one big play in the bottom of the 8th, though.  Was a bunch of "stuff".   Ground out, double, fielding error, Double (run), Intentional Walk, error (run), strikeout, walk (run), single (run), single (run x2), ground out.   That was a very strange way to get a six spot, IMO.
The Rangers tried to bring it back to a tie again when Elvis Andrus had a throwing error that allowed two runs to score, bringing us to what was the final score of 10-6.
Not much else to write about this one.  For some reason seeing the picture of "Pouty Roy" made me not want to bother writing about this one.   My brother back home in Philly warned me he was a head case.  I guess I see his point now.  :)