On Monday, I got to keep up a tradition my mom started back before I was 10 years old.  That's to go to my birthday game.  If the team was in town on my birthday, I went to the game.  If not in town, go to the closest game on the calendar.  This year, they were in town on August 20th, so I went.  Ended up going with a friend of mine, Jeff.  The same guy I took to the World Series game a couple of seasons ago.  Guy knows his Rangers, so it's always a pleasure to go to a game with someone who knows the game.   He lives not too far from the park, actually, so I went to his house, and we drove over together.   I originally thought I was going myself, and completely forgot I asked him, so I ended up intentionally buying seats in the last row of Section 325.  I like sitting up there.    So Jeff and I hit the last row of seats, and settled in to enjoy the game.
Ryan Dempster took the hill, and gave up a run early in the game.  Nate McClouth doubled, and then Adam Jones singled him home, to put the Orioles up 1-0.   But that was the end of it.  The Orioles didn't score any more this game.   Dempster settled down, and had by far the best game of his short career as a Texas Ranger.   Eight innings pitched, just four hits allowed (one double, three singles), and just the one run.  Walked two, struck out six.   Did OK with pitch count, too.  Threw 111 pitches in those eight innings.   Was a very nice outing.  Really enjoyed seeing it live.
Speaking of live, there was also a play that really needed to be seen live.    A play that Elvis Andrus made.  it was the first out of the fifth inning.  Manny Machado hit a ball DEEP into short.  Way past the point you'd think someone would get the play.   But Elvis made a heck of a stop, and still managed to throw out Machado.  Jury's out with me over whether he was TRULY out or not, but darnit.  It was  called out, so it was a hell of a play.  Check out this GIF of the play that I picked up from BBTIA (Thanks Joey).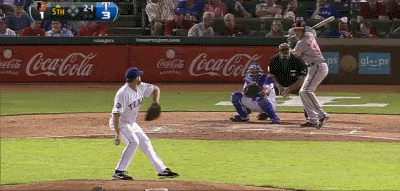 Offensively, the Rangers had a total of 10 hits in the game.  Only David Murphy had more than one.  He had two.   Our offense was mostly singles, seven of them.  Three doubles.  But enough of them came bunched together to go with the four walks we had overall that we were able to put a three spot up in the fourth.   The fourth went single, walk, lineout, single (run), single (run), groundout, and a sac fly (run).   Cruz had a double in the sixth, scoring Beltre.   We added a final run in the bottom of the eighth when Murphy singled in Michael Young.
But this game was less about our offense, then it was about Ryan Dempster.  This is the guy that I'm sure was in mind when he was brought over here.  Not the guy with the ERA well north of 6 his first several starts.   It was by far the best part of the game for me, watching Dempster pitch.   Enjoyed the heck out of that.
Towards the end of the game, another friend of mine who was at the park texted me and asked if I wanted to have him take our picture.   This was from where HE was sitting out in left field somewhere.   So he did, and before the game was over, he texted it over.  That pic is below.   That's me severely slouching in my chair, and that's Jeff leaning around to look past the guy sitting in front of him.  :)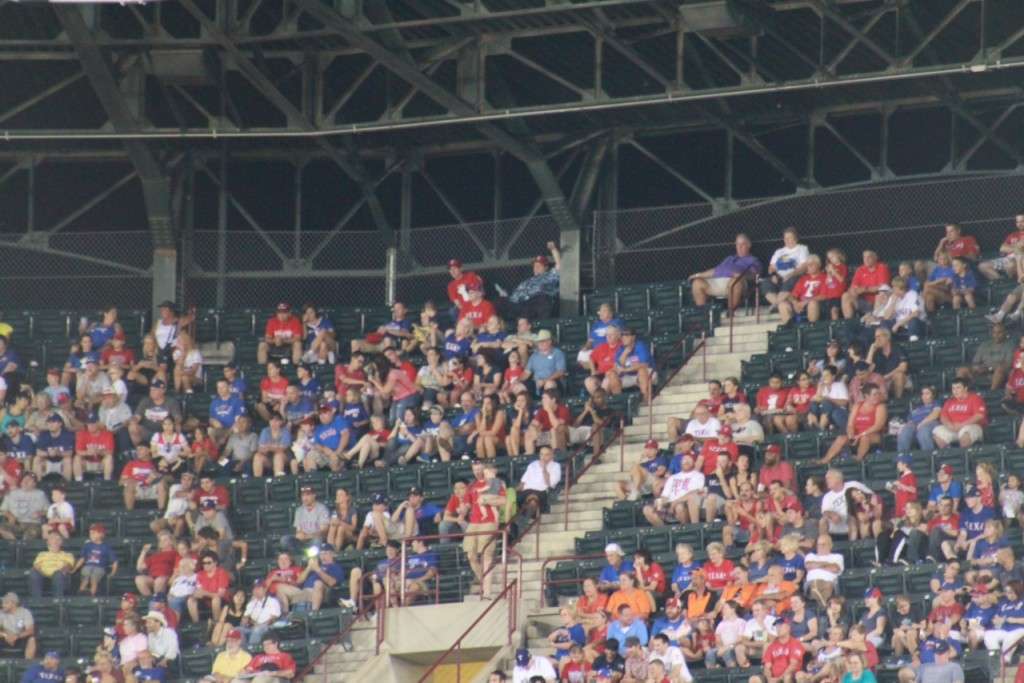 After the game was over, I had to go back to Jeff's place to pick up my truck, and I ended up going in their house and talked to he and his wife for a bit.  That was a nice birthday present, as I don't often do that kind of thing.  I had to leave earlier than I really wanted to, but given it was almost an hour drive back to where I live, I figured I should head out at 11PM.   So thanks to Jeff for coming with me to the game, even though I almost forgot about ya, buddy!  :)
And…  If Ryan Dempster can keep pitching like this, it will certainly help once we get to post season, as our recent postseason weapon of Colby Lewis is down for the count.