On Friday night, I was given the opportunity to head out to the Rangers game with a friend's tickets, so I took him up on it. I'll usually say yes to free tickets, but when I realized a few days earlier that it was going to be Roy Oswalt's Rangers debut, I figured it was an additional reason (beyond the obvious free) to do it. So I got myself together Friday afternoon, and headed out to grab some food before the game, because well.. It's bloody expensive to eat at the Ballpark.
Besides, if I eat before getting to the Ballpark, I don't have to bloody well get out of my seat once the game starts. Which is a bugger with me, as I like to score the games, so I prefer to not leave my seat unless I really have to. Which brings me to a discussion of my seat. The seats I was in were in Section 52, Row 11. This is in center field in one of the newly reconfigured seating areas. Here's where I was in a screen grab from the game I got after I got home: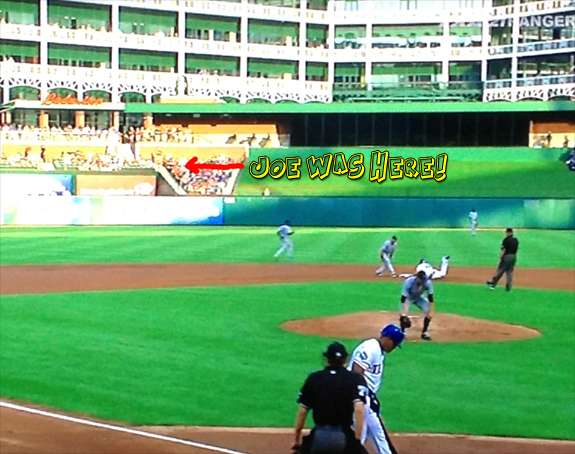 Given the new visitors bullpen (hello Tony LaRussa!), the seats out there were rearranged. Gone are the silver metal benches, which I detested sitting on, and was the primary reason I sat out there just once or twice from 1994 through 2011. They are seats now, but with a minor distinction from the seats in the rest of the ballpark. There's no arm rests on them. I'm guessing this is to simulate some seating aspect of the benches that used to be out there? I don't know, but it felt odd. Fortunately there were cupholders, and given these seats are new out here, half of them haven't been broken off yet. Nothing worse than getting a seat with no cup holders (I'm looking at you Row 1 in the upper deck). The view was nice – obviously it's not like you are behind home plate, but the view is nice. Once the sun was out of our faces (middle of the second more or less) it got better. You can see in full the new scoreboard (if a bit angled), so that's good. I love my scoreboards. Here's the view of that in a shot I took during the seventh inning when Chuck Morgan had one of his anti-wave messages up there.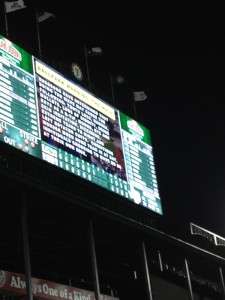 You can see from the screen capture above where I was sitting. I was close to the visitor's bullpen, so the pop of the catcher's mitt out there was quite clearly heard. Also, with all the new food stuff out in center field, you don't have to walk very far at all to get to the vendors. Also given the location of those stands vs the location of the bulk of the fans in the stadium, the lines at the new center field area were surprisingly small. A good thing, mind you. :) Love the new walkthrough behind Section 3.
About halfway on my drive from Garland to Arlington, I realized that my seats would be in the sun. I kind of knew that ahead of time, but it didn't register fully until I was on my way. On my way with my BLACK T-SHIRT I CHOSE TO WEAR. Great. Sitting in the sun with a black T-shirt. That will be a fun time. So I get into the park, and as I'm walking from the first base entrance to the new stuff out in Vandergriff plaza, I catch a view of the field from behind Section 45. The shadows haven't even gotten out of the infield yet! I was hoping perhaps that the shadows would have crept further to the outfield, but no. I suddenly realize my horror. I'm sitting in the sun. Ugh. So I decide to hang out in the new area behind center field for as long as I can until the game starts. First thing's first. Ozarka water. I know they charge you a ton for them. In fact, for the price of two of them, I could buy a whole case of 30 from Sam's Club. But when you're in the sun like this, they're gold, at whatever price. I ended up drinking two of them before the game actually started, and then when my friend showed up I was going to the game with, I had two more on him, so I had four bottles of water – which is a lot for me. It probably helped too, as while I won't lie and say it wasn't hot – it was. It was at least tolerable. So lesson learned if you're out there. No black shirts, and drink way more water than usual.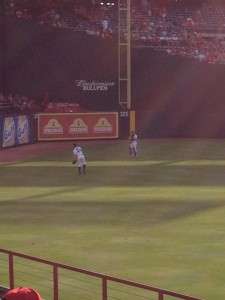 So during this time I'm watching Roy Oswalt warm up in right field. Obviously there's nothing to tell from that point of the game, but it did seem odd to see "Oswalt 44" out there warming up. I remember him from AA in 2000, and then of course with my hometown Phillies for the last few before this year. I honestly had no idea what to expect. His four minor league starts were good or "eh", so it was impossible to get a feel.
Then he actually pitched, and he was everything we could have hoped for. His overall line was pretty darned good. 6.2 innings pitched on 110 pitches. 9 hits, one walk, six strikeouts, and just one run allowed. And that run didn't come until the last pitch that Oswalt threw. He held the Rockies down pretty well. Given where I was sitting, you don't get a close look at how the pitches are breaking, but overall, he seemed to be doing quite good. Had six strikeouts, and ended the evening with an ERA of 1.35. His strikeouts were well timed from what I recall. Overall, he went way beyond my expectations for what I had for him. Which were just there. I wasn't expecting greatness, just good solid pitching. At worst, it wouldn't be Scott Feldman starting again. Wash pulled Oswalt in the middle of an inning, so it was an opportunity for a standing ovation, which is what Oswalt got when he left the field in the seventh. I always like when that happens. In fact, I like it when even if the manager knows the pitcher is done, he lets him go out there, warm up, then pull him before a pitch is thrown, so they can get the exit applause. :)
Oddly enough, the Colorado starter had a slightly better line (in some aspects). That's Christian Friedrich. He went just six innings, but allowed less hits (seven), but more runs (four). In fact, three of the four runs were old fashioned Rangers offense. In the first inning, Adrian Beltre hit an opposite field two run home run just barely over the right field wall. In the fourth, Beltre was involved again. He singled in the fourth, and then was scored when Nelson Cruz doubled. Cruz had a bonehead baserunning move, and was picked off second when he appeared to be mentally "stuck" out there. Shame as Mike Napoli homered right after that, would ahve given us a fifth run. Instead, Nap's home run was very similar to Beltre's – an opposite field one almost to the exact same area, and just barely over the wall in right. That was the end of our scoring. The four runs we had at the end of the fourth were it. Overall, the Rangers had just seven hits. Four of them were directly involved in the scoring, so outside of the scoring we had, there wasn't a ton of offense.
The Rangers bullpen was also good. Robbie Ross, Mike Adams, & Joe Nathan combined for 2.1 shutout innings. Nathan's inning was perfect, with two strikeouts. So the bullpen was good.
Speaking of bullpen, an old friend threw two perfect innings of relief for Colorado. That's Guillermo Moscoso. Was a marginal name when he was here, but had a great outing last night for the Rockies against the Rangers.
The Rangers came out with a 4-1 win, which was good. It was a very hot, if fun night. Got to see an old friend I hadn't seen in ages, so we both enjoyed the game. Thanks to my friend Jeremy for the ticket hookup. Just wish it wasn't so darned hot.