In this game, the Astros tried the same trick the Rangers did the day before with Justin Grimm.  The Astros ran their own kid out there making his major league debut.  That would be Dallas Keuchel.   While he didn't do quite as well as Grimm did the day before, he was no slouch, either.   For awhile there, I thought the Rangers were going to fall prey to a long standing problem they have.  Which is when we face a guy making his major league debut, we're pretty well shut down.  That was pretty much the case through the fist five innings.  We were losing 1-0 going into the bottom of the sixth.  Was't feeling good about the sweep, to be honest.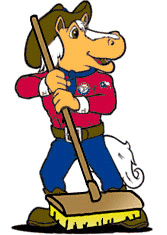 Actually, going into the sixth, Keuchel was taken out of the game after one batter (A Cruz single), having thrown 91 pitches.  A bit high, but not outrageously so.  The Astros probably would have been better served leaving him in, because the floodgates opened in the bottom of the sixth.  The Astros brought in Fernando Rodriguez, who didn't even last the one inning he would have pitched.  2/3 of an inning, allowing one hit and THREE walks, and overall, four runs charged.  That's because the guy who followed him in the inning (David Carpenter) only pitched 1/3 of an inning, but allowed two hits and a walk, and two charged runs of his own, so the bottom of the sixth was an epic meltdown for Houston pitching.   The Astros pitching coach is former Ranger pitcher Doug Brocail, and he probably went to his old pitching rubber in our park a few too many times for his tastes this inning, that's for sure.
In all, the Rangers plated seven runs in the bottom of the sixth – a really big crooked number.   It's even more cool when you realize that we got two outs without any runs scoring, so this was almost all after two outs.  When you have that big of a number, there's all kinds of offense to talk about, but the big one here was a bases loaded triple by Ian Kinsler.  Later on in the inning, Adrian Beltre hit a two run home run, so there was some nice power going on there.   In all, the inning went like this:  Single, pitching change, walk, sac bunt, lineout, walk, triple (score 3), walk, pitching change, single (score 2), home run (score 2), walk, strikeout.   Was a heck of an offensive onslaught. We actually scored another run in each of the seventh & eighth innings, both were what you'd call "small ball" runs.  The big noisy inning was by far the seven run sixth.
As cool as all that was, it doesn't even talk about the performance by Colby Lewis.  Colby came out and while he didn't get a third complete game in a row, he certainly mowed down the Astros.  He looked quite dominant for a third start in a row, so hopefully he's turned a corner, and will rattle off half a dozen wins in a row.   He pitched seven innings this game (92 pitches), allowed just three hits and a walk for one run.  But the big deal here is he struck out ten Astros.
The Rangers are on a nice roll this week with their starting pitching, strikeouts all over the place.   We're currently 4th in the AL, with 522 strikeouts.  First is the Tigers with 552, so it's not an insormountable gulf.  However, if we keep rattling off these 10+ k games, we could catch up quickly.  In overall MLB standings, we're 9th with strikeouts – the Phillies are #1 in MLB K standings with 557.  That means only 35 strikeouts separate #1 & #9 in the overall standings.  I like that.
We still have some hiccups with our starting pitching at the moment, two guys on the DL, a replacement not quite ready (Oswalt), so there's definitely some concern out there, but the guys who are here (save for Feldman) are doing quite good, so I'll be glad to see that carry on.
Tonight is Matt Harrison, who himself has been on a roll the last few starts.  His last five have been "quality" starts, and he goes in San Diego, a park known for not allowing a ton of offense, so that should help him.  Looking forward to it.   With all the problems the last few weeks (sluggish offense, Josh Hamilton in hospital, injured pitchers, etc), we're still in first place, we still lead a ton of offensive categories, and it feels like we're getting more like the April 2012 version of our team than the May/June version, so that's a good sign looking up.