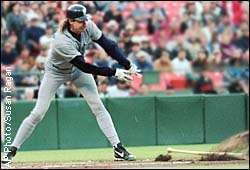 Those who follow me, know I'm also a Phillies fan.  I grew up in Philadelphia, and never saw an American League game until 1993 when I saw a Rangers game in the final season of Arlington Stadium.  So I grew up with the NL and NL rules, and more to this discussion, pitchers batting.  It's been a bugaboo of mine for ages, pitchers batting.  Even back when I was young, I hated it.  You had a good inning going, and whoops – here comes the pitcher.  Out.  Yeah, there's a handful of pitchers who could really hit, but let's face it.  90% or higher of pitchers are horrible at the plate.  They don't have to do it regularly, so they have no incentive to work on that.  Then there's the issue of AL teams sending their guys to bat and doing something that is so against their normal routine that they get hurt.   It happened back in June 2008 with the Yankees in Houston when Chien-Ming Wang tore a tendon and was out for most of the rest of the year.  Hank Steinbrenner said at the time:
"My only message is simple. The National League needs to join the 21st century," Steinbrenner said in Tampa, Fla. "They need to grow up and join the 21st century."
I agree with that.  I can't stand when pitchers bat.  The National League needs to add the DH.  I know a lot of people will whine about it being bad, how it removes purity of the game, bla, bla, bla.  I'm sorry, I can't stand watching pitchers bat.   Steinbrenner is right – the NL needs to get their act together, and get pitchers out of the batters' box.   For those who would say I don't know what I'm talking about – I do.  I moved to Texas when I was 27.  I'm now 46, and I've lived with the DH for almost 20 years now.  I just can't stand the buzzkill that is pitchers batting.  They need to stop.  Please.
Why that rant?  Because Alexi Ogando got hurt in this game running out a bunt, and is out for pretty much two months.  That annoys the hell out of me.
Ogando was perfect in his three innings of work.  Allowed nothing, struck out two.  Then he got hurt.  Fortunately, the bullpen came through and kept the shutout intact.  Ross went the next four innings, being credited with the win.  Mike Adams & Joe Nathan also pitched shoutout innings.  Although Adams' inning was a little rocky with two hits.  But they all put up a zero in the run column.   In fact, outside of the two hits that Adams allowed, there was only one other hit (a double allowed by Ross).  That was it.  So it was a well pitched game.  But the stupid "no DH" rules cost us a pitcher for a couple of months.  Dammit.
Three doubles, a triple, and seven singles constituted our offense, coupled with four gift runners in the form of walks by the Giants.  Speaking of the Giants, Tim Lincecum is pitching like well, I could.  He's been pretty bad this season so far.  He allowed five runs on nine hits and four walks.  His ERA at the end of this game is exactly 6.00 – a kind of number you wouldn't expect to see from Lincecum, but we'll take avantage of it, thank you very much.
So we lose two starters in the span of a week.  Time to do some heavy tap dancing.