Any game that starts off with a six spot in the bottom of the first inning is pretty much set.  Oh sure, no lead is insurmountable, but when you put up a six spot in the bottom of the first, you pretty much have this one done.  This game makes me want to break out this image..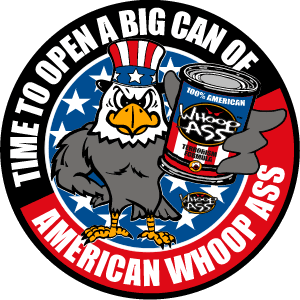 I'm not going to spend any time talking about the Blue Jays pitching, because well.. it sucked.  You don't give up 18 hits and 14 runs and not stink up the joint, so there's little I can add to the sum total of internet knowledge about the Blue Jays performance for this game.   I will say this, though.  It's pretty bad when the only pitcher you throw out there (of the five total) not to give up any runs is your backup catcher, who goes out there and pitches the bottom of the 8th in a mopup capacity.  That's Jeff Mathis, making I believe his major league pitching debut.  His line:  1IP, 1H, OR, 1BB, 0K.  21P.  Not too bad for a guy who's never pitched professionally.
This is one of those games where it's hard to write about the offense.  There was just so much of it, you never know where to begin.  So I'll begin with the few not so good parts of the offense.  Usually when there's this much, nobody takes an ofer from the starters, but we did have two this game – David Murphy.  Murph did walk twice, and scored both times, so he did get in on the action, just not in the H column.  The other was Elvis Andrus.  But he walked three times and scored, so he too got it on it.  The two later inning subs (Gentry & Gonzalez) took ofers.  However, Gonazlez did score a run without the benefit of a hit, walk, dropped third strike, hit by pitch, or any of the other obscure ways a batter can get to first.  That's because he pinch ran for Adrian Beltre in the bottom of the seventh, and was then driven in by Cruz' bomb (more on that later).
The Rangers unloaded for a six spot in the bottom of the first, all against the starter, who only went 0.2 innings, threw 44 pitches, and gave up five hits, three walks, and six runs.  The first few runs came on a single by Adrian Beltre that put us up 2-0.   Another single (Young) and a walk (Murphy), it reloaded the bases for Nelson Cruz who hit a line double that I first thought was gonna be cut off by either Rasmus or Batista, but it split them, and it cleared the bases, putting us up 5-0.   Mitch Moreland then singled in Cruz to cap off the first inning scoring.   Kinsler did double after that, and Moreland was held up, I don't know if it was courtesy or not, but Moreland appeared to be annoyed he was stopped to my eyes.  He didn't score, because they finally changed pitchers there, and then Elvis Andrus, batting as the 11th man to bat in the inning struck out.   Actually, the first batter (Kinsler) was impressive, as he set the tone right away.  Ian had a 13 pitch at bat to lead off the game, eventually walking.  It was a most impressive way to start things off for sure.
We added single runs in the second and third on solo home runs by Josh Hamilton (his 19th), and Yorbit Torrealba (his 1st) respectively.
The Rangers offense laid "dormant" until the 6th again when Nelson Cruz added his fourth RBI by singling in Josh Hamilton.  Moreland also drove in a run this inning, putting us up 10-1 in the bottom of the sixth.  But we weren't done.
Another big crooked number went up in the bottom of the seventh, and all at once.   Jason Frasor came on amongst several changes (which WERE NOT ANNOUNCED ON TV I SEE – dammit, all substitutions sound be announced 100% of the time at the start of the inning – NO EXCEPTIONS!).  Anyway, Frasor got a couple of quick outs.  Both the same way, 6-3 groundouts to Elvis & Gentry.   Then Beltre singled, and was pulled, as we were way up, get the bench guys in.  Michael Young then singled, and David Murphy walked, loading the bases.   Nelson Cruz then jacked a grand slam to right center.   Not just a small home run, but an upper deck shot – by a right hander.  There's been a handful of right handers hit the upper deck in right field over the years, but never one in that spot of the upper deck – and I'm fairly sure was the first slam up there by a right hander.   It put us up 14-1 at the time.  It also gave Nelson Cruz 8 RBI's for the game.  A very impressive feat.
I have never seen a grand slam that wasn't fun. :)
It was the end to our scoring.  The Jays put up two in the top of the 8th, but who cares?   Grand slam – a total drubbing of the opponent?   I'll take that any day.
Bottom line to this game.  It's great to see the offense show up again after looking pretty lethargic the last few games.  Yeah, it's the Blue Jays, a middle of the road team, and not a upper echelon team.  But still.  No Rangers fan will say "no thank you" to a 14 run outburst, no matter which team it is.