The Rangers were tied 2-2 in the bottom of the third.   Adrian Beltre singled.  Michael Young doubled.  David Murphy walked.   Then..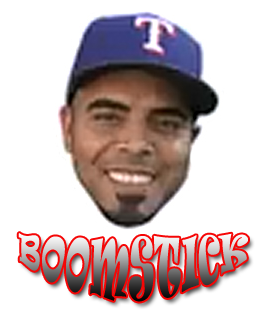 Yeah.  Grand slam.   Nelson Cruz delivered one of the most fun events at a ballpark one can experience.   About the only thing I can think of better than that is a game winning walk off Grand slam.  But no-one will ever say "no thank you" to one of your guys getting a grand slam, eh?  :)
Neftali Feliz started this game, and did decent enough.  Six innings pitched, four hits, two walks, five k's, allowed two runs.    In fact, the two runs the Angels got were on a two run home run allowed to Mark Trumbo – who appears to be heating up quite well.   Not quite Josh Hamilton hot, but doing quite well for himself.
Mark Lowe followed him and fell off the rails.  Allowed three runs on five hits and a walk in 0.2 innings of work.  Wasn't enough to throw the game, but was definitely unsettling, because at that point, we were up 10-2, and it made it 10-5.
We returned the favor by getting a three spot right after their three spot, so the momentum was immediately regained.
Joe Nathan allowed a final run – a solo home run to Kendrys Morales late.  But that was of no consequence.  We ended up winning 13-6.   A good friend of mine Stan got to see the game.  he doesn't get to go to many games, but he was there for this one, and I was glad he got to witness not only a win, but a resounding one.
All told, the Rangers had 19 hits in this.  All the starters got in on the action, only the two subs didn't get any hits, but that's because neither of them (Gonzalez & Gentry) had no actual at bats, either!   Nelson Cruz & Elvis Andrus had four hits each.   There were SEVEN doubles by the Rangers, and the one home run (a slam).
Nice badgering of the Angels in this game.  While I would have loved a sweep, taking 2 out of 3 against them is great.  Need to keep them down.   The longer they go without gaining traction, the less chance they'll feel they have to get back in it, and the more they'll push to do so.  :)