I almost don't even know how to begin with this one.  This one is all about the night that Josh Hamilton had.  Since there's SO MUCH to say about that one, let me get the rest of the game stuff out of the way first.   Lost in all the hoopla was a decent outing by Neftali Feliz.  He went six innings, allowed just four hits and one run.  Walked two, and punched out EIGHT.   He's only 2-1 as of May 9th, but I'll take that.  His ERA is 3.38 and he has respectable if not gaudy numbers after his first month as a starter.   I would have been ecstatic if he had the same kind of numbers that Ogando did at this point last year, but what he has is not bad at all, so I'm OK with that. The Rangers had three relievers.  Uehara, Ross, & Feldman.  Ross gave up a couple of runs on two solo home runs.  Uehara and Feldman threw zeroes up there in the runs column.  Ross was a bit wild, allowing two other hits besides the home runs (on 21 pitches), but it didn't affect the team overall.  Inflated his numbers, which still aren't that bad anyway (ERA of 2.84 after this outing).
Offensively (minus Hamilton) the Rangers were led by Nelson Cruz, who was 3-5.  Elvis Andrus had two hits and a walk.  Adrian Beltre had two hits.  So did David Murphy.  Ian Kinsler also had a hit.  That was it for the offense outside of Hamilton.   But all that compares to the story of the night, which was Josh Hamilton.   I mean, where do you start?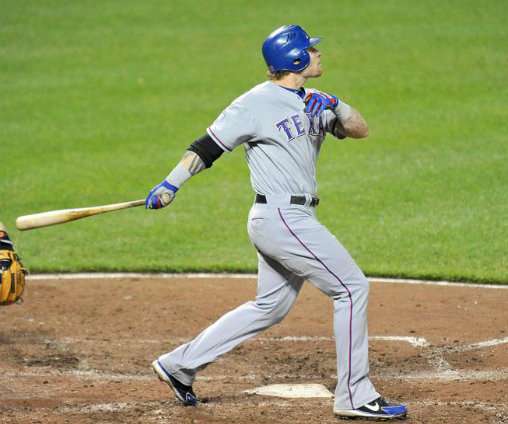 I guess the only thing I can relate to this personally is this isn't the first time I was watching/listening to a game where a player got four home runs.  This happened to me once before.  On April 17, 1976 I was watching the Phillies / Cubs game and Mike Schmidt jacked four home runs in Wrigley Field.   I remember that one well, for any number of reasons, one of which was that Schmidt was my favorite player as a kid.  Four home runs doesn't happen much.   In fact, the numbers between Mike Schmidt's game 36 years ago (oh Lord, I'm getting old) and Josh Hamilton's last night were quite similar:
Hamilton 2012: 5AB, 5H, 4HR, 4R, 8RBI
Schmidt 1976:  6AB, 5H, 4HR, 4R, 8RBI
The Schmidt game from years gone by was an extra inning affair, with the Phillies winning 18-16.  That was just a warmup for the game a few years later when the Phillies beat the Cubs at Wrigley 23-22, but I digress.  Back to Josh.
First off, if you want to replay it, go to this link on mlb.com.   It's a compilation of the four home runs.   It's quite exciting.  :)   So are the audio calls from Steve Busby & Eric Nadel – you can hear them here.  Thanks to bbtia for that.
The amusing thing for me last night is that all four of Josh's home runs were two run shots.  That part isn't the really amusing part.  The amusing part is that Elvis Andrus was on base all four times, and was driven in by Josh four times on a home run.   Here's a rundown of the home runs.
In the first, Elvis Andrus walked, and then on the first pitch he saw (!) Josh hit a home run over the center field wall.  Which was almost caught, by the way – Adam Jones just barely missed bringing the ball back.
In the third, Elvis got a bunt hit to the pitcher, and then Josh Hamilton hit his second home run in a line drive shot to left field.  A note about this one, Adrian Beltre went back to back with Josh in this inning.
In the seventh, Elvis singled to right, and then was driven in again by Josh's third home run to center.  Looked for a bit like Jones might have caught this, but it was better hit than the first.
Finally in the eighth, Elvis reached on a fielder's choice force out with Kinsler out at second.  And then Josh hit a fourth home run driving in Elvis a fourth time.  The pitcher was former Ranger Darren O'Day, who later called the pitch "the worst pitch ever of my career".  Guess he didn't want to be the answer to a trivia question, eh?  :)
In the middle of that, Josh also hit a double in the fifth inning.   The double wasn't too far away from a home run itself.  If he had gotten this one, I doubt he would have gotten the pitch that he did in the eighth for what WAS his fourth home run.   Still, it's near impossible to quibble with the results, and what happened.  I did not watch the game on TV (again, antenna only), but I did listen to it on the radio.   What was interesting is that I did something I never usually do – I got out the portable radio and put the game on and listened to it at dinner with my family.   While we were at the dinner table, I heard the first home run on the radio.  I continued to listen after that on the portable radio for a bit, heard the second one, and then moved over to the computer and continued to listen on mlb.com.   I heard them all, and hearing the calls by Busby & Nadel get progressively more excited, and it was really cool to listen to as the hits kept coming.
I mean look at this.  Even the FOX Sports info box at the top couldn't hold all the text from this game!

Another thing I liked was that Josh was humble about it.   His initial reaction after hitting the fourth was apparently to get excited watching his teammates get excited.  I liked that reaction.  It was't about him, it was about someone else, and their enjoyment of it.  I like that.  Very VERY much a Jesus attitude.  Josh has been blessed with a skill to play this game, and he is not afraid to say where the skill and power comes from, and that itself is a bigger blessing to this baseball fan.  He was right.  It was cool to watch his teammates in the dugout.  A couple of them had their hands on their head in disbelief.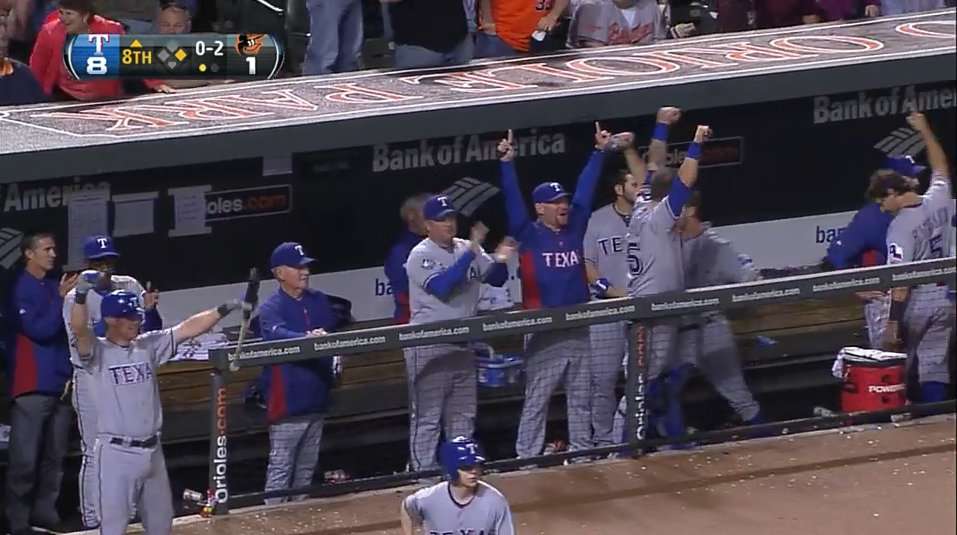 Some other numbers and facts associated with all of this.
Josh now holds the Rangers/Senators record for fewest number of games it took to get to 14 home runs (30).   The last player to do that same thing was Alex Rodriguez who also had 14HR in 30 games for the Yankees in 2007.
Josh had 18 total bases (four home runs & a double).   Not only is that a Rangers record for bases in a game, it's now an American League record for total bases in a single game by one player.  It's one short of the major league record, held by Shawn Green on May 23, 2002.
His 8RBI is a career high (it was already a career high before the 7th & 8th RBIs).  It does fall one short of the team record for RBI in a game.  That's held by Pudge in a game in Seattle I remember watching on TV.   Pudge's game was Apr 13, 1999 against the Mariners, and to make it more interesting, he had all 9 RBI's by the third inning!
2012 is the first year EVER that a perfect game and a 4 home run game have happened in the same season!   You'd think it would have happened before, but never at the same time.  Philip Humber of the White Sox had a perfect game on April 21st.
The attendance in Baltimore for this game was 11,219.  The attendance in in Frisco for a AA Rangers game was 10,329.   The attendance in Oakland for their game last night was 10,784.   Don't know what that is all interesting to me, but there it is.
Josh was the first player to have six consecutive extra base hits since Ken Griffey Jr did it on July 1-2, 1998.
None of these famed home run hitters have ever gotten 4HR in a single game:  Babe Ruth, Hank Aaron, Barry Bonds.  Some more info on legendary past Home run hitters is available here.
The last hitter +1 before Hamilton to do this was Sean Green, who did it 10 years ago in May 2002.  One of the players Green batted in that game was Adrian Beltre, then just 22.
Josh was the 16th overall MLB player to hit 4HR in a game.  Two of them were in the 1800's.
All four home runs were given up by a pitcher who had some D/FW baseball connection.   The first two were by Jake Arietta.  Jake used to play for Plano East High School, and later pitched for TCU.   Home run #3 was to Zack Phillips, who used to be a Rangers farmhand, and the fourth was to Darren O'Day who was a Rangers reliever the last few seasons.
The four home runs went a distance of 404ft, 387ft, 406ft, & 425ft.   If you combine the 18 total bases together, that's 1,620 feet of running.  The four home runs traveled a total of 1,622 feet.
The second home run was an opposite field home run.  That was his first such home run of the year.   He had 13 of those over the last three seasons combined.
In the other 4HR games since 1900, only two players drove in more RBI than Josh. Mark Whiten had 12RBI for the Cardinals in 1993, and Gil Hodges had 9RBI for the Brooklyn Dodgers in 1950.
The only rarer feats than Josh's 4HR game are: 20 strikeouts in a game by a pitcher (5 times) & an unassisted triple play (15).
Josh claimed afterwards that besides being in the World Series, this is the biggest highlight (so far) of his major league career.  I'd rate the Home Run Derby 28HR performance in old Yankee stadium a few years ago higher than this one, but that's not to deny this game.  It was seriously exciting and fun.
So move over Carlos Delgado.  It's been awhile since you held that spot of last guy to hit four in a game (Sep 25, 03).  It's Josh Hamilton.  Now what he needs to do is do it again.  Given he had a home run in his last at bat of the game before this, it means he's had five home runs in his last six at bats.   His start this year has made a lot of people forget about the talk in the spring about "not giving the Rangers everything", and whether not he he deserves a new contract.  A story came out yesterday before the home run barrage that talks were on again over this issue.  I think most Rangers fans would love for the team to sign him after this year.   I know it would disappoint a friend of mine on Facebook who is a Dodgers fan and said to me last night, "He'll look good batting behind Matt Kemp next year".  Yeah I'm sorry about that Richard.  It won't be happening!
I wonder what he does for an encore on Wednesday?
Oh, finally..  George Takei was impressed with Josh's 4HR performance.