When you look down the Rangers' roster, you see all kinds of names that you'd expect to lead the offense and have a six RBI game.  Josh Hamilton, Adrian Beltre, Nelson Cruz, Maybe David Murphy if the stars aligned.  But Brandon Snyder?  You wouldn't expect Brandon Snyder to lead the team offensively.  And on a night when there was a ton of offense as well (14 runs, 19 hits), his totals were the best of all.  You actually have to feel good about something like that.  Even if you're an Orioles fan.  When the game was over and I looked at the stats, I thought, "Good for him – GOOD for freakin him".  
More specifically, Brandon Synder went 3-5 with two runs scored, and 6 RBI's.  He struck out once.  Raised his average to .421 (granted, he has only 19 AB this season, but 421 still looks like a great number).   That he did this against the club that drafted him and traded him away for cash has to have felt good for him.  He's also wearing the legendary #21 on his back.  It's been awhile since we've had a regular #21 – something about Snyder clicks for me, I'd like to see him stick around for awhile.  I don't think he'll ever be a starting player, but having good, solid dependable backups is important too.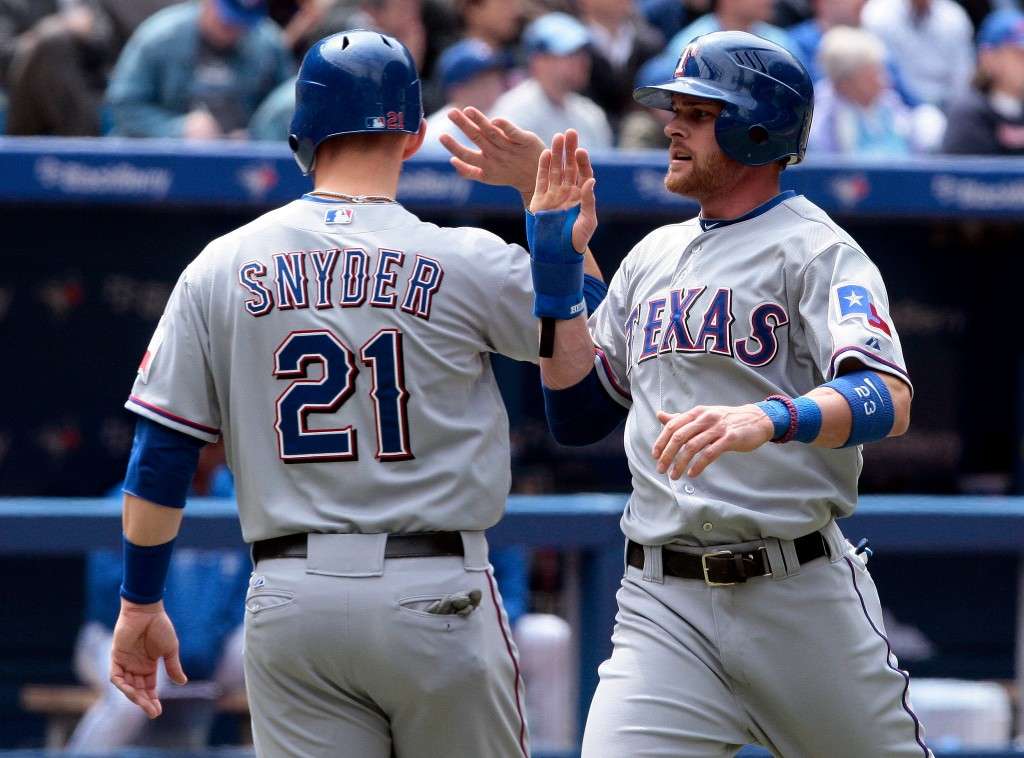 A digression: Looking back on the uniform history of #21, it's been since about 1996-1998 since the Rangers had a guy who would have been considered a good regular (Warren Newson),  and not just a guy who could have been good, but never put it together (Ruben Mateo).   Granded, the best #21 in team history would have been Ruben Sierra, who wore it from 1987-1992 (and briefly again in 2003).  One could probably also make the case for Mike Hargrove, who wore it from 1974-1978.  Going backwards from Snyder, we have these guys: Brett Tomko, Jeff Franceour, Jarrod Saltamacchia, Milton Bradley, Sammy Sosa, Adam Eaton, Steve Karsay, Esteban German, Jason Jones, Todd Hollandsworth, Reynoldo Garcia, Pat Borders, Craig Monroe, Ruben Mateo, Warren Newson, Jack Voigt, Candy Maldonando, John Dettmer, Ruben Sierra, Edwin Correa.  OK, that's enough, that took us backwards to 1987.  Nobody wore it in 1986, and the rest of the names in there are well, "eh".   Why I got sidetracked on a history of uniform #21 I have no idea.
Perhaps it was my excitement at seeing Brandon Snyder have a career game or something, but I was really excited about him.   Thing is, he was by far not the only story of this game.  First off was Matt Harrison.  After a couple of bad outings, I did get an eyebrow raised look at him.  Not enough to panic and declare him bad again, but one never likes seeing more than one bad outing in a row.   Every pitcher has bad outings.  Even Cy Young lost a few games.  But two in a row makes you go "Hmmm..", if he had gone to three in a row, it would have been a concern, but he righted the ship here.   Good outing.  Seven innings pitched, six hits, one walk, three earned runs.  Still had too many home runs allowed (two).  In fact, all three of his runs allowed were by the longball.   That's usually Colby Lewis' problem, so hopefully that doesn't spread to Matt Harrison as well.  :)    Alexi Ogando & Mark Lowe both had perfect innings of relief.   In fact, if you put them together, they both struck out five of the six batters they faced.   Ogando's ERA is at 0.57, and Lowe's is at 1.00.  Both are looking good this year.
Offensively, this was one of those nights where every starter got in on the action.  There was just one sub in the game, Murphy pinch ran for Adrian Beltre at one point, and was 0-1, but all the starting nine got hits.  In fact, only one starter had just a single hit (that was Hamilton), although that lone hit was a home run.  :)  Everyone else had either two or three hits.    Everyone (including Murphy) also scored except Craig Gentry, so there was a lot of different traffic crossing home plate in this game.   Outside of Snyder's outburst, Michael Young had 3 RBI's, and Josh Hamilton had two. Everyone else had one.
But even with the big old crooked number in the box score (the 7 run 9th), it felt like a balanced attack to me.  Good, consistent offense combined with pitching that holds up its end of the bargain will win you a lot of games.  :)