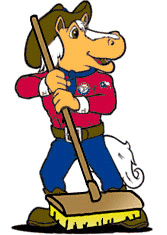 It's only a two game series, but it's a sweep just the same.
We took game two against Boston 6-3.   I didn't get to see or hear hardly any of this – just a few peeks at the MLB At Bat app when the game was on.   Still, Derek Holland did quite well, going to 2-0 on the young season.  He pitched 7, allowed just four hits.  Three walks and 7K's.   In fact, both of the runs he gave up were on a home run ball to Kevin Youkilis.
The Rangers offense was led by Josh Hamilton & Mike Napoli.  Napoli homered again, his fourth straight game with one.  Mike was 3-4, he also had a double.  He also raised his batting average from .207 to .273, an increase of 66 points!  He's certainly figured it out the last few games. Mike had all the extra base hits this game, with a home run and a double.
Josh Hamilton also tore it up, going 3-4, raising his average to .440.
Joe Nathan came in with the Rangers up four runs, and gave up one.   Wish he'd get more solid.