When the game winning play is a walk off wild pitch, you know it's some kind of game.  :)
The Rangers scored in six of the nine innings played, and the Padres in four, but they had one larger crooked number than we did.  Was definitely an all over the place game.  As I've said numerous times, when you have a game with 19 runs and 14 hits, there's not a lot of great pitching to be found.
The spring darling for the Rangers pitching staff (Robbie Ross) started this game, and he came down to earth a little.  I think most Rangers fans (myself included) were looking towards this guy as being the surprise rookie who makes the rotation, goes 17 or 18-3 for the season and is hailed as the "come out of nowhere next thing".  While I admit that was seriously 'pie in the sky', I do think Ross has looked quite good this spring.   This outing was more like you'd expect a rookie to pitch.  Two innings, four hits, one walk, two earned runs.   Not exactly horrendous like the Reds starter was in yesterday's game, but not the way he's been pitching.   He was laboring a lot, as he threw 45 pitches in his two innings of work.   I'm convinced though that he'll help the big club some time during 2012, assuming he doesn't go backwards performance wise.
He was followed by Tateyama, who is making a continuing case NOT to make the club by looking like Clay Counsil.  Pitched two innings, allowed four hits and five runs (one was unearned).  However, the runs all came on three home run balls to the Padres.  It was a shooting gallery for sure.  The only thing that was missing were giant targets beyond the wall to make it look like a giant game of Skee-Ball!   It was a pretty bad outing, and given he didn't exactly end the 2011 season in the team's best graces, I wonder if he'll get cut in the final rounds of cuts at the end of spring (does he have any options left)?
The Rangers pitching settled down after that with Kirkman, Uehara, & Cotts not allowing any runs o
ver a combined four innings pitched.  Only Esteban Ruddy Johan Yan allowed any more runs.  However, the two runs he allowed were unearned, so his ERA stays at zero.  ;)
Offensively, we had some nice power going on.  Over half of our 11 hits were extra base hits.  Doubles by Kinsler, Ben Synder, & Cruz.  A triple by Joey Butler, and TWO home runs by Mike Napoli.   While it's a little silly to use this, I think I should bust out this graphic.  I'm ready for it to happen.  :)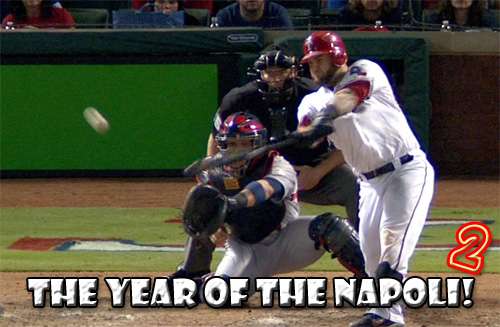 Kinsler is still hitting over .400 for the spring.  That ought to be QUITE exciting if it carries over into April, don't you think?
Bring on the regular season!  Only a week away now.