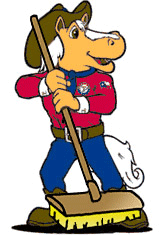 It seems funny using the sweep graphic when the series is just two games. Still, it's technically a sweep, so out it comes. :)
This game was a game won with power. Three home runs in all. One by Michael Young, one by Ian Kinsler, and one by Vlad Guerrero. Things in baseball are so sponsored, I thought momentarily about saying "They won with Jexa Energy Power". Two of the home runs were two run shots, and one was a solo – totalling five of our eight runs.
Oddly enough as high a percentage of our runs having scored on home runs as there was, the actual winning run was a single by Michael Young in the bottom of the sixth that scored Elvis Andrus. Also, to nobody's surprise the single was a shot to right field. :)
CJ Wilson started this game, and clearly had his worst outing of the season so far. He only lasted 4.1 innings, gave up seven hits, one walk, and all seven Anaheim runs – all earned. His ERA is now 2.55, which is still pretty darned respectable, but it was something like 1.5 before the game, so that was a hit, for sure. Hopefully he can bounce back next time, and this isn't a trend, because if he does this two times in a row, we're bound to see a bunch of comments like "See?" or "I knew he couldn't do it". I've turned into a Wilson believer, so I want him to do well.
Our bullpen followed up masterfully. Of the 4.2 innings that five guys threw, only Dustin Nippert let anyone on base. One hit and one walk for him, but nobody scored. Everyone else (O'Day, Ray, Francisco, & Feliz) all pitched perfect innings of relief. Was quite cool, actually. That's the job of the bullpen. Keep 'em down, while we come back – and that's exactly what happened.
Starting to get concerned about bullpen overuse. I think I read somewhere that our pen has the most innings pitched of any team so far. That's not a good thing to see.