Saw this story on the Rangers site tonight..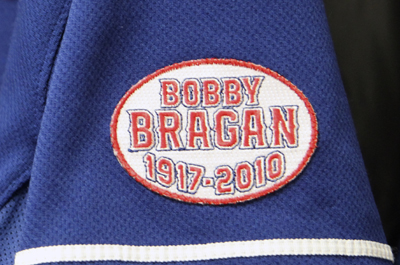 The Texas Rangers today announced that the team will honor the memory of Bobby Bragan by wearing a uniform patch during all games in spring training.
Bragan, who spent over 70 years involved with professional baseball, passed away on January 21 at the age of 92 in Fort Worth. The former major league player, coach, manager, and executive was a long-time front office employee for the Rangers, serving in public relations and community capacities.
The oval patch contains the red and blue lettering, "BOBBY BRAGAN, 1917-2010" with a white background and red border. It is located on the right sleeve of the Rangers' blue jersey tops, which the club will wear for all spring training games in 2010.
Following spring training, the jerseys will be available for purchase with a portion of the proceeds benefitting the Texas Rangers Baseball Foundation. The team also plans to donate a number of the jerseys to the Bobby Bragan Youth Foundation, which has provided over 500 scholarships to Dallas-Fort Worth area students since its inception in 1992.
The Rangers will wear the Bragan patches for the first time on Tuesday.
I have to confess. When I saw the story, I didn't remember who he was. :(