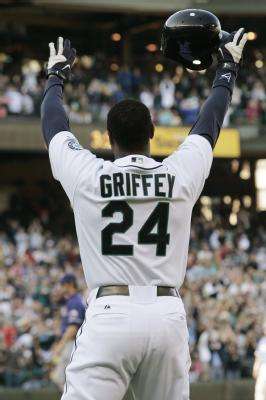 That's it. The 11th season I've had this site up for has ended. It ended like so many others have ended. With a loss. I have to confess though. It was a game of lasts.
Last game for Hank Blalock as a Ranger (is there anyone who REALLY believes he's coming back? Bueller?)
Last game for Omar Vizquel as a Ranger. I wouldn't mind bringing him back next year again, but my gut says it won't happen.
Last game on the payroll for Vicente Padilla – although he's in the playoffs. Grrr.
Last game with Tom Hicks as the owner? Perhaps.
Last game for Andruw Jones as Ranger. For anyone? Maybe.
Last game for Ken Griffey Jr? Like ever? Maybe.
I have to say, I watched this game, I flipped between this and football. I didn't want to miss this, yet I didn't want to not see football, either. So it'd be watch a series of football, then switch over and watch an inning of Baseball. Thank good ol' TiVo for that. About halfway through it occurred to me that this very well could be the final game ever for Ken Griffey Jr. I liked him a lot when he was with Seattle the first time around. I used to come out to games I wouldn't have come out to otherwise to see him. So when I realized he was coming up for his last at bat, I paid attention, and I was quite glad to see him get a single up the middle. Don Wakamatsu pinch ran for him, so he got more applause. Then he got called out of the dugout for a curtain call (that's what the pic is above). It wasn't quite the love fest that Pudge got when he departed after the 2002 season, but it was really nice to see. I enjoyed that.
As for the game itself, Scott Feldman couldn't get past 17 wins. He lost the game, and finished 2009 with a 17-8 record, which is freakin' fantastic. Knowing that he had the chance in September to get to 20 is a mild letdown, but man, 17 wins was what you were expecting from Padilla & Millwood coming into 2009. Not Scott Feldman! So this bodes well for 2010. Six innings, four earned runs on six hits and a walk. Ended the season with a 4.08 era. Quite respectable, even if that number was driven over 4 with some early (bad) bullpen outings.
The Rangers only had four hits the game, but made 'em count. Two doubles (Murphy, Kinsler), and two singles (Borbon & Davis). The RBI's were by Davis, Teagarden, & Gentry.
As for Hank Blalock, he seems to be squeezed out. There is no real position for him going forward, given the guys we have coming up. Davis is already causing a problem for Blalock with playing time, and if we get anyone else up next year like, I don't know Justin Smoak, I can't see where Blalock would fit, either position wise, or salary wise.
Andruw Jones? Nice experiment, but I can't see where he'll fit, either.
Omar Vizquel? I really liked him. But he can actually still play, and probably deserves a better job than part time backup. Although at 43 (in 2010), I don't know if anyone will give him that.