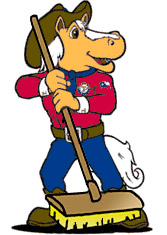 Wow. Who would have thought this? A series sweep of the Angels, and a complete homestand sweep (where it's a real one, not just 2-3 games). Who would have thought that we'd be in first place, four and a half games up on the Angels? Now, it's no September party, but man – it's been awhile since it's been this fun watching Rangers games. 2004 was the last real time, and that lasted into September, but one gets the feeling this is different, because of the good pitching we've been getting.
Speaking of pitching, this was a great game for that. We had four pitchers combine on a five hit shutout of the Anaheim Angels. Scott Feldman started, and went six, but didn't get the win. That was because Jeff Weaver matched him. No runs were scored until the bottom of the seventh, so Feldman got a hard luck no decision. Jason Jennings, Eddie Guardado, & Darren O'Day followed with three innings of one hit (Jennings) relief. Was the kind of pitching we're used to seeing thrown against us, not for us. Interesting that O'Day got a four out save, and that Wilson wasn't used. I wonder if Washington really doesn't trust Wilson anymore, or if he was just not available. At the least it shows how good of a pickup O'Day has been.
Offensively, there wasn't much going on – as we were shut down by Jered Weaver for quite a long time. Weaver did get the complete game loss, but through six he was great. In all, he threw eight innings, giving up all three runs on six hits and three walks. In the seventh, David Murphy had a sac fly, scoring Hank Blalock for the first run of the game – and the only one that was really needed. We plated two more in the eighth after Omar Vizquel led off with a triple. That triple was a great moment, and makes you wonder why he isn't still a starter with someone. Oh yeah, he's not gonna hit 350 and steal 75 bases, but man he can still play. Anyway, after the triple, two doubles to left by Ian Kinsler & Marlon Byrd accounted for the other two runs. We didn't have a whole lot of offense, just six hits in all, but four of them were extra bases (triple, three doubles) – it was enough.
Monday is a day off, then we head on the road to face Detroit, who is in first place in a fairly weak AL Central. Who would have thought that the six division leaders right now would be Toronto / Detroit / Texas & New York / Milwaukee / Los Angeles. Well, OK, the NL isn't as much of a surprise (except the Brewers) I guess, but it is a surprise in the AL.
You know, something I want to add. In the middle of this game my daughter came out to see me after attempting (and failing) to take a nap. It was such a good day that I decided on the fly to just up and take her to the playground near our house (which also gave mommy a break, but that's not why I did it). It was a beautiful day, my daughter just lit up like nothing else you'd ever seen when I suggested going there, and we spent some time playing with other kids – it was beautiful. As much fun as it is to have your baseball team play good, it doesn't even come near the fun of watching my four year old get so excited about playing with me at the playground. Don't forget that, Ranger fans. I quite willingly chose to stop watching this game to go play with my kid. I'm reminded of Psalm 118:24 here. It's also good when things are bad as a pick me up, but it REALLY felt good to me when I thought of it driving to the playground.
This is the day the LORD has made; let us rejoice and be glad in it.