There's been so much written in so many places today about this. Not to mention the coverage on MLB Network (Hi Jamey!) and ESPN… There's just so much to digest, I'm only saying this.
The name A-Fraud in the Torre book is getting all the attention at the moment. Perhaps a better nickname for him now might be A-ROID!.
Yeah, OK – everything I'm seeing says he tested positive just once, and there's nothing to say he has since this happened (which is now 6 years ago). However, there was a remark I saw where Gene Orza apparently tipped off Arod in 2004 to a screening. If that's true, then there's a gigantic problem in the Union (shocker, I know). But still.
Arod's a user. Bummer. Perhaps he was using something else when he dumped Cynthia for Madonna. Makes this pocket schedule seem kind of prophetic. 2003. Arod. Fuzzy background. ;)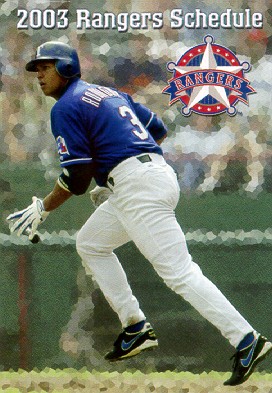 On Saturday night, Kevin Sherrington of the DMN had an article about the "All Juiced Team", saying Arod here completes it. Check this out. Shows the position and how they became linked to steroids:
CF – Gary Matthews Jr. – Mitchell Report
C – Pudge Rodriguez – Teammate allegation
SS – Alex Rodriguez – Media report
RF – Juan Gonzalez – Teammate allegation
1B – Rafael Palmeiro – Tested positive
3B – Ken Caminiti – Acknowledged
DH – David Segui – Acknowledged
2B – Randy Velarde – Mitchell Report
LF – Chad Allen – Mitchell Report
The amusing thing about this is the first comment left by someone on the DMN site about this. They said "Crazy line up there…..but once again NO pitching!".
That remark made me laugh.