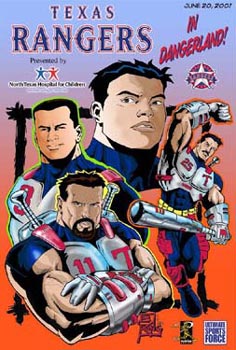 Remember these? There was a series of kids' comic books in 2001 that were given away at the ballpark. Kind of amusing now looking back at it in 2008 that all four players had their name tied to steroids in some way. On top of that, the images on the book look pretty roided up. Yeah, I know, its artistic license for the superhero theme of the comic book, but still.
Alex Rodriguez was the least connected, just a supposed rumor by Jose Canseco.
Pudge was named in Canseco's first book, then got noticably skinnier after that.
Rafael Palmeiro apparently lied to Congress about using, got busted, career ended in disgrace.
Ken Caminiti. Well, he died of a drug overdose
Was looking through some old entries on my site, and saw that picture. Does anyone actually still have all of those?