"That is a gutless, six foot seven, two hundred hitting. formerly good player – what a joke."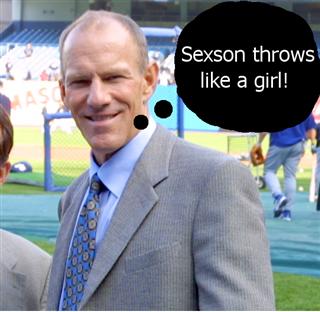 This game started off with a lot of moves, and a little less than halfway through there were a lot of moves on the field. First off, the roster moves. Two guys were activated from the disabled list. One was tonight's starter Kason Gabbard. The other was third baseman Travis Metcalf, who hadn't yet appeared in a game this year. Metcalf didn't really seem needed to me right now, as German Duran is doing a decent job over there, and we have Ramon Vazquez both to handle third till Blalock returns. However, with Ben Broussard being designated for assignment today, I guess you needed an infielder. Broussard other than the first couple of games of the season really hasn't hit the ball at all. Nice enough guy, but man, he was just not getting it done. Additionally, A.J. Murray was sent back to AAA, but that's no surprise, he was just up for a spot start.
Then the game started. Kason Gabbard started for us, and was looking pretty good. Gave up no runs, and just two hits. But unfortunately, he only went 3.2 innings (more on that later).
The game started off well, with Vazquez singling and both Hamilton and Bradley walking. A sac fly and a single later, the Rangers are up 2-0. Felix Hernandez (I still refuse to use his dumbass nickname) labored. I didn't get a count, but he was around 30 pitches for the inning. Gabbard tossed up a donut on the scoreboard in the first. Gerald Laird was hit by a pitch, and then was driven in by a two run home run by Ian Kinsler. That was about it for the Rangers offense for awhile. In the fourth, Ian Kinsler was hit by a pitch. He wasn't thrilled about it by his look at the plate, but didn't do anything about it.
Then in the bottom of the fourth comes the head scratcher of the evening. Kason Gabbard threw a pitch up high, but over the plate. For some really unknown reason, Richie Sexson charged the mound. The pitch was easily a foot or more away from him – he ducked out of a pitch that if it was a foot lower would have been a strike. And he charged the mound. That was quite odd. Then to make it worse on himself (probably with the Commissioner's league) he tossed his batting helmet at Gabbard before he got to the mound. Charging the mound is a suspension anyway, but throwing an object will probably make the penalty worse.
As he was charging the mound, Josh Lewin said "…with a helmet throw – COME ON!" In the replays of this and the discussion while the melee was going on, Tom Grieve came out with a comment that was right up there with his opinion on Hideki Irabu's ability to pitch himself out of a paper bag. Grieve's quote here that made me laugh out loud was:
"If he doesn't get suspended for a week for that gutless move, I'll be completely shocked. Number one; for charging the mound on a pitch that wasn't even close, and then getting twenty feet away and throwing a helmet at him like a girl. What a joke."
That made me laugh out loud. Another really good Grieve line from this was the one I started this article with. I actually thought of another word to use here, but it definitely isn't a good one to use on a baseball blog like this one. All I'll say about that is "meow". Grieve's comments made me get out the laptop and start writing this commentary before the game was over; something I don't normally do. After the initial remark, there was the usual brawl milling around, and pushing and shoving happened. The only actual person who was ejected was Sexson – probably because there wasn't any real fighting in the brawl outside of Sexson. What was interesting was the clip of Milton Bradley pushing Gerald Laird – about 3 or 4 times on camera, and with some force too. On one of them, I thought Bradley was going to push Laird down, actually.
Gabbard ended up coming out of the game shortly after that; early reports say it was about his leg, and not his back (which he was on the DL for). One never knows if it was directly related to Sexson, but that seems like the obvious response to the situation. Gabbard was followed up by Franklyn German, Jamey Wright, Eddie Guadardo, & Frank Francisco. These guys continued their pen dominance, and allowed squat. In fact, all those guys allowed just two hits.
In the sixth, we tacked on another run after a Gerald Laird double, and a Ramon Vazquez single. Speaking of Vazquez, he started in place of Michael Young tonight, and more than picked up the slack for Young. Vazquez went 4-5 with with an RBI and a run scored. A pretty good night for him. Brandon Boggs was 2-3 with a walk, showing no signs of giving up his spot to go back to AAA.
This was the first time the Rangers had back to back shutouts in four years.
With two shutouts in a row, plus going back into Tuesday night's game, that's a total of 22 innings in a row the Rangers have shut out the Mariners, and going further back, that's just one run in the last 27 innings, and just one in the previous 32 (the M's put up a four spot in the third on Monday's game).
The one thing I don't want to see is Tom Grieve back down from his comments. Stick to your guns, man. You were right. Don't back off them. Don't apologize.