The morning started off by reading a newspaper article in the Dallas Morning News about fans and how they feel about the Rangers. I was interviewed for this piece myself on Monday, and I ended up in there. Funny that the author quoted my remark about the Phillies losing 10,000 games as a franchise. :)
When I left Garland at around 9:30AM, it was pouring raining. I mean painfully raining. This was not good. I don't like rainouts ever. I detest them on opening day. The weather forecast had rain on Tuesday & Wednesday, and into Thursday a bit, too. So I got to the ballpark, and ran into the first of the changes – the redone roads. I'm going to write a separate article on the external changes at the ballpark at some point in the next day or so, so I won't get into it here, but it was confusing. I had to park way the heck out – in a place I have NEVER parked at in all the games I have ever gone to at the Ballpark in Arlington. That kind of bummed me out.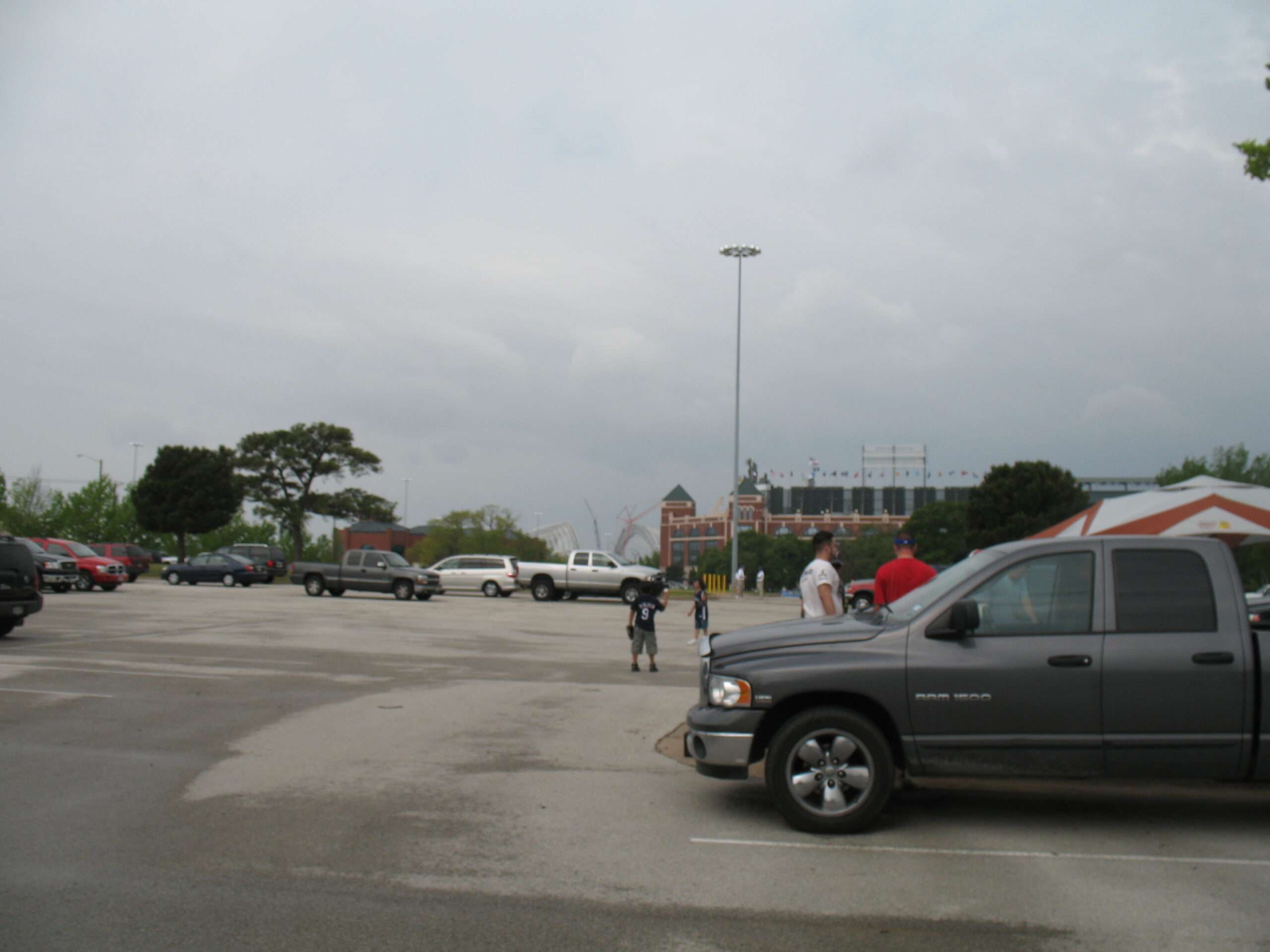 Fortunately though once I got past Dallas, the threat of rain seemed to go away, and I never saw any more the rest of the day (which was odd, as my wife said it poured REALLY hard several times back home in Garland).
I got into the park around 10:30 or so, and did my usual walk around the park. I watched some batting practice, and checked out new signage and things of that nature. I'm the only dork who comes to the park and spends as much time checking out signs and advertising as he does the batting practice. :) The usual things were there for opening day festivities. Some of them I really like that they're always there – it just feels right. Then you sometimes get silly things happening. Like this: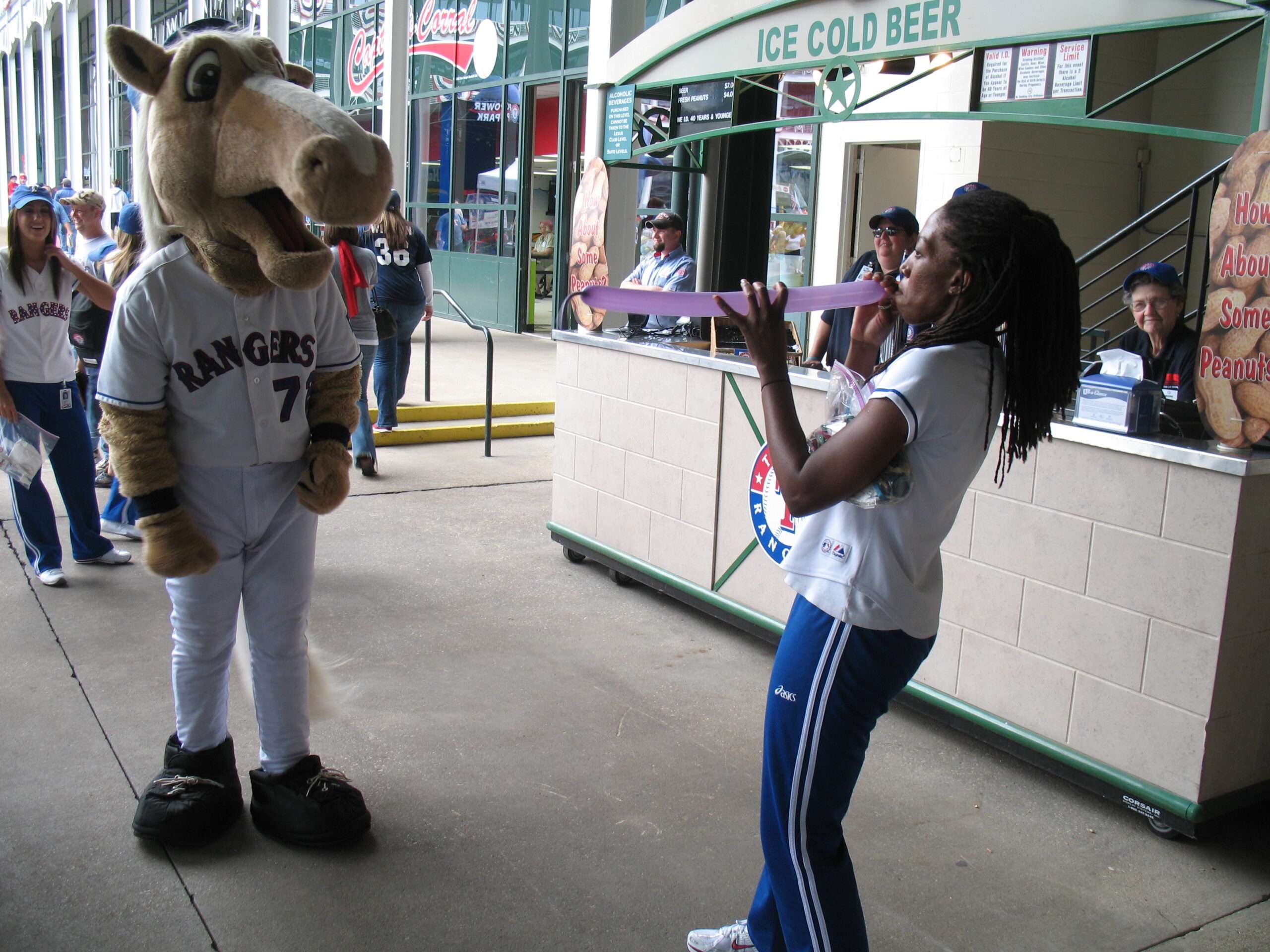 One really bizarre thing I noticed. All the gift shop cash register computer systems were down. For the first time in ages, I never went to the big one in center field, but I checked out the small one behind home plate, as wel as the kiosks in the 200 level, and finally the one up top behind Section 325. Their registers were all down. Or the computers weren't working right or something. That was major failure that you couldn't buy merchandise on the Home opener. But even that kind of annoyance didn't bother me. I was back and seeing this in person: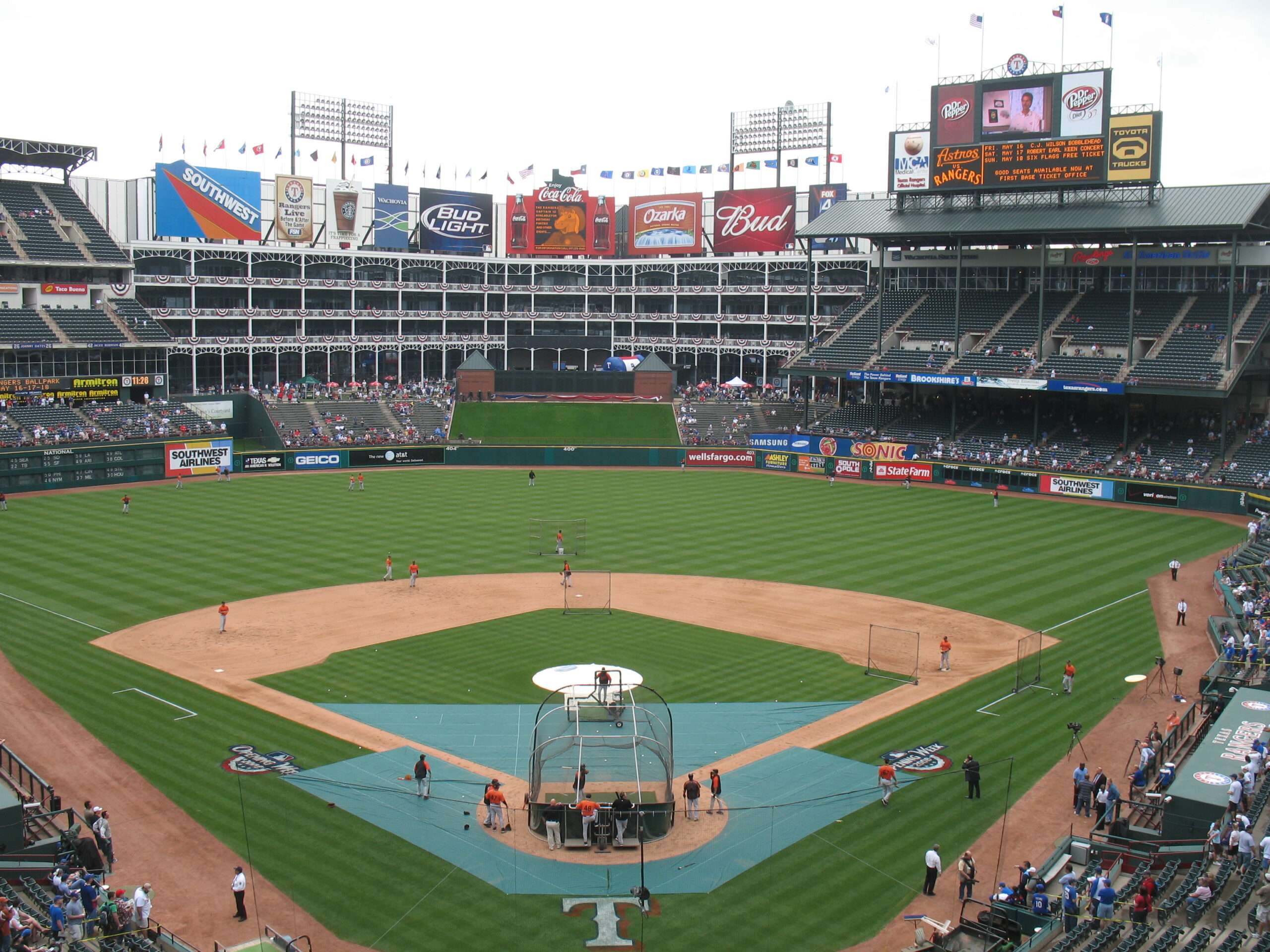 The time rolled around to the start of the pre-game festivities, which are always great. So I made it back to my seat (shown in a semi panoramic shot above). The only pre-game festivities I like better are the July 4th ones. Chuck Morgan always does a bang-up job with both of these, and 2008 was no different.
They carried out a giant flag, Rangers alumni were introduced (including Inky!), the Orioles players were introduced, then finally, the Rangers were introduced. What I found amusing is that of the coaching and staff that were announced on the field, the Japanese interpreter got the loudest applause and ovation. Coaches generally get polite applause (except for Rudy), but the Japanese interpreter seemed to get the loudest applause at that point. Made me chuckle. After the Rangers players were all introduced (I love that bit), the giant flag in center field was unfurled. This was a pretty darned huge flag. They were always big, but in the past they were smaller than this. This one was bloody' gigantic!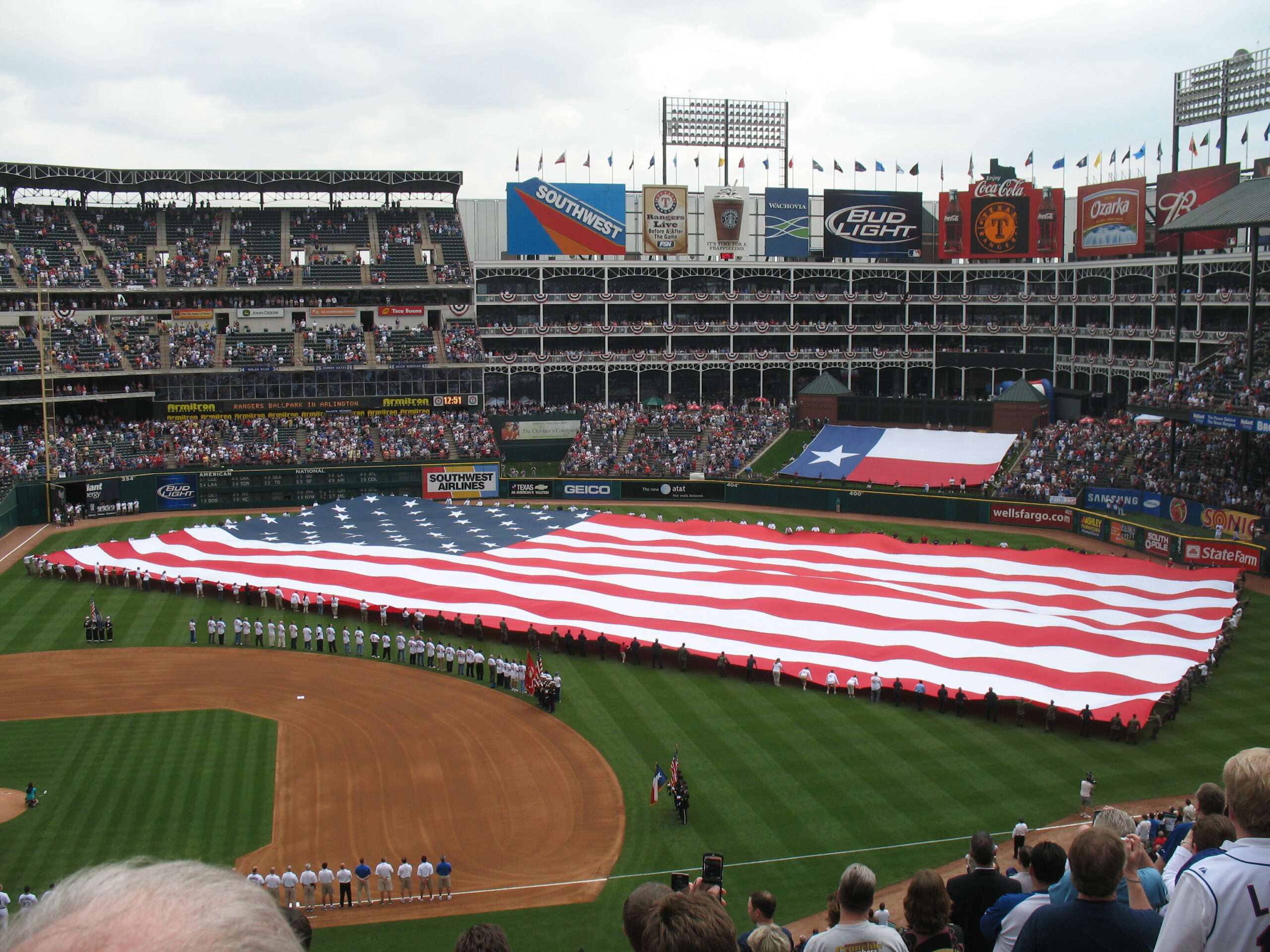 Another tradition is the flying in of the bald eagle from center field, around the park, and onto his trainer's hand on the pitching mound. I don't know why I like seeing that, but it's something else like Cotton Eyed Joe in the 7th inning stretch that is always there, and that's comforting. Like we are "back". :) Speaking of that, there's the ubiquitous B1 bomber flyover.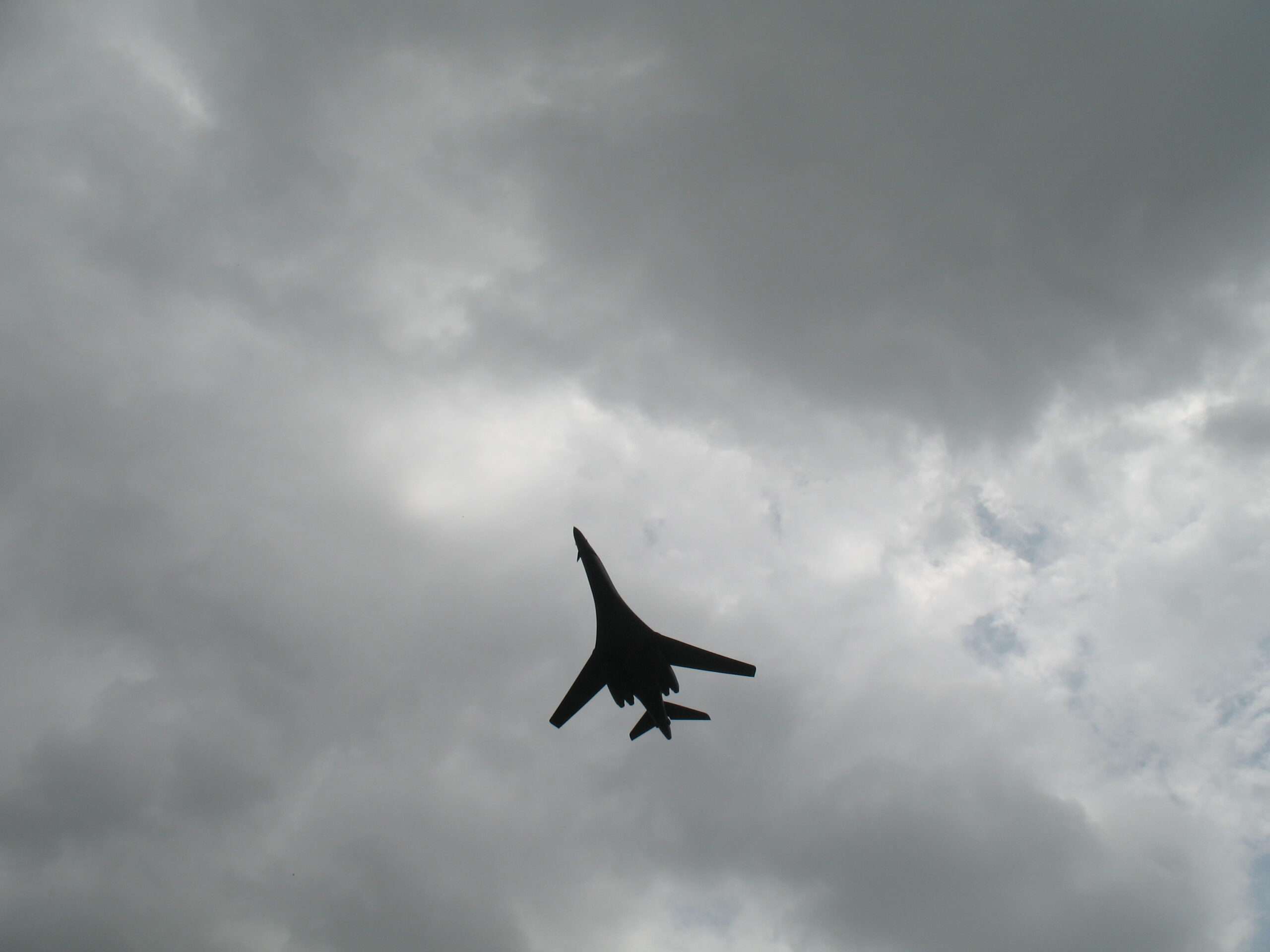 And finally there was the first pitch ceremony. This year the pitch was thrown by Eric Nadel, who is celebrating his 30th year of broadcasting Rangers baseball. He was escorted to the mound (why? Do people get lost going there?) by Nolan Ryan, and the ball was caught by Jim Sundberg.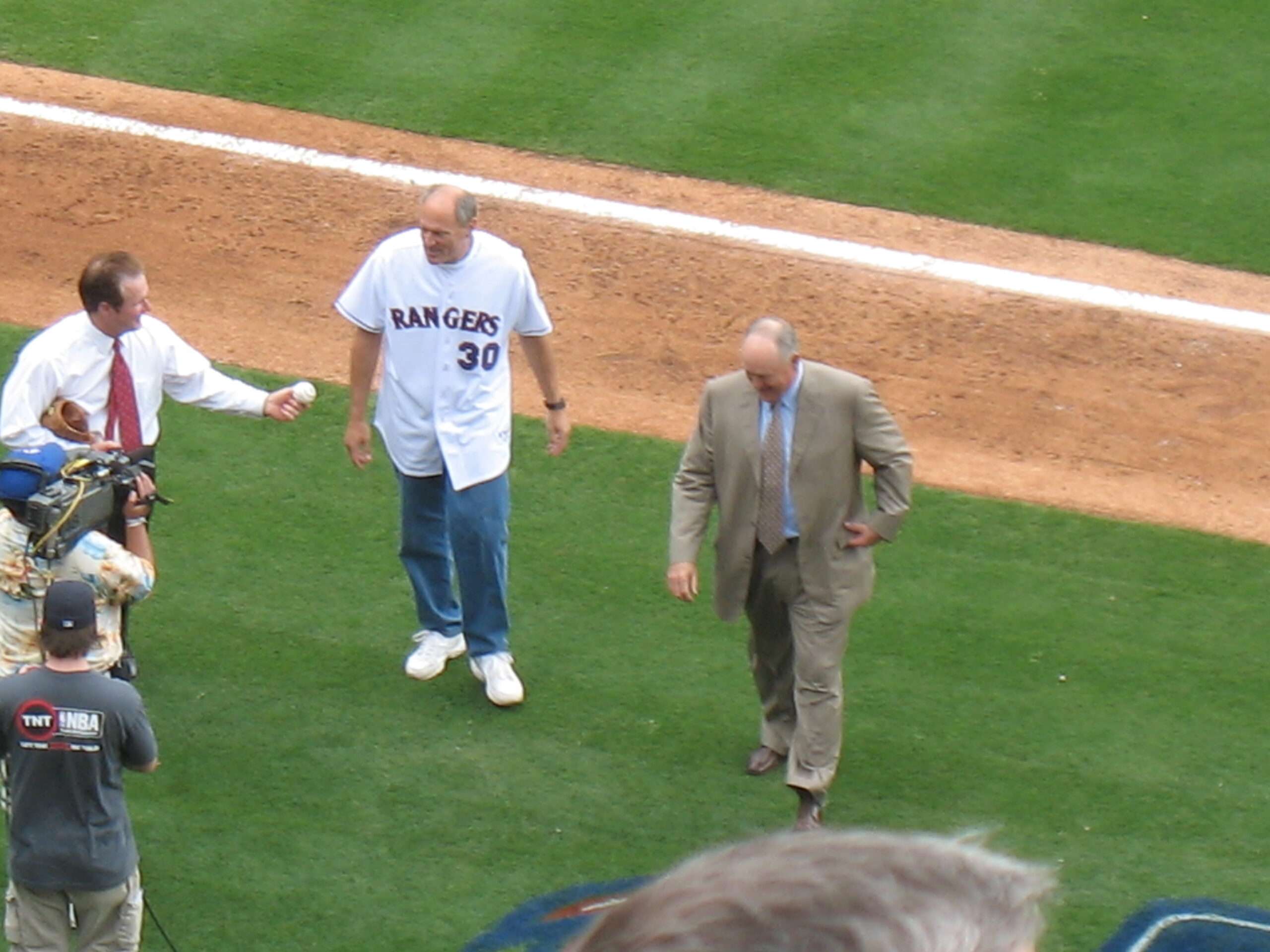 So finally, we get to the first pitch, and the actual baseball part of the day happens.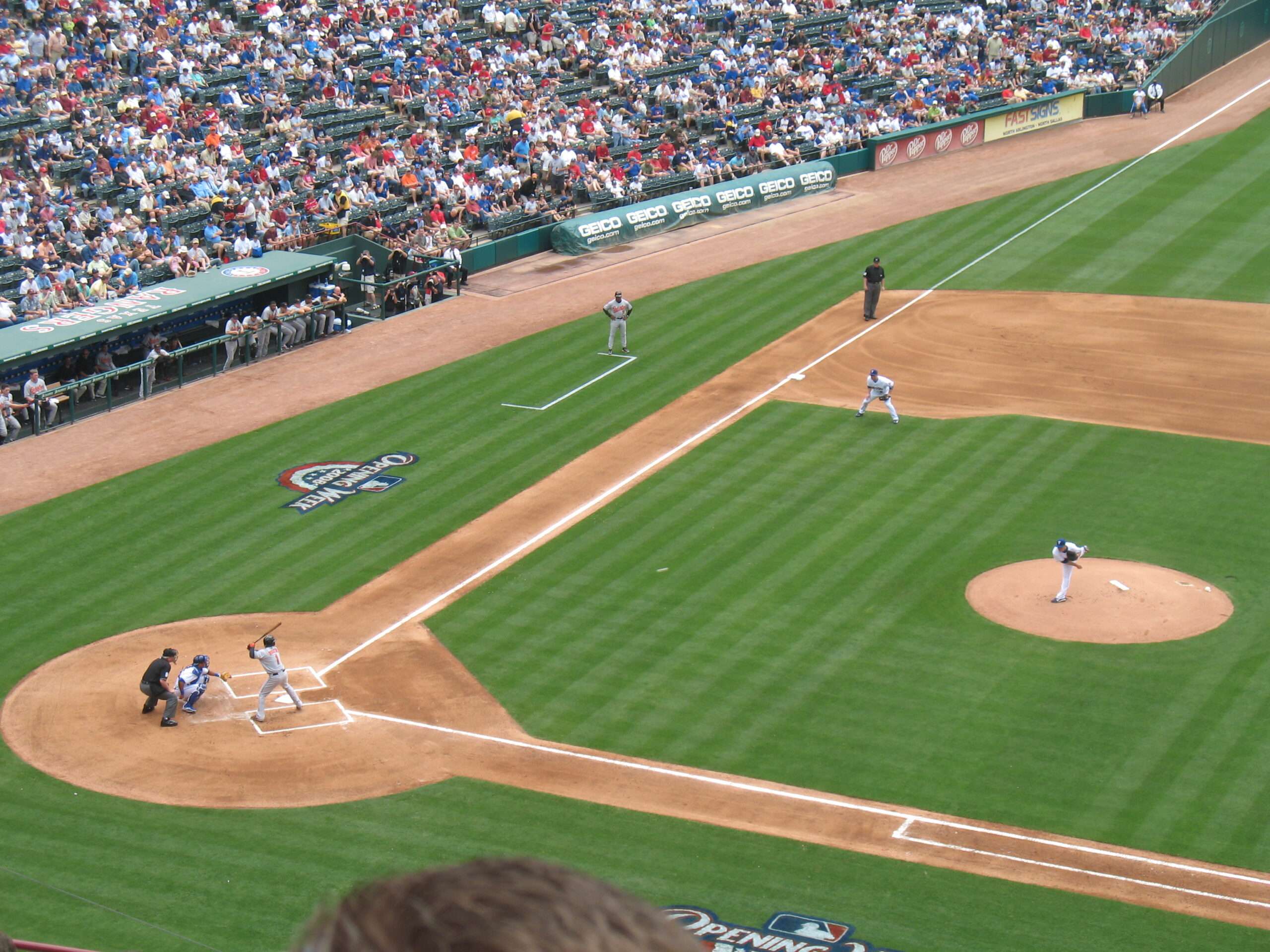 That's where the fun ended, really. Local boy Jason Jennings took the hill for the Rangers, and almost immediately killed all the fun from the game. He walked the bases loaded in the first inning, but managed to escape damage in that frame. Sitting there in the stands watching him, it was obvious he wasn't going to have any sort of control. I've seen games where pitchers come back after that and the light goes on. This wasn't going to be the case today. Jennings went four innings in all, giving up seven hits and four walks, allowing four runs as well. It should have been a lot worse, IMO.
He was followed by Jamey Wright who was pretty good in his time on the hill. Went 1.1 innings, and did give up two runs, but both were unearned due to a fielding error by Ian Kinsler. That error was the subject that caused me to turn off the KRLD post game call in show, because we had another mental zero call in and call Ian Kinsler "the worst fielding shortstop in the history of the Texas Rangers". Oh Good Lord, it's dumbasses like that who make me want to throw my radio out the window. SHUT UP! Anyway, the error led to the two unearned runs, putting the Orioles up 6-0 at that point. Jamey Wright did manage to pick off a runner, after throwing over there about 4 times. If you get picked off after the pitcher throws over there multiple times, then you deserve to be out.
The Rangers almost got a run in the second when Milton Bradley broke for home from third on a wild pitch. Problem the pitch wasn't that wild and Bradley was thrown out trying to score. It ended up looking like this: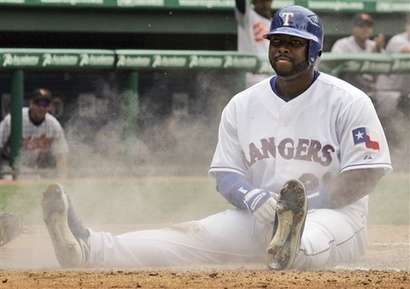 Our offense was rather frustrating, to be honest, as we had the bases loaded at least once, had men on base in every inning that I can recall except the first and ninth. We finally managed to get one across in the seventh on an Ian Kinsler single. Singles were the order of the day. Except for Gerald Laird's double, everything we hit was a single. This was also our first game of the season without a home run. I don't know if we would have scored enough to overcome the eight we gave up, but we probably should have had more than one run. Speaking of home runs, I kept hoping that this guy would jack one. He didn't.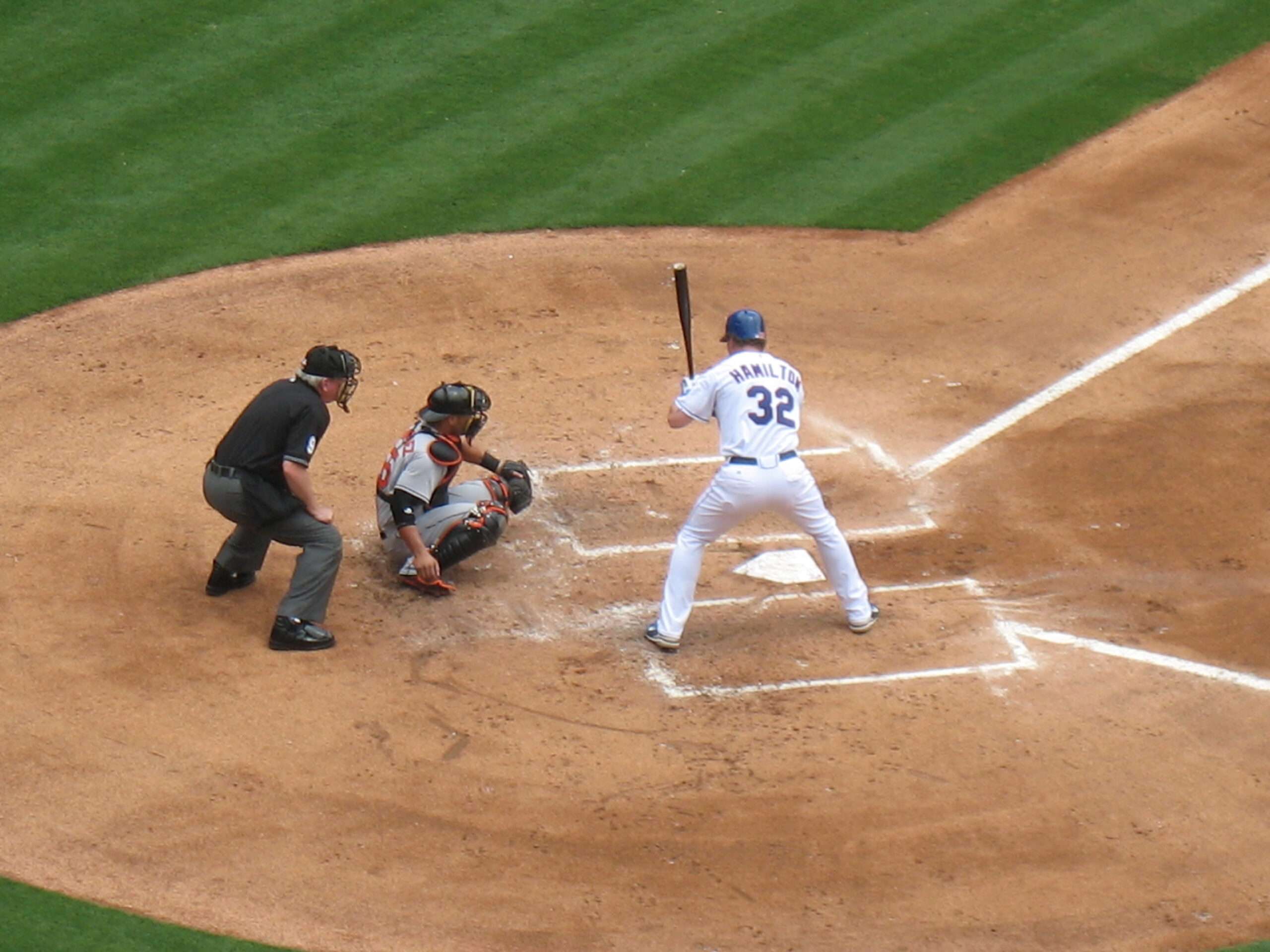 Marlon Byrd continues his crapfest that passes for his at bats in 2008, now at something like 0-17 I think to start the season. Big fat donut.
We lost, obviously, and it just felt weak. The Rangers have been playing better than that the last week, this didn't feel like the same team.
The place cleared out pretty well once the Rangers started falling behind, but I think they were all sitting out on the streets. It took me almost an HOUR to get to 360 and actually get onto the highway from the Ballpark. That was nuts.
Speaking of delays.. Did anyone else in the park notice that the much hated delay was back? And it wasn't just back a little, it was back A LOT! This makes listening to the game live in the stadium useless, as there's a 10-12 second delay. When that first started, it got reduced to two seconds, and then removed totally. But it's back again at the start of 2008. I'm HOPING that was an oversight, and it's not the new norm. That would be zero fun for those of us who listen to the game at the park.
I normally don't get on 360 going home, but there was an Ice cream store I wanted to visit. My wife grew up in Pittsburgh, and if you're from that area, you know Brusters. When they opened one in Arlington last year, my wife said that we had to go. However, Brusters is 47.2 miles from my house in Garland, and with gas prices now, that kind of killed an ice cream trip. Since I was mostly there already, I went. Folks, the ice cream is awesome! It's a tad on the expensive side, but holy crap was it worth it. Great ice cream. This is on 6301 South Cooper Road in Arlington. (UPDATE Dec 2019: They're not there anymore).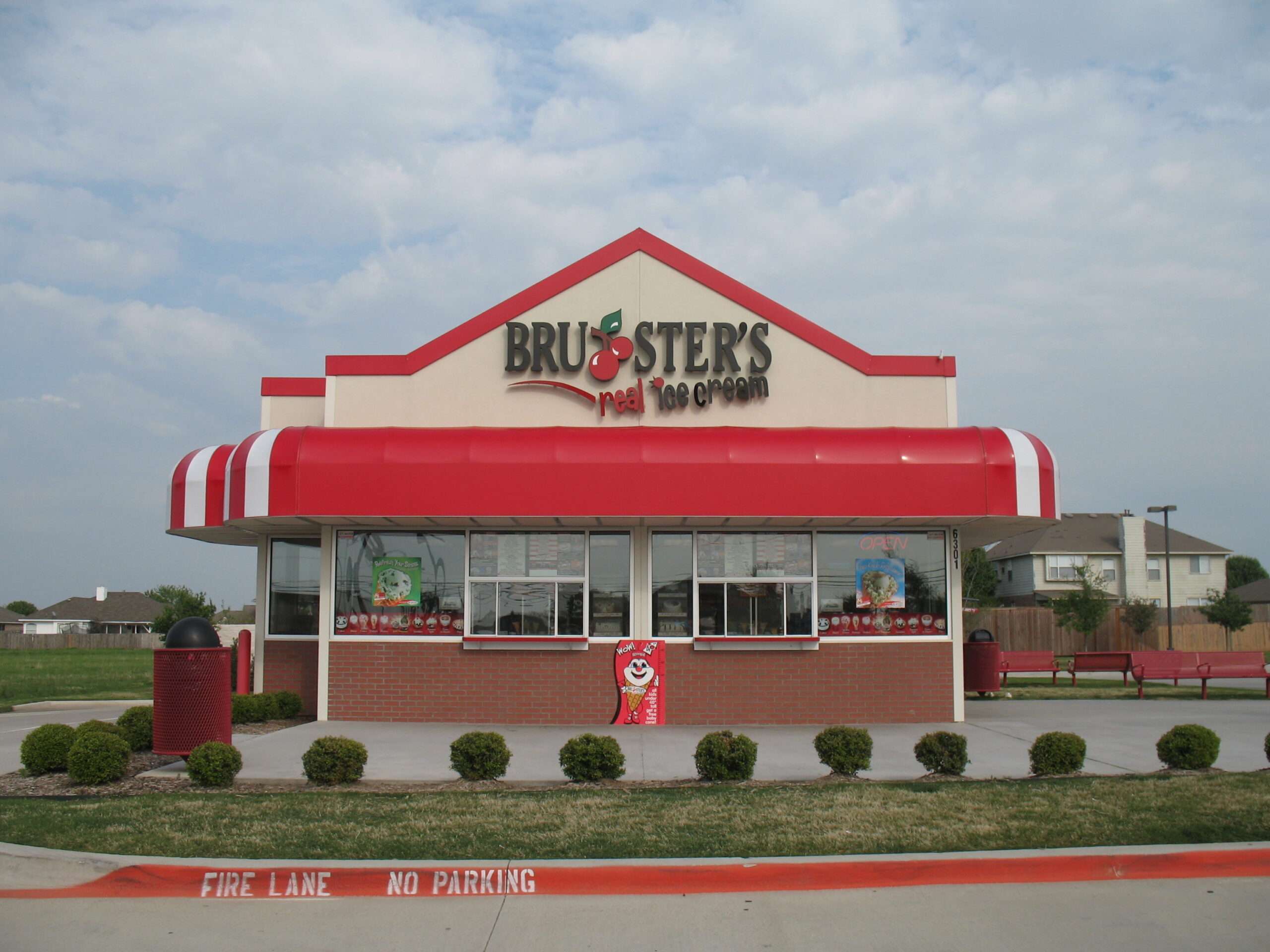 Finally, I picked up my daughter's Junior Rangers package. My little girl will be three in a week or so, and I've had her as a Jr Ranger now for three years. :) She's been too small for the stuff they give out until now, so today I came home from the Ballpark with "treats" for her. There was a backpack, a picture of Rangers Captain (which she LOVED holding and showing Mommy & Daddy), a baseball cap, and a couple of wristbands. There's also a coupon book which has vouchers for free kids tickets and a free gift for the kids once a month. It's usually something like a poster, or a ticket to Six Flags, but sometimes you get really cool stuff like a bobblehead or a baseball.
One hidden cool thing in the kids pack is that you get a free kid's ticket for select games each month, but in addition to that, you can also buy adult tickets at the same time for $6 each. It's kind of like a cheap mini plan, because you can buy the $6 adult seat, and get the free kids ticket, and you have two seats for $6. I suppose you could buy the pack without a kid, and just make the $15 back for the package pretty quickly doing that. :)
Anyway, my daughter loved the stuff from the Rangers, so unless it's a poster (which she wouldn't be into yet), and it's like a hat or a ball or something, I'll be giving the things to her this year. I have to say I absolutely loved my little girl tonight telling me "Thank you Daddy for the presents from Rangers Captain!". We told her they came from Rangers Captain (as it is the Jr Rangers club, and they have Captain all over the advertising for it). Here's my last picture in this report. My just about three year old wearing the cap and the wristbands (which she did NOT want to take off AT ALL) doing that "kid smile".