Kevin Millwood's good news from the 2008 opener is that his ERA is zero. The bad news is that he's also 0-1.
The start time for this game was rather odd. 5:40PM Central time is hard for me, as I get off of work at 6PM, and as such it was difficult to avoid the score. Oh, I know where to avoid, but the temptation to check it out as it's happening was rough. So I got home, and ate dinner, played with my little girl a bit in the back yard, and then settled in to watch the game after it had technically ended. Dinner tonight was hot dogs, too, so I was ready to go.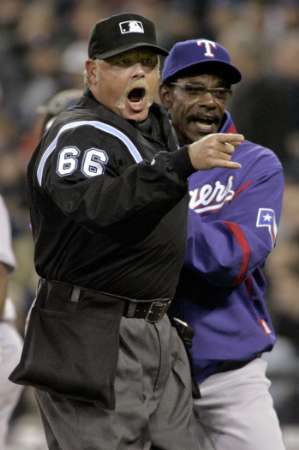 I started watching the game with a Stella Artois and my Palm so I can score the game in hand. Like most Rangers fans I was quite excited seven pitches into the season when Michael Young deposited a Erik Bedard pitch over both Brad Wilkerson and the WaMu logos for a one run lead in the top of the first. When you're emotionally invested into a team like that, a home run seven pitches into the season brings up visions of 100 win seasons, playoff wins, etc, etc, etc. I was jazzed at that point. The other cool thing is that Bedard was NOT as advertised. He went to full counts on a ton of Ranger hitters, and was out of the game in the fifth due to a rather high pitch count. He still only gave up one run, so it's not like he was terrible, but wow did he have to work for what he got in this one.
Kevin Millwood was pitching like he was the #1 starter. Kevin's was let down by some defensive issues in the field in the sixth. Michael Young couldn't handle a hot smash from Ichiro for an error, which led to the two unearned runs Kevin gave up in the sixth. He did look really good. Josh & Tom spent a lot of time talking about how he looks better, new conditioning and all that, and it did look good. When he got into some minor trouble, he was able to pitch his way out. He wasn't being helped by the home plate umpire who seemed to be squeezing him at points.
One moment that made me chuckle was the argument that ensued between home plate umpire Jim Joyce and Ron Washington over Milton Bradley. Bradley was hit in the foot by a pitch, and went to first, but Joyce didn't see it, and ruled he wasn't hit. So he came back after some mild discussion with Washington, and then the next pitch was a ball, he threw his bat away (a bit hard, IMO) and went to first. Bradley never said a word to the umpire, and just went to first. Ron Washington came out and said a few things, and apparently someone from the Rangers dugout did too, as there was a very clear camera shot of Joyce bitching at someone. What's funny about that is Bradley has a reputation (as Carl Everett did when he came here) of arguments with umpires. His first game as a Ranger, and there's confrontation. It just amused me.
Anyway, the game went on with the Rangers leading 1-0 for awhile. After the aforementioned error led to us being down 2-1, Millwood was pulled after six innings, and Kaz Fukumori made his Rangers debut. His spring ERA of zero must have been in play, as his outing today more than made up for it. Only one third of an inning pitched, and in that time, he gave up two hits, two walks, three earned runs, and to top it off, had two wild pitches – one directly leading to a run. A rather ghastly debut, leaving his ERA at 81.00. At least it wasn't as bad as Tom Gordon for the Phillies yesterday, whose ERA is 135 after his 0.1 innings on the mound.
Fukumori was followed up by Franklyn German, who did keep his spring performance intact, by going 1.2 innings, and not giving up any more runs. German looked good.
Offensively we were quite literally led by Michael Young. He had the home run in the first, but also went 3-5 for the game, now batting .600 after the first game. Hits were at a premium despite Bedard's struggles. In all the Rangers had seven hits, Michael Young having three of them. David Murphy had two, and the other two were Josh Hamilton and Ian Kinsler. All were singles except the home run. The best thing though was the way the players worked the count at the plate. Something we're not used to seeing from the boys in Arlington – and I don't mean the team that will be in Jerryland. I mean the real boys from Arlington – the Texas Rangers.
Gerald Laird threw out two baserunners in the game; that was always exciting to see.
Nobody likes to be 0-1 after the first game, but the euphoria you get from the start of Game 1 was certainly diminished. I don't feel really beat down, but I was definitely LET down. Doesn't get any better tonight as we face Felix Hernandez.