Most Rangers fans will remember the memorable end to the 2004 season, where the players came out and took a lap around the stadium shaking hands, that kind of thing. You remember, this?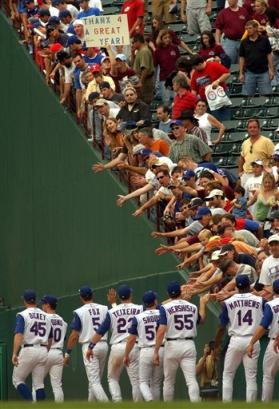 Well, the 2007 edition of "Your Texas Rangers" didn't quite do that, but they provided a memorable end to the 2007 season here in Arlington. Of course that would be a World Series win, but I think most Rangers fans head would explode. We'd probably also get about 50 in game flashes from Jamey Newberg if we got to that point, but I digress. The Rangers of this year's vintage turned in a memorable finish in what is likely the final home game for several players (Wilkerson, Sosa, Laird perhaps?). The Rangers bombed out the Los Angeles Angels of Anaheim, clubbing them into submission 16-2. What made that cool was that they were the 2007 AL West Division winners. A sweep at home to finish the season is sweet. It's even sweeter with the knowledge that it's against the team in first in your division. But what pushes the sweetness into the level of say Bianca Beauchamp covered in honey is that it ties us with the A's for third place. We're not alone in the basement anymore! :)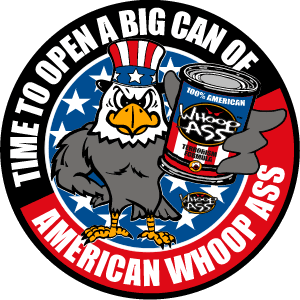 Where do you go with this one? When there is this much offense, it's hard to condense it down into a paragraph, so I'll go with the "list of highlights" route in talking about it:
First off, Michael Young got three hits, getting his 200 for the season, and in front of the home crowd. I missed it by a day. :) What showed some more class was that Ron Washington pulled him from the game when the Rangers took the field, allowing him an extra ovation. I always like to see things like that.
Jason Botts was 3-4
Wilkerson, Metcalf, & Laird all had two hits
One double (Laird)
One triple (Byrd)
FIVE home runs. Sammy Sosa (2 run shot), Nelson Cruz (2 run shot), Laird (solo), Metcalf (2 run shot), & Hank Blalock (a three run jimmy jack).
Blalock's home run was a pinch hit (for Sosa) home run.
Seventeen hits in all
Six walks from the Angels staff
It's the kind of stuff you love to see. While 3-2 or 2-1, or even 1-0 games are awesome to watch, these 16-2 games are quite a lot of fun, assuming you're not "the two".
Our pitching was quite good. We threw five pitchers out there today (Mendoza, Rheinecker, Francisco, Feldman, White), and they all combined to go nine innings, seven hits, two runs, four walks, and five strikeouts. A pretty good line. Luis Mendoza looked quite good again for a kid. Quite good. We've been down the path of guys looking great in September (meaningless) action, and then not being able to dial it up again the following year. So I will reserve complete excitement, but I've really enjoyed watching Mendoza pitch, and hope he can worm his way into the 2008 rotation.
I can't leave without saying something about Michael Young. I did post the congrats graphic during the game when he actually got the 200th hit. Given the horrendous start to the season he had, I think most Rangers fans doubted he'd get there, and he did. Some might question the backloaded contract he was given earlier this year – the usual stuff about "at the end of the contract….". Well, that kind of contract is also to pay a very VERY fan friendly player to be the "face of the franchise". Michael Young is the kind of player who you look at and feel good about being a Texas Rangers fan. That's what they're paying him for, outside of his baseball skills.
While there are three more games to play in Seattle, this had the vibe of the end of the season, didn't it?