Saw a nice article over on mlb.com about the lost art of scorekeeping. It is true that it's a lost art. I keep score at every game I go to, and when I do, I rarely see anyone else doing it. A few years back when I had a bigger season ticket package, I noticed a lot of others doing it (Hi Rose!), but it seemed to be regulars; only season ticket holders for some reason.
Now I can understand why. It requires you to pay attention to the entire game. A lot of fans who go to these games seem to (unfortunately) not have the attention span to watch the whole game, let alone pay attention to every single pitch. And don't even get me started on the boob job & cocaine crowd at these things who are there to be on their cell phones, or just "to be seen".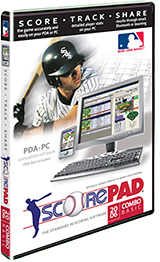 Anyway, I've been doing this since I was a kid in the 70's, and still enjoy doing it today (I wish I still have some from my youth, I'd like to see how bad my kid scoring was). As an adult, I used to buy programs, until I realized I was paying the Rangers $3 a game to keep score, so I decided to make my own form in Microsoft Publisher 98, which basically was a copy of what was in the Rangers programs. This file is still available here on my site as a download if you use Microsoft Publisher. After awhile, I wanted something else, so I went to sporting goods stores and bought large printed books – at about $4 or $5 or so, it was't bad at all, they usually lasted the whole season. But even that got tiring after awhile because of all the limitations that physical paper has on games with a lot of subs and extra innings.
However today, I don't use paper anymore, about 6 or 7 seasons ago I started keeping score on my Palm. It's so much easier to do it digitally, as you don't have to worry about running out of space for extra innings, you don't have to worry about where all the substitutions are going to go in those 18-4 blowout games where everyone is subbed out or moved around… Plus you can keep a theoretical unlimited amount of games in there. For me, it's the only way to go. The software I use is called "Scorepad", and can be obtained here One caveat, though. The stuff isn't cheap. The full package is $169 (although when I bought it a few years back, it was $129). They do have a cheaper option if you only want to keep score on our Palm, and do not care about the desktop app – that version is only $39 (plus they have other options inbetween, check out their store link.
But if you have a PalmOS handheld, and like to score, you really should look into this. It's good software. I took a picture of myself a few years ago, here's what it looked like on my Palm at a game. You can click on it to go to a larger image where you can more clearly make out the screen.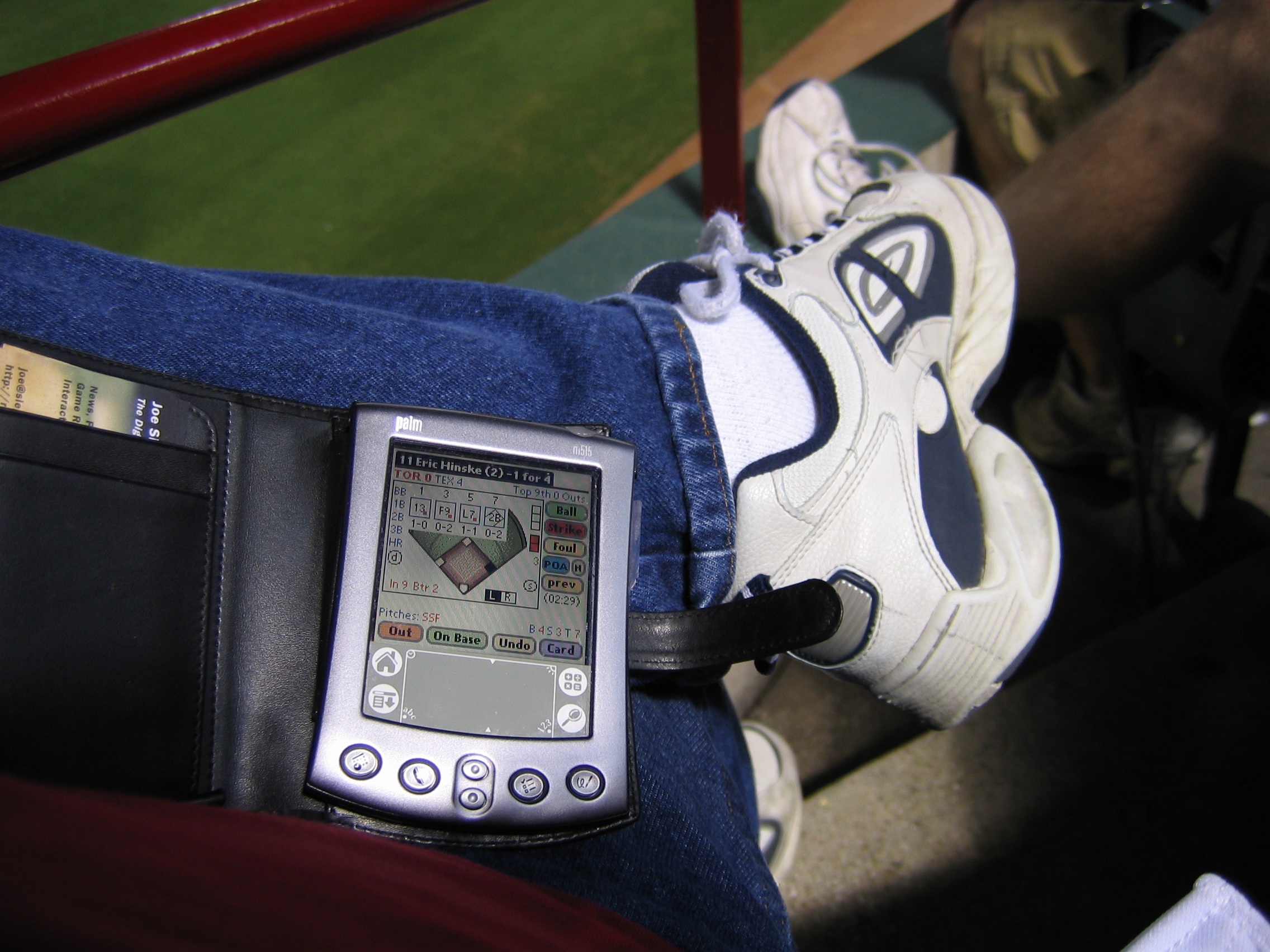 UPDATE: Given I wrote about Scorepad, and keeping score, I decided to score Friday night's game (Jun 1st) against the Mariners. I got a wild game to keep track of, and I'll write more about the game on Saturday (it's 2AM, and I'm exhausted), but I wanted to update my scoring entry here with some examples of what Scorepad generates. After the game was over, I synced the game back to the desktop application, and then I could look at it there. The desktop app has the ability to export the data to a box score HTML page, as well as a play by play HTML page. Both are here, as well as screen captures of a few places from the desktop app. Here's a list of what I have here:
Now, the pitch sequence is where this program can get seriously hardcore. I don't use this, because even for me, it's a lot to keep track of. Not only do you keep track of each pitch, but you can also keep track of what kind of pitch it is, where it was in the zone, and what the speed was. Now, I don't do this, because it's even more information than I can keep track of (or care to). However, this software is also used by several major league baseball teams by their official scorekeepers, as well as numerous minor league and softball leagues, so it can be used to keep track of everything – it's seriously powerful stuff.
I didn't start off to write this article as piece on how much I loved Scorepad, it was more about my love of the actual scoring, not the facilitating software. I guess the two subjects are pretty well intertwined, though. :)