It was really hard not to write about Sosa in the headline. :)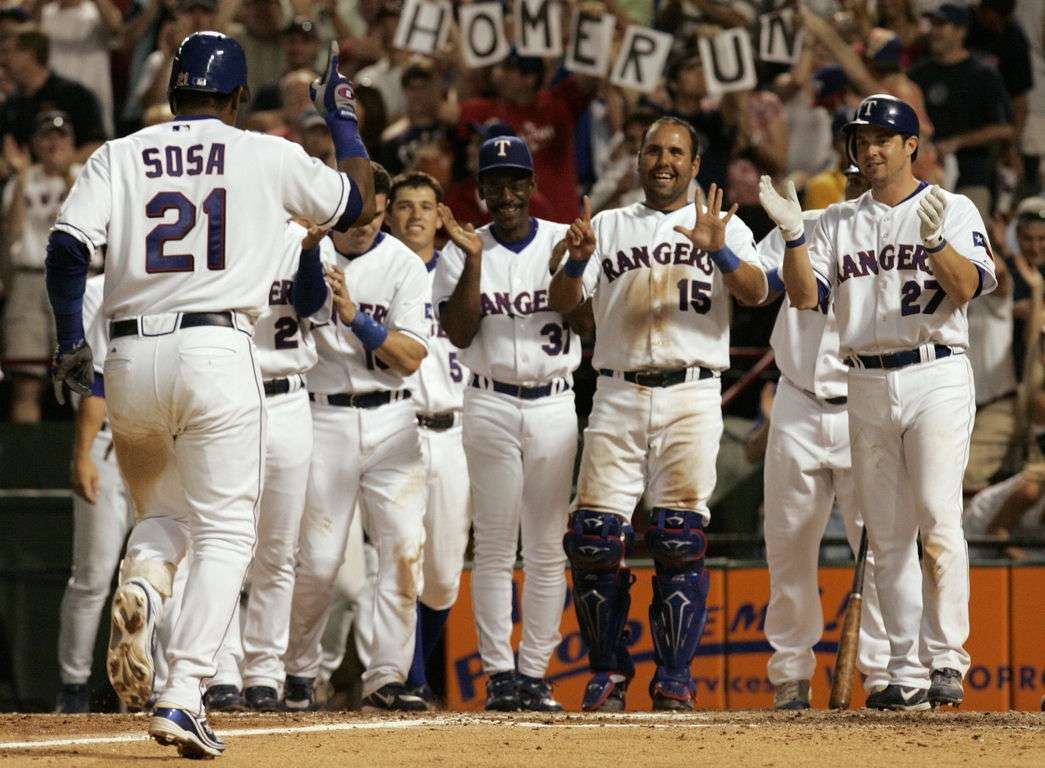 First. DARNIT! I missed it by one night. I was there last night. Oh well. :)
Second, I figure I couldn't go too long after the title without writing about "600". There's the picture. I particularly like Gerald Laird holding up six fingers as Sammy approaches home plate. That was a cool gesture. I also really liked the clip they showed of Lou Piniella acknowledging Sammy Sosa from the Cubs dugout. That was cool. I normally love Rangers broadcast choices, but they showed Sammy's family just a few too many times, I would have loved to have seen more player and fan reactions. OK, Sammy's family is crying, and they are happy. We got it after the fourth or fifth cutaway to them. I did also get a kick out of the ball ending up in the bullpen, where there wasn't 600 security guards, and some fan holding it hostage for $500,000 or something like that. Akinori Otsuka got the ball, and seemed to be really happy about it from the TV coverage we saw.
There will be a lot written about the 600th home run, asterisks, steroids, and all that, but I have to say, I didn't quite get the "tingle" I got when McGuire got 62, but as much as I've called for Botts, this was a very cool moment. I enjoyed this a bunch. A few quotes in the press this past week about Sosa playing more than just this year, and even talking about 5 more (but that was probably a joke). I'm not sure what to make of Sosa in 08, (or even past the All-Star game), but this was a very fun moment to watch. When I said "There it goes, 600" – my wife came in from the other room to see it. Gotta love TiVo. :)
Then Frank Catalanotto followed up Sosa's home run with a shot of his own. That was pretty well enjoyable. :)
Mike Young went 3-4, raising his average to .289. Catalanotto was 2-4 with the aforementioned jack. Other than that, we had just four more hits as a team. In all, we didn't dominate the Cubs, and seven runs seems like a lot given how much (aka little) we put together offensively. Of course, we were helped by four walks by Chicago starter Jason Marquis. Actually, the Cubs had more hits than we did, but ours obviously counted more than theirs did.
And then there was Kameron Loe. Coming off by far the best pitching performance by a Ranger this season, he followed up with this. While his overall line is not as dominating (6.2IP, 3ER, 6H, 1BB, 4K), he looked just as crisp to my unprofessional eyes. In fact, two of his three earned runs came on the last pitch he threw, a two run home run to catcher Koyie Hill. In fact, the other run was a home run to Alfonso Soriano that (so we're told, I couldn't see it) grazed the left field foul pole. So Loe, while not as lights out as he was in Pittsburgh, certainly put in a great performance. Was very good, and that storyline will probably get lost
That's OK. I'm sure Kameron Loe will have more wins in his career going forward than Sammy Sosa will have home runs, so this night really belonged to Sammy Sosa. I think Kameron Loe probably will really enjoy both things tonight.
Random Comment: Remember about 10 years ago when Ted Kennedy honored Sosa & McGwire with something, only he botched both names? He called Sammy "Sammy Sooser". I wish I could find a clip of that now.