They had a chance in the 8th. Bases loaded. Sosa pinch hit and stuck out again. Gerald Laird fouled out. That's about it in a nutshell. Had a chance; blew it. You know, this picture from tonight's game kind of sums it up in an odd kind of way.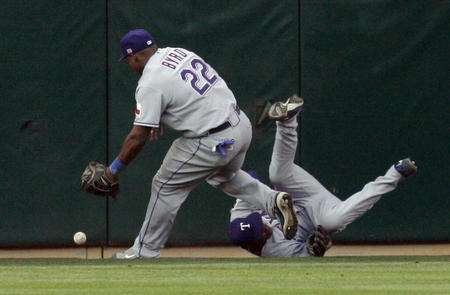 But, on the positive side, seeing this picture below online with the title "Jays send reeling Yankees into the AL cellar" kind of cheered me up – even just a little.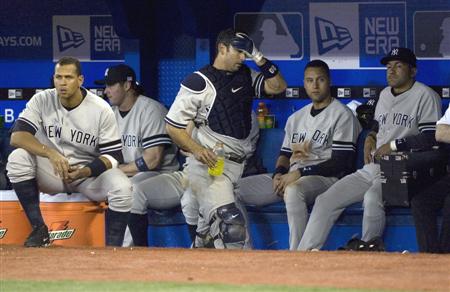 OK, I lied. I freakin' loved that headline and picture. But they've got a long way to go to join our little team from Arlington below the Kansas City line (forget the Mendoza line, we're so far down, we're below the Kansas City line).
That's right, with this loss, nobody sucks worse than us – we officially have the worst record in major league baseball! 18-33, .353 (KC and Cincinnati are both 19-33, .365)
BONUS FACT: The Yankees are 13.5 games out in their division, we're only 12.5.
Additionally in place of part of the game, I watched a new episode of Doctor Who tonight with my wife. That was probably more entertaining right now.