What a game!
I was watching early on while eating dinner, and when the Rangers went down 3 nothing early, I kind of sort of started not paying attention, as my wife had to go out to the store, so I was on baby watching duty. By the time I noticed it was 7-0, I was OK, I'm done, let's go do something else.
So my baby went to bed, and I checked the score, and uh-oh, it's 7-5, so I tuned in to see what happened, and bam – a grand slam by Rod Barajas, who won someone $25k in the Sonic Slam inning. The Oakland starter was pulled, and Steve Karsay came in and pitched to Ian Kinsler who was back from the DL tonight – and BAM! Second Ranger HR of the game, and it was a no doubter to left. You had the feeling that we'd come all the way back.
In the bottom of the seventh, Mark Teixeira got his first home run in ages (a solo), one to right field, just over the wall past the wedgie. Then in the bottom of the eighth, Ian Kinsler stepped up and jacked another no doubter to left, his second home run tonight in his first game back – it's as if he never left. Granted it's just one game back, but Ian was in a groove when he went down, and this just felt like the next game.
Kevin Millwood was not good at all. He gave up all 7 Oakland runs in his 5IP. Our relievers (Mahay, Bauer, Otsuka) pitched scoreless relief. None of the Oakland pitchers (Halsey, Karsay, Calero, Street) escaped without giving up some runs.
That brings us back to the Rangers power bats. In the bottom of the ninth, Ranger DH Phil Nevin, who is barely hanging onto his job according to the press stepped up and jacked a Houston Street pitch over the center field wall for a game winning walk off solo home run to win the game 8-7.
What a comeback. I admit, I had given up on the game, but it was hard not to be excited, even if I didn't pay much attention early. We were led by Rod Barajas' grand slam, and Ian Kinsler's two solo home runs. In all we had 5 home runs, and that provided the runs we needed for the win.
We're now up two games over the A"s in the West. So far, the 2006 club has that 2004 feel to it. Nice win. I'm going to the game tomorrow night; hopefully we still have that magic while I'm there. :)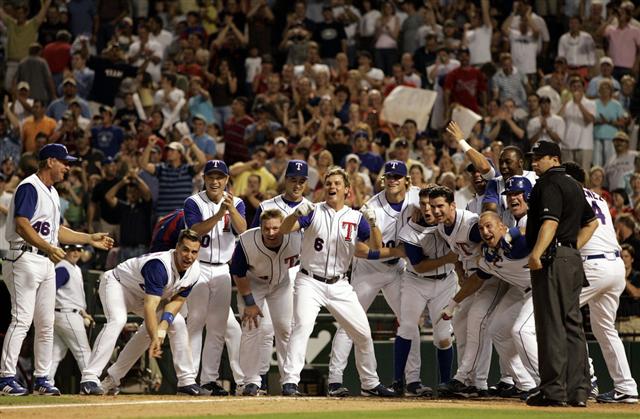 UPDATE: I had a few queries about this picture – I did not take it. This was a wire photo which I thought was cool enough to put here. It was originally taken by a guy by the name of Tony Gutierrez with AP. You can now click on the photo for a larger version.
UPDATE 2: I also have two other angles from the mob scene at home plate, both taken by the same guy. I didn't inline image them as I thought the one I used was better, but if you want to check 'em out, you can click here and here.