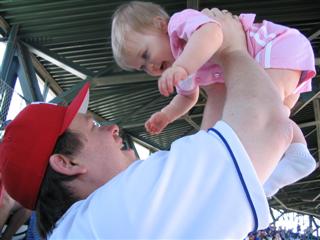 I've been going to baseball games for a long time. As far back as I can remember, which would be somewhere in the early 1970's. Back when Philadelphia's Veterans Stadium was a shiny new place, not the butt of everyone's jokes. Anyway, also for a long time I've had a tradition I've done every year. It's the "Birthday Game". This is something where I always go to a home game on my birthday. Back when I didn't go to 20-30 games a year, this was much more siginficant, it felt like a treat. I still have gone to the game every year since then. Now if the team (the Phillies for a long time, now the Rangers) are not home on my actual birthday, I take the next closest calendar game. That's what I was doing today. I was starting the next generation of this tradition. You see, it was given to me by my mother, and now that I have a daughter I'm doing it with her. My kid's first birthday is next Sunday, so we chose today as her first "birthday game". It was pretty cool, we bought her a present in the gift shop. I enjoyed that. Hopefully when she's old enough to comprehend the depth of the tradition she'll still be into baseball and want to go. :)
When the game started it felt quickly like it was going to be like the others that have come before it because both the first and second innings weren't smooth. The Tigers had plenty of action in the first two, and I felt we were lucky that we only gave up two runs. Pidente wasn't as sharp as he was on the second day of the season. He didn't stink up the joint like Dickey did, but it was passable enough. In all, Pidente went six innings, giving up 3ER with 3K, and 3BB to get his second win of the season, which was also the Rangers' second win of the season. Good winning percentage for Vicente so far. :) Our bullpen was only one hit away from perfect. Between Alfonseca, Otsuka, & Coco, there was just one hit and no walks over three combined innings. That's the way that it's supposed to work.
On the other side, former Ranger Kenny Rogers didn't fare as well. He looked like Kenny, he wasn't dominating at all, that's not his style (to me). But he pitched a total of 5.1 innings, and gave up a lot of hits (twelve), and all five Ranger runs. We had four doubles, and eight singles against Rogers. No home runs, but some hits at the right time, including the most opportune one, a double to the top of the wall in front of the Rangers' bullpen by Brad Wilkerson. Brad had struck out three times in the game at that point (he did strike out four times anyway), and was down 0-2. He jacked the last pitch Rogers threw in the game almost out of the park scoring two and giving Pidente the win. Pidente was probably out of the game at this point, so the runs were very well timed. Ian Kinsler continues his torrid start to the season, going 2-4. In fact, the bottom of the lineup (Laird & Kinsler) scored four of the five runs.
There were a total of four ex Rangers on the field Sunday – Rogers & Pudge being the most notable. The others were Craig Monroe & Marcus Thames. But something Pudge did had the potential to be a problem. Late in the game, Pudge hit a screaming liner at Mike Young for the final out of the inning. It happened so fast that Pudge didn't even get out of the batters box, and when that happened he tossed his bat back in the general area of the on deck circle. It ended up hitting the feet of the next Tiger waiting to bat. If that had missed (Pudge wasn't watching), I wonder how much the press would get on him if said bat throw had hit a cameraman? I'm sure someone would have played that up. This wasn't shown on TV, I watched my recording on TiVo when I got home.
To tie this up, the reason I've been calling Vicente Padilla "Pidente" is because of a connection to back home. Long time HOF broadcaster Harry Kalas means baseball to me. Kallas is to the Phillies what Eric Nadel is for the Rangers, only Kalas has been at it longer (35 years now I think). Anyway, a few years back, Harry called him "Vicente Pidente" and to this day my brother and I find that pretty amusing.