Well, the annual "best day of the Spring" happened today. The first baseball game of the season. Yeah, yeah, I know the Rangers played an intrasquad game yesterday, but that doesn't really count, does it? It's not a true "game" against another team. Today, we opened the season in the Twins camp, and lost to them 10-9, in a really thrilling game. Last year we opened with a loss too, and I didn't care. I didn't much care about this one, either. Even if we lost 35-1, I'd still be into it, because baseball is back on the air!
I also started the season with my own personal tradition – a baseball lunch brought to me at work by my wife Lynn. This year, it consisted of hot dogs with kraut and my favourite Jalapeno mustard, home made potato salad in a Rangers cap (the kind you get ice cream at when at the Ballpark), a Texas Rangers cup, and special 'Texas Ranger cookies' (which were chocolate chip cookies with Red & Blue M&M's in them). There was also a real baseball thrown in – it was again a quite cool thing for her to do (there's a picture of the lunch below).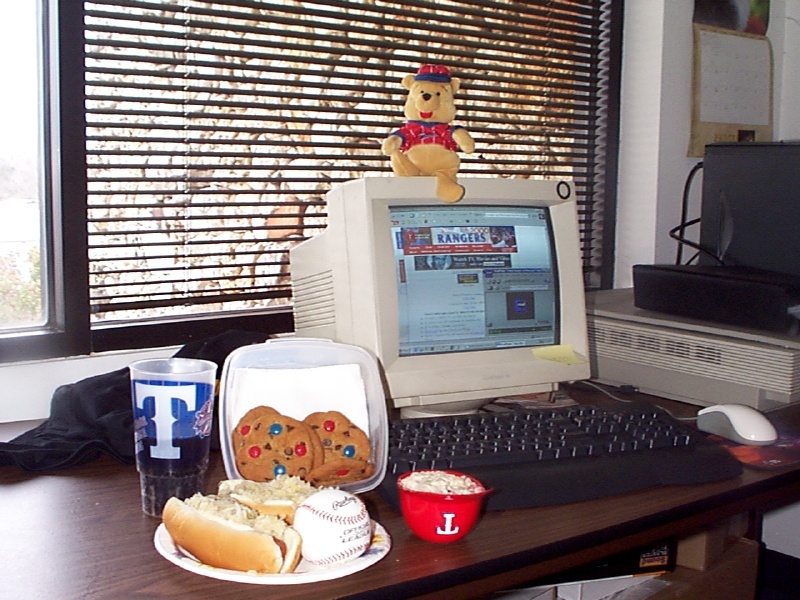 The starting lineup was a bit different than usual, both with the influx of new players, plus two minor injuries to Rusty Greer & John Wetteland. The radio guys (Hi Vince & Eric!) both said it wasn't anything major, though. The starting lineup was:
Clayton SS
Alicea 2B
Mateo CF
Palmeiro 1B
Kapler RF
Simms DH
Haselman C
Lamb 3B
McDonald LF
Rogers SP
Royce seemed eager to prove he belongs in the #1 hole by starting off with a single and stolen base, but we couldn't do anything with it. Kenny Rogers seemed sharp, pitching two shutout innings, throwing 22 pitches. He was replaced by Ryan Glynn, who also pitched two shutout innings, including 2 of the first 3 batters being K's. Unfortunately, that's about the end of the great pitching for the Rangers today. As I write this, the wire stories aren't in yet, so I'm not sure who all pitched, but Jonathan Johnson, Brian Sikorski, Chuck Smith, & Corey Lee pitched. Base running boo-boo by Jason McDonald, being picked off to end the third with Ruben Mateo on base.
Shortly after this, Johnny Oates started playing musical chairs – the only player from the starting lineup to finish the game was Mike Simms – everyone else was out after only a few innings – most of the names who played the game won't be with the club in the spring, but some late inning power might change some opinions, if they hold it up over all of camp.
In the fourth, we had two leadoff singles, a walk, a double for Simms for 2 RBI's – then Haselman was hit. We did score the two, but totally failed with the bases loaded to do anything more than that with 0, 1, & 2 outs. Not good. As the game progressed, it seemed like this was going to be the bane of the loss. You could say it was, but it didn't feel like it to me.
The fifth inning I didn't hear, because I was busy with some other stuff at work, which was good, because I came back, and it was 5-2 Minnesota – I missed all the junk with the Twins teeing off against Johnson. The Twins added a 6th run in the 6th off of Corey Lee with a solo home run.
We started to come back in the 7th with a two run home run off the bat of Tom Evans, making it 6-4, but those hopes were dashed when the Twins scored 3 runs in the bottom of the frame pulling back out to a 9-4 lead.
The 9th brought another HR for Texas, this time by Edwin Diaz to make it 9-6. Tom Evans hit his second of the day with a totally monster home run to make it 9-7 – Eric Nadel's voice was insanely loud over his regular speaking voice on this one – must have been a real blast. Sheldon got a single – the fourth in a row with no one out, and was followed by a Kelly Dransfeldt home run (the third of the inning) to tie up the game STILL with no one out. I was sitting in my chair with my hands in the air for the Dransfelt home run – a cool feeling on a Friday afternoon. :)
Unfortunately, the Twins pulled it out in the bottom of the 9th with a 10-9 win with "Alphabet (Doug Mientkiewicz (sp!)" scoring from second on a 2 out single to left. While the game was a loss, it still felt like a good game, and the pitchers most likely to be with the club during the season (OK, Glynn is probably a long shot, but still) pitched well.
I'm glad to have Ranger baseball back – and it's now only four weeks until the first game at the Ballpark when Mark McGwire & Fernando Tatis return with the Cardinals in an exhibition game. Can't wait!