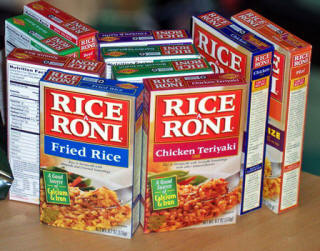 Josh Lewin takes a lot of grief from some of the so called "hardcore" (read: no fun) fans that follow the Rangers. But I think even they have to recognize that one of Josh's strengths is his wealth of fiddly and useless media knowledge. He also has a quick wit, which allows him to make really good off the cuff funny remarks. Such was the case yesterday when right after Ben Francisco gifted the game to the Rangers, Josh called the play "A Ben Francisco Treat". My mind immediately leaped to the old "Rice-A-Roni" ad jingle, which is probably what Tom Grieve did too, as he was laughing at the time.
This game started off on paper to be a slaughter. Doug Mathis (who was not good first time out) was making his second major league start. He was going up against CC Sabathia (who is generally good to dominating). I was expecting a slaughter. But Mathis stuck with Sabathia. Mathis gave up a first inning run, and that was IT! Doug was quite good, going six innings in all, giving up seven hits and three walks, but only the lone run. Doug Mathis looked quite good this game. Shame he didn't get the win, he certainly pitched well enough to deserve it.
Our pen was strong too, not allowing any further runs for Cleveland. Frank Francisco bounced back from some "meh" outings with a good one here, Jamey Wright threw two scoreless, and CJ Wilson got the save in the 10th, his 10th of the season.
Our offense was fairly limited, but we got just enough for the win. Our first run came on an Ian Kinsler smash down the left field line for a solo home run in the sixth. We had a few small rallies not go anywhere, until the 10th inning. That's when Ben Francisco, playing right field for Cleveland paid us back for his good offense Saturday. Ben let a single by Ramon Vazquez get through his legs and go all the way to the wall. That allowed Jarrod Saltamacchia to score on the play for the second and winning run of the game. I didn't think Francisco really misplayed that ball all that bad. Most of the time balls that get by a guy to the wall are really misplayed, and you can tell. This one he did all the right stuff, and it STILL went through his legs.
Still, I'll take the Rice-A-Roni treat for the win.
On to Tampa Bay (still at .500), where I'm sure we'll hear a LOT about Josh Hamilton's time with the Rays.