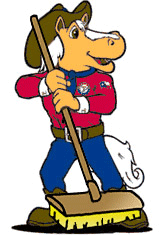 Oh, there's a bunch I could write about this game.
Yu Darvish's 14 strikeouts. (16 overall by staff)
Nelson Cruz' 2 run HR in the 6th to tie it.
Another scoreless outing by our bullpen
Mitch Moreland's increasing confidence
Oh, there's a bunch from this game to like.  But honestly, the thing that most Rangers fans will remember is the image to the left here.  The Rangers swept the Red Sox.   It envokes memories of this sound clip, which was also against the Red Sox..
The Rangers, who were already a good team this year, swept the Boston Red Sox, the previous best record in MLB holder before the series.   YU gotta love that!