My site has been going for awhile now, and during that time I've seen several broadcasters come and go.  However, one of the more polarizing ones was Josh Lewin, who was the television play by play guy from 2002 through 2010.   I say polarizing, because there's a lot of fans who really disliked him.  There's a lot of fans who really did like him.  For the most part I liked him – although I did think there were too many forays into movies and food, but whether you liked his work or not, you can't deny the man was a pro, and a hard worker.  He was ready for the games he broadcast.  I wish he was here for more of them (never liked the weekends away), but that's all in the past now.  Today I'm here to talk about his book, "Ballgame!: A Decade Covering the Texas Rangers from the Best Seat in the House".  Or as I call it, "Ballgame!".  
My Review
This is a look into his past, from a time before the Rangers, his time during the Rangers, and well, the end of his time here.   Whether you like this book I think will come down to what side of the fence you were on when he was a Rangers broadcaster.  If you liked him, you'll want to read his stories, and there's a lot of stories.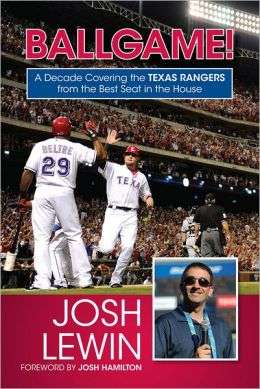 In fact, some of the stories befuddled me, as he talks a lot about Texas Rangers history from a time way before he was a broadcaster.  While I always like reading about Rangers history, it seemed odd to be in this book given it was years before he got here.  But then one of my favorite bits from this book was the chapter he spends talking about each MLB city, what he thinks about it, what's the best food places to check out, etc.  I enjoyed that.  In fact, I like hearing that from most any broadcaster, as you get tips as to where to go.  Ages ago, it was either Tom Grieve or Eric Nadel that had a piece in the Rangers stadium magazine talking about their favorite restaurants, and I'm glad to know that Josh likes the place too.   I'm speaking of Sabatino's in Baltimore.  My wife and I visited Baltimore about a decade ago, and we went there on the recommendation of the broadcasters, and my wife's father.  He had been there ages ago when he used to be a traveling salesman, and said it was great.  But I digress..
Josh has some funny stories and some very good insight into minor league broadcasting.  I think most every baseball fan realizes that it's not as glamorous in the minors, but hearing Josh talk about breaking into a food stand and scarfing down some old hot dogs…  Well, there's the real sexy in this job, eh?  :)  He talks a lot about individual players from his time here, and memories of them.  I particularly liked his story about Milton Bradley.  Given what I've read about him, Josh's story is probably spot on.   His story about Mark Teixeira and Ron Washington is good.
It's not all fun stories either, as he dedicates an entire chapter to his ADD, depression, and anxiety.   There's also a fun chapter on behind the scenes at being a broadcaster.  So to sum up, it's basically what I said early on.  If you liked Josh, you'll like the book.  If you don't, well, you won't.  Still, he was our TV voice for about a decade, and he has some interesting things to say.
Second Review
To this, I decided to include a "second review of the book here.  This is by Rangers fan Matt Speer, who says he's not a fan of Josh's, but still had some nice things to say about the book.  Check it out:
A review of "Ballgame!" By Josh Lewin
Let me start out by stating, I am not a Josh Lewin fan. I find him to be arrogant, and I am highly biased toward Eric Nadel. That said, "Ballgame!" was an excellent read. I thoroughly enjoyed it. While not a tough read, it was not just brain candy either. Josh takes us not only into his time with the Texas Rangers, but also chronicles his path to being the TV play-by-play man for the Rangers. Josh knew,  from an early age, what he wanted to be. He recorded play-by-play into a tape recorder at age 14, not to do it, but to listen to it afterwords and improve his craft. I designed aircraft at that age for fun, not to critique myself.
Josh takes a chapter and travels across the USA and describes major league ballparks and their respective cities. It was fun to learn the ins and outs of each city. Josh also gives a mini history of the Ranger organization even though he was only a part of one quarter of it. He recaps of escapades on and off the field are fun. He brings back memories of many past players: Tettleton, Greer, Mench, Canseco, and many more.
Josh takes time to stroll through the two World Series runs and keeps the reader engaged. He has a keen way with words (it is his job afterall) and brings you into the battle for first place. I would recommend this book to any Ranger fan. Long term fans will love to reminisce the stories from the
70s, 80s, and 90s. It was a truly fun read.

Matt Speer
Now I know this book came out last April, but if you never tried it before, you should.   I liked Josh, Matt didn't, but we both liked the book.
Giveaway Details
To this, I have a giveaway.  Months ago I was sent copies of the book to give away, and I need to apologize to Bill Ames who hooked me up with them.  I never did forget, but I feel bad for dropping the ball on the contest.  One thing led to another, and I honestly didn't want to write about the book until I read it.  Things piled on top of each other, I'm sure you know how that goes.  But I was determined to still run the contest.  I decided that the start of Spring Training was a good time to do a contest, so hopefully, you'll enter the contest, as well as check out the book (assuming you haven't done so already).
So with the contest delayed, I decided I needed some angle to this which would be more than a standard giveaway, and I think I've done that.   Here's what I'm doing with the contest.   Given the book is about Josh, I want you to send in your favorite memory of Josh when he was a Rangers broadcaster via email.  The winners will be the stories that are the most liked ones.   But it's not just me – and here's the special bit.  I reached out to Josh Lewin, and he agreed to be a judge in this thing.  So Josh will help wade through the entries, and will select the winners alongside me   That's the cool bit.
So if you want to enter the contest for a free copy of Josh's book (in hardback), what I want you to do is this:
Write down your favorite story of Josh.  I want them to be positive – no snarky ones saying "when he left".  Josh actually told me he didn't care about the negative ones, but I don't want a negative one to win in a contest to win his book, so I'm gonna request the stories be positive.

Your mailing address – once I pick the winners, I'll want to send them straight out, so having your address already will help speed things along.  Don't worry about privacy, once the contest is over, I"ll be deleting all the emails, so I won't retain it in any way.
Email this info to me at joshbook@rangerfans.com – I'll be taking entries until Friday Mar 1st, at which point I'll close it down and start picking the winners.    I'm hoping to get some good entries – I have four copies of the book to giveaway, so send in your best, and remember – Josh himself will be picking winners!