Spring training started back up on Friday afternoon (seems to be Fridays a lot), and with it brought the sound of Eric Nadel coming out of my radio (although for this game it was my computer speakers).   I'm not going to try and describe that.  If you're reading this post, then you know what I'm talking about.   
Derek Holland took the mound, and also is bringing with him a resolve I've read in interviews where he needs to focus more this season.  They're right.  While he hasn't been bad, he has had stretches (as do all pitchers) where he seems pedestrian at best, and Mark Clarkish at worst.  He needs to be more consistant for sure.   First two pitches were quick and fast and strikes, feeling good after two pitches.  Then it fell apart.  A Kinsler error that was called a hit, then a dribbler hit.  Into a "situation" just two batters into spring.  Don't like that.  :)   We gave up a run, but we got a couple of outs on lineouts to Elvis.  The second one though brought up that "excited Eric Nadel voice" you get on a good play on the radio.  :)
The Rangers went down quickly in the first, prompting this bit of sarcasm from me on Twitter..
#Rangers go down 1-2-3 in the bottom of the first. Season is over. They obviously miss Josh Hamilton too much.
Holland's pitch count was not helped by a couple of batters who had long at bats, making it climb a bit.  Had 54 pitches total over the three innings he threw. but I believe about 13 of them were to two batters.  Overall, not bad for a first outing of the spring.
The first big defensive gem of the spring was Mike Olt, who made a foul ground throw running away to first.   Saw a quick clip of it on TV highlights later in the evening, and it did look good.
In the fourth, the Royals got two runs on one hit – with Ogando walking in a run.  The inning ended when Ian Kinsler tagged out Xavier Nady was caught stealing.  Ogando was pretty wild in the fourth.  Came back on the fifth, and gave up a home run.  Eh, first game of the spring.  Doesn't matter a whole lot to me the fan.  But the press is making it out like he was awful.   I mean, he did have an ERA of 20.25 after this game, but – Game 1 of Spring on Feb 22nd.  Don't care too much.
Robbie Ross pitched two shutout innings, allowing just one hit.  My gut feeling is that Ross doesn't make the rotation, unless he's total lights out – we have a few too many variables in the bullpen, I suspect he'll be more valuable there in 2013.
The Rangers had just seven hits in all, although three were extra bases (2B, 3B, 2 HR).    The Rangers weren't doing much of anything offensively until there was a wild pitch that allowed Murphy to get into scoring position, but then Nelson Cruz jacked a home run in the bottom of the fourth to make the game 3-2 Kansas City at that point.
The other home run came at a point where I had to stop listening to the game.  I was watching on my phone, and saw this little gem: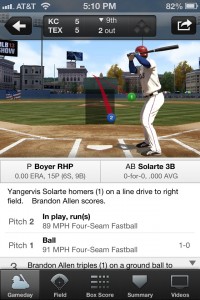 The Rangers had tied it up with a home run by Yangervis Solarte (who?) at 5-5 with just one out to go.  We ended up tying, and given it's Feb 22nd, there's no thought to playing more.   But it must have felt huge for Solarte to get that.  They didn't show this on the TV coverage, and there's rarely highlights on Spring Training games on mlb.com, I wanted to see that one.  Bet he flew around the bases.  :)
So the first game is in the books.  Couple of home runs, some good pitching, some bad pitching, and a million subsitutions.  Pretty much a typical early spring training game.  Would have liked to have won, but oh well.
Game 2 later today (as I write this on Saturday morning).