I've been doing this site for some time now (2013 will be my 15th season for this site), and in all that time, there's been two things I've done on my site that no other Rangers fan site has attempted.  Perhaps because I already did them – or nobody wanted to wade through all the info needed to put them together ("Eh, Joe's already done that – good enough").  One of them is my history of uniform numbers.  It starts back in 1961 with the Senators years and runs to current.  I've been doing this part of the site for the last 5-6 years or so (forget when I started it actually).  Because of that, uniform numbers in the most recent years are pretty darned accurate insofar as guys who are up for just 2-3 games, never to be seen again.  In years past, I have guys who wore the major numbers, but the small fiddly changes like that aren't always listed (because that info's realy hard to find).    I've taken pride in my uniform number archives, and it's gotten me a reputation as the uniform number guy.   When he was still with the Rangers, I know Victor Rojas mentioned my site as a source of that a few times, and it must have stuck, because last year I got a question from the great Eric Nadel about some fiddly bit in the past with uniform numbers – I was honored.   Even Anthony Andro knows me as that, as I've asked him a boatloat of times about uniform numbers.  :)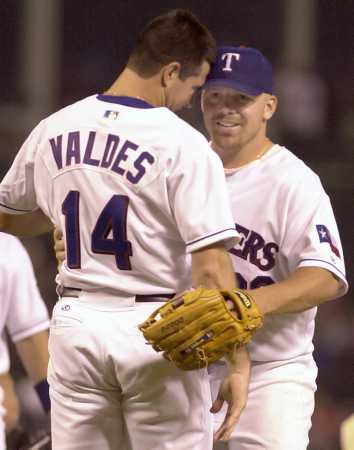 Anyway, late last week, the proverbial story came out of the equipment truck leaving Arlington and headed for Surprise, AZ.   That includes the uniforms, and because of that, the spring training uniform number assignments have all been handed out.   This means that I can go ahead and update that part of my website for spring training.  Which I've gone and done.  Went through all the pages, and brought everything up to date for the start of spring training in 2013.    If you've never seen that part of my site, go check it out here.
There's also a fun thing I have on the pages, if you go to the bottom of each number's page, I have some pictures of various players from Rangers present and past wearing those numbers.  That's not meant to be comprehensive, but there's a selected few when I have them from either taking the photo myself, or seeing the picture online.  Please go and look and let me know what you think.   If you happen to have any pictures of Ranger players like this (with their name and number on the back visible), please let me know, I'd love to get them added.
A word about guys like Michael Young.  Some years ago when Zack Minasian was our clubhouse guy, I remember hearing him say in an interview somewhere that when a popular or long standing player leaves the team for whatever reason (FA signing, trade, retire) they generally did not give out that number for a full season afterwards.   This spring, that policy has carried on, as both #10 (Michael Young) & #25 (Mike Napoli) were unassigned.  The other big name player from recent vintage is Josh Hamilton, and his #32 WAS reassigned to someone else – that being Nate Robertson, who is in camp on a NRI, I believe.  It's telling how the team (or at least the equipment manager) feels about Josh Hamilton that his number was not held back on that unofficial policy.
I do recall one spring a few seasons ago when they had so many players in camp, they literally ran out of numbers (without going over 99), and they had to use #26 – Johnny Oates' retired number.  They said at the time it would be for spring only.  That's the only time I can recall them going into retired numbers.
Finally, when I was doing all the pages, I kept track of the changes.   I saw a few people talking about the fact that they didn't like that Jurickson Profar was now wearing #13, and mentioned a few other changes.  I decided to keep a list of it.  That list is below.  It doesn't count guys who wear numbers like 76 and are in spring training only.   It has to be someone who is relevant in some immediate way to the major league club.  That list of changes is such:
2 – was Dusty Brown, now Leonys Martin
6 – was Chris Robinson, now Eli Whiteside
12 – was Scott Coolbaugh, now AJ Pierzynski
13 – was last Johnny Narron in 2011, now Jurickson Profar
14 – was Alberto Gonzalez, now Dave Magadan
15 – was Luis Martinez, now Jeff Baker
19 – was Koji Uehara, now Aaron Cunningham
27 – was Leonys Martin, now Lance Berkman
28 – was Robbie Ross, now Joakim Soria
37 – was Mike Adams, now Kyle McClellan
39 – was Scott Feldman, now Jeff Beliveau
44 – was Roy Oswalt, now Jason Frasor
46 – was Ross, then Ryan Dempster, back to Ross again
56 – was Mitch Stetter, now Neal Cotts
57 – was Mark Lowe, now Cody Burns
58 – was Mark Hamburger, now Joe Ortiz
Please go visit the uniform number history section of my site, and let me know what you think.