I felt energized by Jeff's offer to help out with the writing here on this site.  I decided not to wait for Spring Training 2013 or some big off season move to write something.  I decided to break out the keyboard and plow through an article that takes a look at the 2012 Rangers roster.   Basically, it's a few remarks about each player, both in what happened in 2012, and perceptions for said player in 2013.  I've gone through and listed all 39 players that played for the big club in the 2012 season, and some thoughts on each of them.  Let me know what you think – if you agree or disagree in the comments (or if I've made some egregious error). :)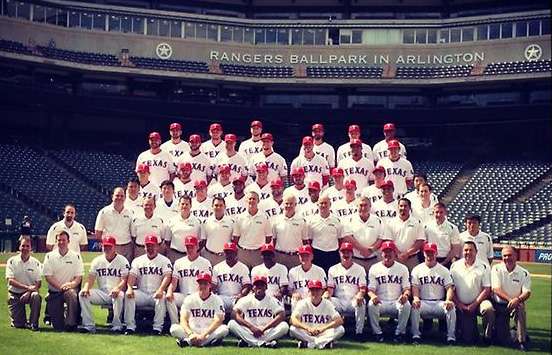 Each player will be listed here along with their current contract status, and what their salary was in 2012 or will be in 2013 (depending on their situation).  I say that because the guys under team control will likely make just under $500k as team controlled guys.  :)
1) Mike Adams – Free Agent, made $4.4M in 2012
He had some stretches this year where he was brilliant.  Ended up the year with a 3.27 ERA in 52.1 innings over 61 games.  Numbers were good, but aren't the super sexy numbers you were expecting when he came in.  I wouldn't be opposed to him coming back in 2013, but whether he wants to is an unknown.   He also just had Thorasic Outlet Syndrome surgery.  He'll miss part of spring, but should be ready for opening Day.  Do we run a risk on that?
2) Yu Darvish – Signed through 2016 w/2017 option, $9.5M in 2013
Yu was probably the biggest signing this team made since Nolan Ryan in 1989.  He was expected to come in, win it all, and every time.  He had a few really bad stretches during the season, but given the "adjustment" factor in play, it seemed more than acceptable to me.  His final season record of 16-9/3.90 with 221K in 191IP is pretty darned good.  I believe he set some sort of record for most 10+ strikeout games in a season for a rookie.   Overall, his first season should be considered a success, and will probably be better in 2013.
3) Scott Feldman – Club 2013 option for $9.25M w/$600k buyout
If there's anyone who thinks the Rangers pick up Scott Feldman's option for 2013, they're an idiot.  His early season struggles were the stuff of legend, and while he did have a stretch there in the middle of the season where he was decent again, he fell apart towards the end.  Not as bad as the early season, but he punched his ticket out of here very early on this season.  Wouldn't surprise me if the $600k buyout check was written before the season ended.
4) Neftali Feliz – Arbitration Eligible for 2013, made $502,000 in 2012
I'm a little unclear if Feliz is straight under team control, or is eligible for arbitration for the first time.  Either way, a guy coming off season ending surgery isn't going to be in line for a huge pay raise.  When he comes back, I think it needs to be in the bullpen.   I was never sold on the idea of him as a starter in the first place, and it'll be easier I think for him to come back in the pen than as a starter.  If he comes back decent enough, he'll certainly help for sure.  A lock to be back next year.
5) Colby Lewis – Signed for 2013 for $2M w/$4M in incentives
While Colby Lewis was better in 2011 than in 2012, I still wanted to see him pitch.  Even if you factor in his early season exist (he only started 16 games), his 6-6 record with a 3.43 ERA wasn't that awful.  I expected more, sure – but it wasn't say Scott Feldman, or even Mark Clark like.  He's not due back till the middle of the season, so his impact in 2013 will be a big question mark.   One would like to think we'd get the 2011 incarnation back, but guys coming off 12 months layoffs due to injury don't usually come back and tear it up right when they start.  Huge unknown in 2013.
6) Mark Lowe – Free Agent, made $1.7M in 2012
While his numbers don't bear out a bad season, Lowe was never a guy I trusted.  Much like Jeff never trusted Darren O'Day the year before this, I cringed when he came out to pitch.  3.43 ERA in 39IP isn't awful, but I think it's time to move on here.  Will be the last of the Cliff Lee trade pieces left hanging around, though.
7) Joe Nathan – Signed for 2013 ($7M) plus 2014 option ($9M w/750k buyout)
Coming out of spring training 2012, a lot of people were most worried about Joe Nathan's performance, whether he could bounce back to the elite closer status he was with the Twins.  While I wouldn't say he was truly elite, he certainly got the job done for the most part.  I know some people weren't thrilled with his heart attack style of closer, but that's nothing new.  Most of our closers have had a heart attack style, none more spectacularly than John Wetteland, and he's loved around these parts.   He had 37 saves in three blown saves.  ERA of 2.8.   I'd say he did well.  Probably do mostly the same in 2013.  He will be 38 in 2013, though, so age could be a factor.  Hard to tell at this stage.
8) Alexi Ogando – Under Team Control for 2013, might be arb eligible, not sure
Put him back in the rotation.  Leave him there.   End of story.
9) Koji Uehara – Free Agent, made $4M in 2012
During last off season, we tried to move him, and he blocked the trade.  Tried more than once, and he didn't want to go anywhere.   He ended up pitching here for most of the season (slight injury problem at one point).   But when he was here, he was one of the more consistent pitchers we had.   I wouldn't mind bringing him back next year, but I wonder if he'll want to come back, knowing how hard we tried to get rid of him last season.  Not sure what will happen here, but I'd sign him.
10) Matt Harrison – Arbitration Eligible, made $2.95M in 2012
Oh, Matt will get way more than $2.95M in 2013.  Thing is, does he get it from a guaranteed contract, or going through the arbitration process again?   Given we extended Holland, we should probably do the same with Harrison.  Especially since Harrison seems like more of a lock to follow through.  Feldman didn't follow through with his big contract, and Holland so far has been wobbly.  Would like one of these guys to be given a big contract to follow through and deliver.   Matt looks like the best shot, I think.  He had a great year in 2012.   18-11 with a 3.29ERA.  213IP – was a workhorse.   If he follows that up next year with a similar year, he'll get stupid money after that, so perhaps a long term deal might be worth it now.
11) Derek Holland – Signed through 2016 w/2017+18 options, $3.2M in 2013
He was an interesting case.  He was great in 2011.  Got a big contract extension.  Then fell down a bit in 2012.  It wasn't quite the bad fall that Scott Feldman had after he got his contract, but he did go backwards a bit.  By the end of the season, it didn't seem that Holland was good for more than three innings at a time.   I still think he'll be OK, but if he goes through 2013 with the same numbers as 2012 (12-7, 4.67 ERA), I will probably be a tad (heh) concerned.  I'm putting him in the "Come on, dude – do better, I know you can" category.
12)  Robbie Ross – Under club control for 2013
Robbie Ross started off the year as the feel good story, the rookie who went along with the having to wear the pink duffel bag in the walk to the bullpen.  He was instantly loved by most everyone.  Got off to a great start pitching wise.  Then in the middle of the season, he remembered he was a rookie, and pitched like one.  Wasn't atrocious, but the gaudy numbers he put up early on disappeared.  Then he got hurt and went on the DL for a bit.   Still, his overall numbers were decent (6-0, 2.22ERA in 65 innings).   Assuming he's healthy and doesn't backslide in his sophomore campaign, he'll be a big part of the bullpen in 2013.
13) Mike Napoli – Free Agent, made $9.4M in 2012
This is a hard case to peg.  On one hand, there's the "NAP-O-LEE!" guy, who endeared himself to Rangers fans in 2011 during our drive to the World Series, by hitting everything in sight.  That guy seemed like a lock for a big extension.  Then there was the guy wearing #25 in 2012 that couldn't hit with anything even close to the word sustained.  The guy who was hurt a lot, and spent a bunch of time on the DL.  I think most Rangers fans still like the guy, but at the amount of money he's likely to command, I think not.  They'd need him to be that late season red hot guy from 2011 ALL THE TIME.  Something he hasn't been.   My gut feeling is that he won't be back for 2013, mostly because of numbers, not because he's not wanted.  I suspect they'll try and bring in someone like JP Arencebia from Toronto, and go with Geovany Soto as well.  I liked Napoli, but I can't see it going on here at the inconsistency he had and with the salary he'll want.
14) Yorvit Torrealba – Free Agent, made $3.25M in 2012
Well, he's definitely not coming back.  The Rangers let him go in August, then he was picked up by the Blue Jays, then traded to the Brewers with just a week and a half left in the season!  Never thought he was bad, seemed nice enough, just not the sexiest name out there.
15) Elvis Andrus – Signed through 2014, makes $4.8M in 2013
Well, there was some noise in the early offseason this year about Elvis possibly being moved to make room for Jurickson Profar.  The angle being that Elvis is a Scott Boras client, and he won't sign a team friendly contract long term.  There's some validity to that I suppose, but I don't see Elvis going anywhere JUST yet.  I'd say they'd move Kinsler before Andrus, anyway.   Hopefully Elvis gets more consistent with his offense in 2013.  Has never truly been bad, but he could use a bit more "something", although what that something is, I can't quite say.    Not a ton to say here, probably just "more of the same" next year.
16) Adrian Beltre – Signed through 2015 w/2016 option ($16M), makes $15M in 2013
Signed for awhile. Was awesome in 2012.  More of that in 2013, please.  Thank you, drive through.
17) Alberto Gonzalez – Free Agent, made $750k in 2012
Was one of the bench guys that took a beating from fans this year.  Was nothing special, these kinds of players are a dime a dozen.  Won't be back.   I don't feel like he was BAD, but was just nothing special.  Played 24 games, batted .241, had 4 RBI.  Next.
18) Ian Kinsler – Signed through 2017 w/2018 option, makes $13M in 2013
Lot of talk this offseason (Well, OK, maybe not A LOT, but some) about possibly moving Ian Kinsler to the outfield to make room for Jurickson Profar, or possibly moving Ian off the team completely.  Not sure why that kind of thought.  Perhaps it's his .256 batting average.  He did hit a lot of home runs out of the leadoff spot, but didn't have the greatest on base percentage up there.  There's no real thing I can think of to point to that would justify the "Kinsler needs to go" mentality.  Still, having said that, there is still his tendency to try and want to uppercut everything for a home run.  I don't particularly want to run him out of town, but I wouldn't be bummed out if it happened, either.   Needs to hit more balls to right field.
19) Mitch Moreland – Under Club Control for 2013, made $491,100 in 2012
As I've said to a few people  he feels like the second coming of Chris Davis.  Left handed power guy, with a BIG swing, and a ton of power.  Very susceptible to the ball down and in against his large swing.   Good defender, however.   I really wish he'd get it together with his offense and consistency  as I just WANT to get behind him.  He'll go into 2013 as the first choice as the first baseman.  However, if he ends 2013 with the same kind of "waiting to put it together" offense, I'm not sure how much longer they'll hold onto him.   Could end up being stuck in the minors like Julio Borbon is now, because he never put it all together, either.
20) Brandon Snyder – Free Agent, made $481k in 2012
Snyder was one of those guys who had bounced around a bit, and was supposed to be the "veteran" bench guy going into the season.  Had an unremarkable season.  Was just kind of "there".   Again, one of the bench guys who we can bring in anyone to replace.  Won't be here in 2013.   Drive through.
21) Michael Young – Signed through 2013, makes $16M in 2013
A tough call.  I don't think the biggest problem with Michael Young is the 2013 season, it's what happens AFTER the 2013 season.  I suspect 2013 will be exactly like 2012 for Young.  He actually was one of the guys who didn't crumble offensively at the end of 2012 when most of our guys just laid down and didn't hit anything.  Young still hit – in fact, his numbers increased at the end of the 2012 season.  I don't think he will be an issue in 2013, but I will be VERY curious to see what kind of contract he gets offered for 2014, given the rather acrimonious relationship between Young & Daniels.
22) Nelson Cruz – Signed through 2013, makes $10.5M in 2013
An interesting dilemma.  There's no doubting this guy's power – he can hit a ball further than I think anyone on the current roster.  His contract is up after 2013, and he'll be in line for a huge paycheck, the kind we're likely not giving to Josh Hamilton.   He was one of the guys who fell down at the end of 2012 and didn't hit anything.  You just WANT him to bop everything out of the park, and hit 125 home runs.  He doesn't seem to be known for much else expect power.   He did have 152 hits and 45 2B, but his batting average was much lower than usual at .260.   Very streaky, can look an awful lot like Juan Gonzalez and strikeouts at times.  Needs to improve on that for 2013 for sure.  Possible rental trade in July, although I don't feel very strongly about that.
23) Craig Gentry – Under Club Control for 2013, made $484,300 in 2012
Craig is one of those guys that bounces around the outfield, because there isn't a full time spot for him.  Kind of a poor man's David Murphy (heh).  More seriously, Craig is one of those guys who seems to be waiting for the right opportunity.  Assuming Josh Hamilton departs, I figure this will help Gentry a lot, as he'll get a ton more playing time.  Gentry is probably the fastest guy on the roster – the dude can fly.  He's still under team control for 2013 (2014 is first arb year), so he's not going anywhere.   Does seem to have some fragility issues, though.  Hopefully he keeps it together and does well in 2013.
24) Josh Hamilton – Free Agent, made $13.75M in 2012
I think he's done here.  Not sure what else can be said about that.   I could write a novel about all this.  Love Jeff, love his praising God in his works.  Don't like the way 2012 went from a baseball standpoint, though.   Hard to walk away, but I think we should.
25) David Murphy – Arb Eligible, made $3.625M in 2012
David Murphy is a guy who has always gotten the short shaft here.  A long term 4th outfielder, never had a starting position until 2013, when he was named a starter.  I'm very hopeful that in 2013 he gets to hold that position all year.  He's certainly earned it.  Murphy reminds me an awful lot of Rusty Greer.  Murphy came close to qualifying in leading the AL in batting average a few times this year.  He would have been in it had he been given enough playing time.  He needs to be the starting left fielder on April 2nd in Houston.  Needs to still be that way at the end of the year.  Additionally, 2013 is his last year to be arbitration eligible.  After the 2013 season, he's eligible to be a free agent, so I would hope we'd solidify this situation and give him a proper contract this off season.  That'd get my vote.
26) Yoshinori Tateyama – Club Option for 2013 at $1M
Tateyama didn't have much of an impact in 2012 at all.  Only pitched in 14 games (just 39 in 2011) for a total of 17 innings and had an ERA of 9.  Not much to use as a base to figure out what to do for 2013.  The team does hold a 1 Million dollar option for him for 2013.  Even given the relatively low contract offer, I don't see them picking that up, unless they feel there's no other options out there.
27) Tanner Scheppers – Under Club Control for 2013, made minimum in 2012
Not much to report on here.  Young reliever, had some growing pains in 2012.  He'll be back in 2013, hopefully makes some progress.  A guy that we heard a lot of when he was in the minors as someone to watch out for.  Can probably still get there, but needs more work.   Will probably be one of those guys you see in spring training be given a new contract with like a $10,000 raise along with six other guys at the same time.   Did have 30 strikeouts in 32.1 innings pitched this year, so that's a good thing to build on.  WHIP was a bit high at 1.7, though.
28) Michael Kirkman – Under Club Control for 2013
Mostly the same story as Tanner Scheppers, although not as highly touted coming out of the minors.  Under club control, he'll be back, needs to be more consistant.  Decent strikeout rate, too.  38 strikeouts in 35.1 innings.  Too many walks, though (17).   Good piece to have in the bullpen, needs to keep going in a forward direction with his pitching.
29) Leonys Martin – Under Club Control for 2013
When he was originally signed, Lenoys was given a major league contract.  The kind of thing that isn't available anymore as per the last CBA.   He is one of those guys who has "promise", but he's never had a ton of time to prove anything.  Spent most of his time in AAA, and when he's been in the majors, it's not been for long enough time to get to know him, or see what he can do.   He was in 24 games in 2012, and 8 in 2011.  Too small of a sample.   His 2012 batting average was only .174 – but most of his at bats came as a pinch hitter or something, so that's not the easiest way to show oneself.   Assuming Josh Hamilton doesn't come back, the likely scenario is that Leonys Martin platoons in CF with Craig Gentry.  That won't replace Hamilton's offense, but I suspect we'll be fine defensively.
30) Justin Grimm – Under Club Control for 2013
A cup of coffee guy.  He came up for an emergency start as part of a doubleheader, and lit it up.  He had a stellar major league debut.  Was expected to go back down after that, but pitched so well, he got another shot.  But he never recaptured his first performance again, and went back down.  Came back in September callups, but barely appeared.  In total, just five games played in 2012.   Probably doesn't factor into 2013 much at all – in fact I'd expect him to be a piece on a trade before he made an impact in the roster next year.
31) Roy Oswalt – Free Agent, made $5M in 2012
Goodbye.
32) Martin Perez – Under Club Control for 2013
A lot of fans gave Martin grief for not pitching well enough down the stretch to help – in fact, some of his performances actively hurt the chase for the post season.  But he's young, he's a lefthander, so he'll stick around.  While his final season numbers don't show it, I didn't think he was that awful.  Not good, by any stretch, but he pitched like a rookie in a playoff run.   Probable likely target at the start of 2013 is the AAA starting rotation.
33) Luis Martinez – Free Agent, made $482k in 2012
Despite our issues with catcher in the off season, I don't see Martinez being a big deal going forward.  You need guys like this, in case of injury or whatnot, but he wasn't much more than a cup of coffee appearance in the 2012 season.  10 games total, 18 at bats.  Just had two singles.   He'll probably be in AAA in 2013.  Can't imagine him breaking with the big club unless something bad happens to whoever is in front of him catching wise.
34) Geovany Soto – Arb Eligible, made $4.3M in 2012
A mid season trade with the Cubs, Soto came in to replace Yorvit Torrealba.  Soto was a much heralded catcher of the future for the Cubs when he first came up.  His defense is still pretty good, but his bat has been in the toilet mostly since.  He batted just .196 with us.   I still like the guy, but we really do need more offense from a catcher than that.   If we fail in bringing ion someone like JP Arencebia, I suspect Soto will be back.  Whether he's #1 or #2 depends on someone else being here, I suspect, and not Soto himself.
35) Ryan Dempster – Free Agent, made $14M in 2012 (mostly paid by Cubs)
Dempster's overall 2012 numbers were pretty good.  12-8, 3.38.  However, his numbers with the Rangers were 7-3, 5.09.  Most of that ERA came from a couple of bad games early.   I liked him being here, and I while there's no big single number I can point to as a reason why I want him back, I do have to say that it's a "feel" thing.  I'd like him to be here for 2013, especially as we're going to have some question marks in the rotation this off season.   Dempster is a known quantity, and while he's not a #1 or #2, I can see him being a good 3 or 4 depending on how the roster shakes out.   I'd bring him back, although not at $14 million.
36) Mike Olt – Under Club Control for 2013
Mike Olt was one of the names we heard a lot about in the run up to the trading deadline in 2012.  The Rangers had two untouchables.  Mike Olt was one of them.  There was so much noise made about how he could bring something huge, and then he was still a Ranger.  So he comes up right after the trading deadline.    He ended up batting .152 in 16 games and 33 at bats.  Nothing that makes you understand why he was such a heralded prospect, but it was nice to see some of the future come up.  Not entirely sure he breaks with the big club at the end of Spring Training, but I suspect he will be up at some point during the season for sure.
37) Luis Hernandez – Free Agent, made ?? in 2012
Luis Hernandez played two games for the Rangers in 2012 after spending pretty much the entire season at AAA.  He's already gone – after the season ended, he refused his outright assignment to the minors.   No big loss here.
38) Jurickson Profar – Under Club Control for 2013
The other untouchable from the trading deadline.  The name that causes some to think it wouldn't be all that bad not to resign Elvis Andrus after his contract is up – or moving Ian Kinsler elsewhere.   Will probably be a BIG deal in the future.   Didn't do much in 2012 (9 games, 17AB, 3H, .176), but he probably wasn't expected to contribute a hell of a lot.  But..  People will remember his first two hits.   Home run in his first at bat.   Then an extra innings RBI double in his second ever start.    However, he didn't do much else after that, as he had just three hits.  :)    But I expect him to break with the team after Spring Training.  Not sure how it will shake out, but I think he'll be in the initial 25 man roster in Houston.
39) Wilmer Font – Under Club Control for 2013
Wilmer was one of the September callups.  Made three appearances late in the season – all between Sep 18 to 28.   With only two innings of work over three games, it's impossible to draw anything from that body of work.   AAA next year.
Those are my thoughts on the 2012 Texas Rangers roster and where we're going into 2013.   I'm writing this as a "last hurrah" for the 2012 season, because as I write this, Game 4 of the World Series is going to be on in a couple of hours, and I wanted this summary out there before all the "news" starts happening.
I'm also not going to go back and fill the holes I left in the 2012 season.  I don't really feel like going backwards and writing about games from three months ago in a season that ended so badly.   With Jeff's help, I suspect 2013 will be back to the usual standards of coverage, but I'm going to wash my hands of the 2012 season, and look forward after this point.  :)
Finally, when I was looking around for the team photo at the top of the page, this photo came up in the search.  It has no real bearing on the article, but hey.  Google thought it was relevant to a search for 'texas rangers 2012 team photo', so hey…  :)